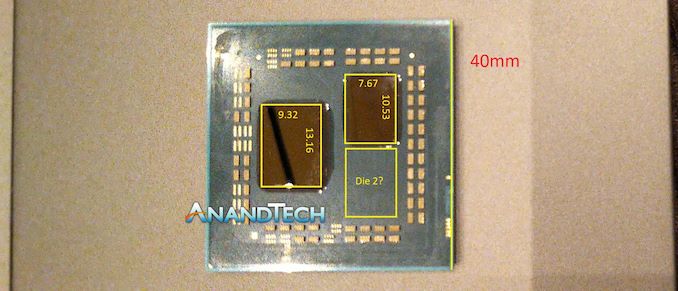 One of the big questions coming out of AMD's CES announcements was if its new CPU design, codenamed Matisse and which enables two chiplets and an IO die on a single package, would support one of those chiplets being graphics based in order to make an APU. In our discussions with AMD, we received confirmation that this will not be the case.
The new Matisse design is the platform for AMD's next generation of desktop processors. The layout shown at CES this year represented the design as having a single IO die, about 122.6 mm2 and built on GlobalFoundries 14nm, paired with a chiplet die, about 80.8 mm2, containing eight cores and built on TSMC's 7nm. There is obviously space on that package for another CPU chiplet, and there has always been questions if the chiplet design is amenable to using a graphics chiplet instead.
AMD stated that, at this time, there will be no version of the current Matisse chiplet layout where one of those chiplets will be graphics. We were told that there will be Zen 2 processors with integrated graphics, presumably coming out much later after the desktop processors, but built in a different design. Ultimately APUs are both mobile first as well as lower cost parts (usually), so different design decisions will have to be made in order to support that market.
This doesn't rule out a future processor using chiplet graphics, this is just for Matisse.
Our contacts at AMD also discussed the TDP range of the upcoming range of Matisse processors. Given AMD's definition of TDP, relating to the cooling performance required of the CPU cooler, the range of TDPs for Matisse will be the same as current Ryzen 2000-series processors. This means we could see 'E' variants as low as 35W TDP, all the way up to the top 'X' processors at 105W, similar to the current Ryzen 7 2700X. We were told that the company expects the processors will fit within that range. This should be expected on some level, given the backwards compatibility with current AM4 motherboards on the market with a BIOS update.
Read our announcement on the early preview of the Matisse processors here:
https://www.anandtech.com/show/13829/amd-ryzen-3rd-generation-zen-2-pcie-4-eight-core