Construction
Syntax Olevia LT-30
LCD
30" UXGA LCD (Active Matrix)
pixel pitch: 0.71mm
Anti-glare coating
Super MVA
Response Time
25ms (TrTf)
16.6ms (Gray-to-Gray)
Contrast Ratio
500:1 (Typical)
Compatibility
1280x768 (Native)
Brightness
500 cd/m2
Dimensions
(WxHxD)
32" x 20.5" x 7"
Power
Working: 150W
Standby/Off: 15W
Weight
36 lbs
Warranty
1 year parts and labor
Although the LCD is out of the box ready to go with an HD-ready consumer appliance (any Component or DVI input should do), getting the LCD to function with our computer was significantly harder. There is no recognized driver for the monitor, so Windows XP was forced to use default display modes. Unfortunately, the HD 1280x720 resolution is not in the standard Windows profile. What complicates matters even further is that displaying unusual resolutions on the Olevia 30" forces the monitor into a Standby mode.
The solution in the end was to use PowerStrip to force the monitor to recognize a correct resolution. You may recall that we attempted to do a similar procedure when our Albatron LWX-30AMS would only display 1024x768 on the 1280x768 LCD panel (as we see later, the panels in these two displays are nearly identical). Unfortunately, the Albatron was limited by the signal processor on board; we could not utilize the monitor to its full potential because of the chipset. Fortunately, the Olevia display was much better thought out and, with enough patience, we were able to set up a correct display mode using a custom PowerStrip profile. Hopefully, in the future, Syntax will devise a better solution to this hack - ultimately, they should probably produce a driver for users who will use the LCD for presentations or enthusiast gaming.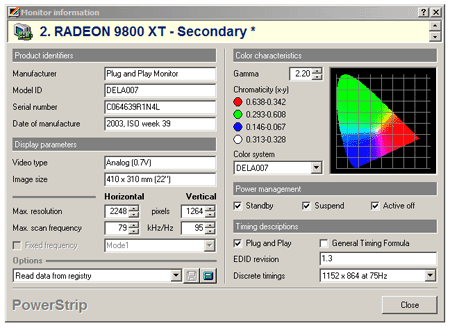 Using PowerStrip to create a custom 1280x720 profile.
Click to enlarge.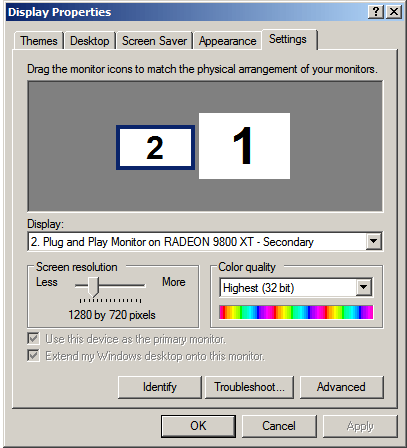 Windows Properties
We were also able to use the same methodology to force the LT-30 into a 1280x768 display mode. The default Windows 1280x768 mode does not work correctly with the display; we needed to use PowerStrip to create a custom profile. Technically, our LCD is not the most optimal for viewing a 720p signal. Syntax uses a 1280x768 LCD panel, while a 720p HD signal uses 720 vertical lines in the signal. Therefore, 48 pixels are stretched vertically when we view a 720i/p signal. This is unfortunate, yet difficult to notice, as we show later in the analysis.
Fortunately for Syntax, the Olevia contained zero pixel defects. We were extremely pleased with the quality of the monitor as it arrived.
Our LT-30 came wall-mount capable, and removing the base to attach the wall mount brackets was extremely simple.