Introduction
We were excited to take a first look at
Albatron's 30" LCD TV
, a CE device that also is aimed to please the ultra high end PC enthusiasts. Unfortunately, the monitor was plagued with problems including scaling and resolution issues. However, a new company approached us several weeks ago with a new LCD based on the same panel as the Albatron LWX-30. Knowing that the majority of the flaws in the Albatron LCD were in the signal processors, and not the panel, we took a chance to see what Syntax could offer.
At first glance, the Syntax Olevia and Albatron/Monivision LWX-30 are aesthetically very similar. After a few minutes though, it becomes clear that the Syntax unit is actually much cleaner and elegant in design. The monitor blends plastic, brushed aluminum, steel and acrylic.
Cable management behind the Olevia LT-30 was excellent. Removable panels allow us to string cabling behind, underneath or around any components in the rear of the unit. Below, you can see that the panels are attached by oversized plastic thumb screws.
The LCD had two component inputs, one set of composite and S-Video inputs, a coaxial TV tuner input, and digital and analog connectors. A key feature of the component and tuner inputs is that they are modular. What's good about these two modules on the LCD is that Syntax or end users can replace them without having to replace the entire panel or subsystems. Although it may not affect consumers in the long run, Syntax has the option of switching the analog TV tuner for something more capable in the future, without retooling the entire unit.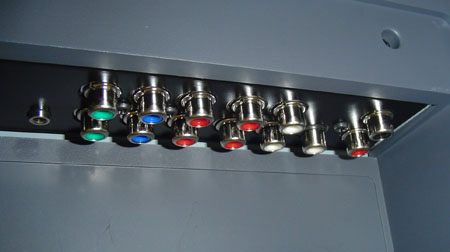 Component Inputs
Click to enlarge.