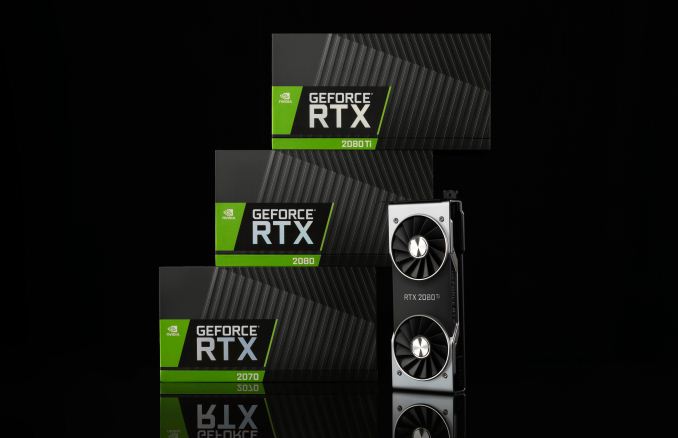 Since yesterday's reveal of the full Turing architecture, NVIDIA has set the stage for next week's launch of GeForce RTX. Later that day, however, NVIDIA quietly announced that general availability of the GeForce RTX 2080 Ti will be delayed by a week, from September 20 to September 27. Preorders have also been affected, and those units will arrive between the 20th and 27th.
So for the launch of GeForce RTX, the GeForce RTX 2080 is left as the only card set for full availability, with the RTX 2070 slated to arrive in October. To recap, the RTX 2080 Ti Founders Edition is priced at $1199, while non-Founders Edition cards will be $999. The RTX 2080 FE will come in at $799, with non-Founders Edition cards at $699. As always with new video card releases, expect prices to be inflated for weeks, if not months, after launch day; the recent cryptomining craze and knock-on inventory effects only makes the situation more complicated.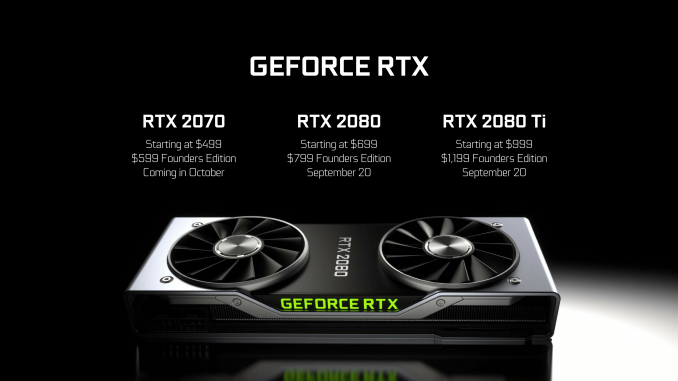 With launch day sell-outs becoming the norm for new video cards, this leans towards more of a inventory cause than anything else, as some preorders may still arrive on the 20th. Regardless, only the RTX 2080 remains listed and in-stock for preorder on NVIDIA's site. Stay tuned for next week's GeForce RTX review!
Source: NVIDIA