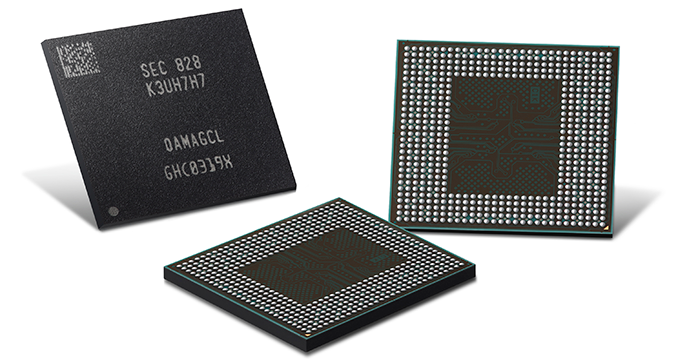 Samsung this week announced that it has begun manufacturing its new LPDDR4X memory chips using its second-generation 10 nm-class fabrication process (which is traditionally called 1y nm). The new technology enables the company to slightly cut down power consumption of the new memory devices as well as to reduce the thickness of actual LPDDR4X memory packages installed into smartphones.
Samsung's new LPDDR4X memory devices feature a 16 Gb capacity and are rated to run at 4266 MT/s. The manufacturer says that the new DRAMs consume 10% less power than their predecessors made using its first-gen 10 nm-class (1x nm manufacturing technology), but without reducing industry-standard voltages for this type of memory (VDD1=1.1V, VDD2=1.8V, VDDQ=0.6V). Meanwhile Samsung is not disclosing anything about die sizes, but if their second-generation tech is indeed a smaller process, then the resulting chips should, in time, be at least slightly cheaper to manufacture.
Meanwhile, the company says that its new 8 GB LPDDR4X package, which consists of four new 16 Gb dies, features a 20% lower thickness compared to the company's previous-gen 8 GB LPDDR4X-4266 package. Naturally, such packages enable makers of smartphones to make their devices slightly thinner, assuming that they can bring thickness of other components down too. In addition to the new 8 GB LPDDR4X stacks, Samsung also plans to offer LPDDR4X in 4 GB and 6 GB packages for slightly more affordable smartphones.
Samsung started to use its 1y nm production technology for DRAM back in December, 2017. The new LPDDR4X ICs seem to be the company's second product to use the new fabrication process. Considering the high-density nature of LPDDR4X, usage of the 2nd Gen 10nm-class fabrication process for manufacturing of such ICs may indicate that yields of the tech have improved since last year. In the coming months the company will further expand usage of its 1y nm production process.
Large DRAM makers usually make announcements regarding mass production after they ship the first batch to a customer. Therefore, expect the new 16 Gb LPDDR4X ICs from Samsung inside actual devices in the coming months.
Related Reading:
Source: Samsung