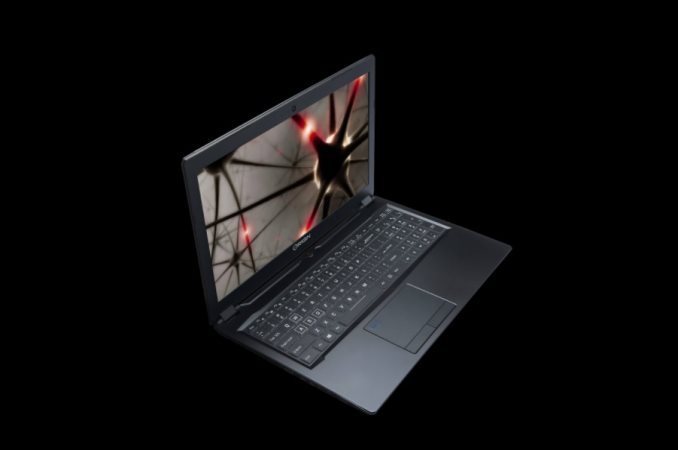 Today Origin PC released its new Evo15-S gaming laptop. The new device uses NVIDIA's Max-Q based video cards to give a notably thinner and lighter device than the average gaming laptop while maintaining most of the performance. The Evo15-S offers up to an 8th Gen Intel Core i7 processor, a Geforce GTX 1070 (Max-Q) discrete video card, FHD or 4K UHD panel options, and up to 32GB of memory. Measuring in at just 0.7-inches thich, it is as compact as the Asus ROG Zephyrus but is rated to have a longer battery life, and more storage, making for an interesting option in the gaming laptop segment.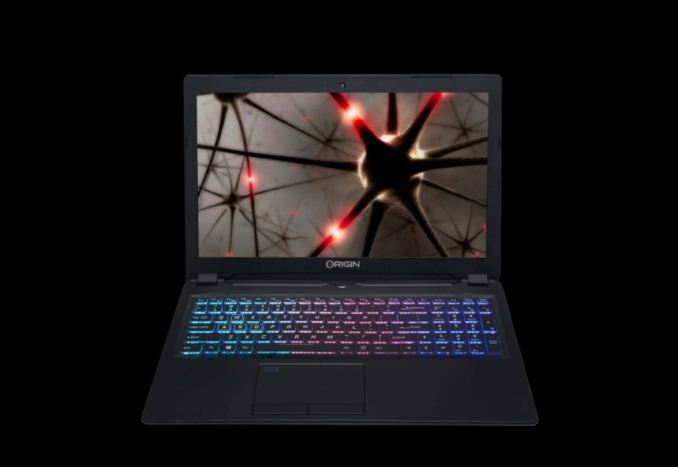 Looking at the design aesthetic, one may find it difficult to guess there is some pretty good hardware hiding inside. In fact about the only thing that may tip people off this is a gaming laptop is the large exhausts vents on the rear, and intake on the side. Apart from that, we do not see RGB LEDs on the chassis or anything that would tip off the Evo15-S's hand. When opening up the top, there is a little bling in the form of an RGB LED backlit keyboard with three lighting zones. If you are the type of user that would like more flare, Origin PC has you covered with several design options including metallic paints (Red, White, Eternal Pink, Sabot Grey, Atmos Blue, and more), hydro dipping, and HD UV printing. They also offer custom laser etching.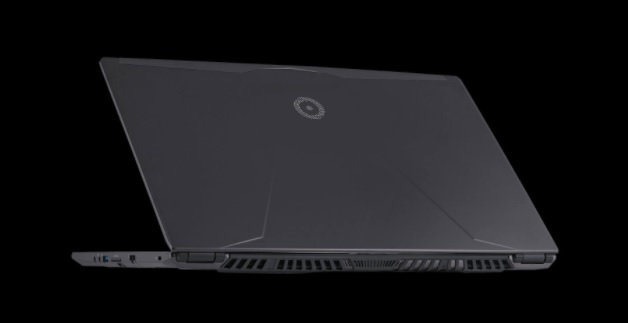 Design aside, the real deal is on the inside with the move to the latest Coffee-Lake H-series CPU as well as the Max-Q video card. To that end, the Evo15-S offers users a choice of two CPUs: a quad-core 7th Gen Intel Core i7-7700HQ, or the latest 8th Gen Intel Core i7-8750H hex-core CPU. Video card options are the NVIDIA Geforce GTX 1060 6GB GDDR5 or the GTX 1070 8GB GDDR5 Max-Q. The Max-Q cards are a bit slower than their full-fledged counterparts as they are downclocked with lowered boost ranges to manage TDPs, but they allow for slimmer devices. Either card will make for a solid gaming experience at 1080p resolutions but will lose steam when using 4K UHD resolution for gaming. For displays, there will be four options to choose from: 3 FHD options (IPS 60 Hz, 120 Hz, 144 Hz) and one 4K UHD, all with a matte finish.
Other hardware includes DDR4-2400 or DDR4-2600 memory, with capacity options ranging from 8GB up to 32GB capacity, all in a dual channel configuration. Storage options on the Evo15-S include a single HDD option (2 TB 5400RPM), or SATA SSDs, or PCIe NVMe based drives, or three hybrid drives offering users a lot of choices.
On the network and connectivity side of things, there is an onboard Gigabit Ethernet port as well as different wireless cards depending on the CPU chosen. With the Core i7-7700HQ, users will have an Intel 8265 Dual Band 802.11ac + Bluetooth 4.2 combo with speeds up to 867 Mbps. The i7-8750H gives users access to the latest Intel 9560 CNVi based 802.11ac Wave 2 Wi-Fi.and can reach speeds of 1.73 Mbps. The options are exclusive to the respective CPU used, as the Intel 9560 uses the Wi-Fi MAC integrated into the chipset.
Despite the thin frame, there are a ton of ports on the Evo15-S. The left side includes HDMI, two Mini-DisplayPorts, two USB-C ports, and two USB 3.0 ports. The right side adds another USB 3.0 port, Ethernet jack, headphone and microphone jacks, as well as an SD card slot to round out connectivity.


Origin PC Evo15-S Gaming Laptop
Warranty Period
1 Year Warranty
Product Page
LINK
Processors
Intel Core i7-7700HQ Quad-core (2.8 GHs base - 3.8 GHz Turbo)
Intel Core i7-8750H Hex-Core (2.2 GHz base - 4.1 GHz Turbo)
Memory
8 GB - 32 GB DDR4-2400
16 GB - 32 GB DDR4-2400 (G.Skill Ripjaws)
16 GB - 32 GB DDR4-2666 (G.Skill Ripjaws)
Network Connectivity
Gigabit Ethernet
Intel 8265 802.11ac + BT 4.2 (867 Mbps), i7-7700HQ Only
Intel 9560 802.11ac + BT 5.0 (1.73 Gbps), i7-8750H Only
Storage
SSD
SATA - 120 GB to 1 TB (M.2)
PCIe - 256 GB to 1 TB (M.2)
SATA - 120 GB to 4 TB (2.5")
HDD
Hybrid - 500 GB to 2 TB
Mechanical - 2 TB 5400RPM
Graphics
NVIDIA GeForce GTX 1060 6GB GDDR5
NVIDIA GeForce GTX 1070 8GB GDDR5 Max-Q
Expansion Slots
1 x SD card reader
Display
15" FHD (1920x1080) IPS Matte display (94% sRGB)
15" FHD (1920x1080) 120 Hz Matte display
15" FHD (1920x1080) 144 Hz Matte display
15" 4K UHD (3840x2160) IPS Matte display (94% sRGB)
Ports and Connectors
1 x HMDI
2 x Mini-DisplayPorts
2 x USB-C ports (3.1?)
3 x USB 3.0
1 x Ethernet
1 x Headphone jack
1 x Microphone jack
Input Device
3-Zone RGB backlit Membrane Keyboard
Camera
Built-in 2.0M FHD
Power
330W External AC Power adapter,
94.24Wh Battery, Li-Po
Audio
Integrated HD Audio Sound BlasterX Pro-Gaming
Creative Sound Blaster X-Fi Surround 5.1 Pro USB
Creative Sound Blaster Omni Surround 5.1 USB
Creative Sound Blaster E3 Headphone Ampligier
Dimensions
14.9" x 9.9" x 0.7"
Weight
4.3 lbs+
Price ($US)
~$1600+
Related Reading:
Source: Origin PC