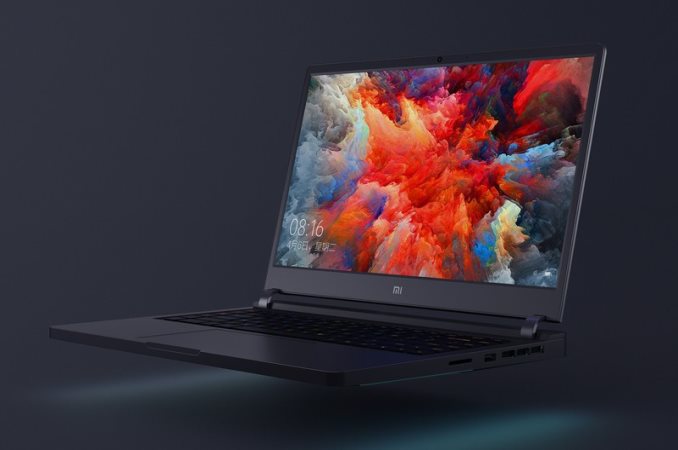 Chinese brand Xiaomi this week announced its new Mi Gaming Laptop, its first endeavor into the gaming side of laptops. The 15.6-inch Full-HD 1080p gaming laptop will offer up to a GTX 1060 6GB graphics card, 16GB of DDR4 memory, and a Kaby Lake i7 Kaby Lake processor. Starting under $1000 for the i5-7300HQ plus 1050 Ti variant, the Mi Gaming Laptop is searching for the user looking for a decent gaming experience without breaking the bank.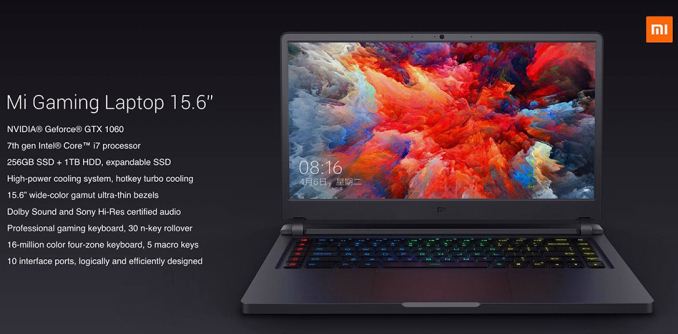 The outside of the black aluminum chassis has a brushed aluminum finish and goes without a logo on the lid giving it a pretty unassuming, almost business-like appearance. The laptop measures in with a 15.6-inch 1920x1080 screen and weighs in around 2.7 kg. In order to add a bit of flare to the gaming oriented device, Xiaomi includes and four-zone RGB backlit keyboard as well as RGB illumination located on the bottom of the chassis. Outside of the lights, the only other things we see are I/O ports as well as four exhaust ports for cooling located on the side and back of the chassis.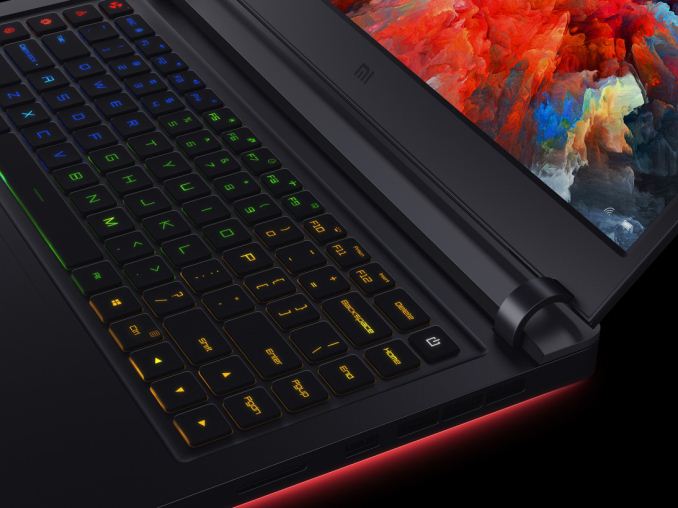 Internally, The Mi Gaming Laptop's base configuration starts off with a 7th generation Intel Core i5-7300HQ, a quad-core with a base frequency of 2.5 GHz and a maximum turbo frequency of 3.5 GHz. The base video card is an NVIDIA GTX 1050 Ti 4 GB GDDR5 which should offer adequate gaming performance. The Mi's 15.6-inch FHD panel has 72% NTSC color gamut with 300 nits brightness and the only panel choice. The device starts off with 8 GB of DDR4-2400 memory which is upgradeable to 16 GB.
The high-end configuration steps up to an Intel Core i7-7700HQ, a quad core with hyperthreading and base speeds of 2.8 GHz, pushing a maximum turbo of 3.8 GHz. The GPU moves up to the faster GTX 1060 with 6 GB GDDR5. Memory capacity also doubles to 16GB DDR4-2400 as standard. Cooling any configuration is Xiaomi's own 3+2 'large diameter' heat pipe design and two fans which intake air from the bottom and exhaust out of the side vents.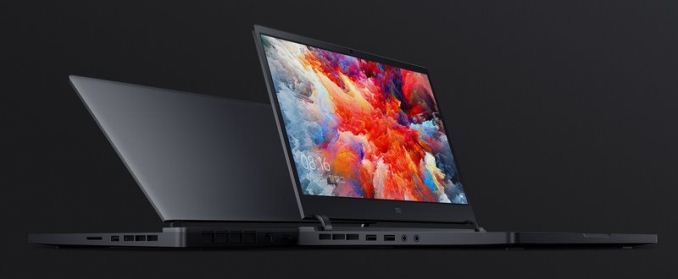 For storage purposes, the Mi Gaming Laptop is able to house two M.2 PCIe drives and a single 2.5-inch drive. These can be filled with any combination of 128 GB or 256 GB SSD as well as a 1TB HDD option, although Xiaomi does not state if these M.2 ports are SATA or PCIe. I/O connectivity includes four USB 3.0 ports, a USB 3.0 Type-C port, microphone and headphone jacks, an HDMI port, and a Gigabit Ethernet port. The Mi also includes 802.11ac Dual-band Wi-Fi with speeds up to 867 Mbps as well as Bluetooth 4.1.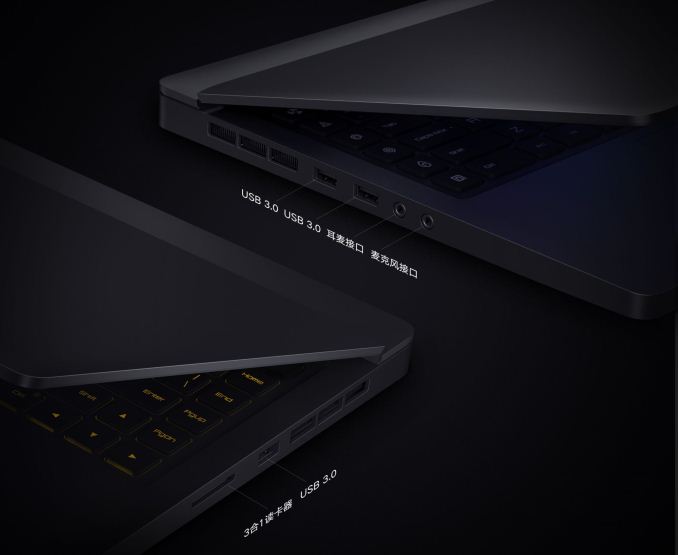 Mi Gaming Laptop
Core i5 Model
Core i7 Model
GTX 1050 Ti
GTX 1060
128 GB
256 GB
Warranty Period
1 Year Warranty
Product Page
LINK
Processors
Intel Core i5-7300HQ
4C / 4T
2.5 GHz Base
3.5 GHz Turbo
Intel Core i7-7700HQ
4C / 8T
2.5 GHz Base
3.8 GHz Turbo
Memory
8 GB
DDR4-2400
8 GB
DDR4-2400
8 GB
DDR4-2400
16 GB
DDR4-2400
Network Connectivity
Gigabit Ethernet
802.11ac Dual Band (2Tx2R) Wi-Fi
Storage
SSD
128GB
128 GB
128 GB
256 GB
HDD
1 TB
1 TB
1 TB
1 TB
Graphics
GTX 1050 TI
4 GB GDDR5
768 CUDA

GTX 1060




6 GB GDDR5




1280 CUDA

GTX 1060
6 GB GDDR5
1280 CUDA
GTX 1060
6 GB GDDR5
1280 CUDA
Expansion Slots
1 x SD card reader
Display
15.6+ FHD 72% NTSC color gamut
Ports and Connectors
1 x USB Type-C
4 x USB 3.0 Type-A
1 x HDMI (v2.0)
1 x 3.5mm Headphone
1 x 3.5mm Mic-In
1 x SD Card Reader (SD/SDHC/SDXC)
Input Device
RGB Membrane Keyboard
Camera
HD Camera
Power
330W External AC Power adapter,
94.24Wh Battery, Li-Po
Audio
3W x 2 Dolby Panorama Sound
Dimensions
14.3" x 10.4" x 0.82"
Weight
5.95 lbs+
Price ($US)
5999 CNY
~$815
6999 CNY
~$952
7999 CNY
~$1087
8999 CNY
~$1223
The base model with the i5, 8GB DDR4, and 1050 Ti graphics will cost 5999 CNY while the top end i7, 16GB DDR4, and GTX 1060 combo will run at 8999 CNY. After taking out China's tax rate, this comes to a range of $815 to $1223. These are not available now, but will only be released in China with a Chinese version of Windows on April 13th.
Xiaomi's previous foray into laptops include a Mi Notebook Pro with a Core i7-8250U and MX150, and a Mi Notebook Air, each with similarly aggressive pricing.
Related Reading:
Source: Mi.com