X299 Gaming 7 Pro Visual Inspection
If you wanted LEDs, this motherboard has them. In spades. Not only in the usual places, such as the chipset heatsink, but the rear-IO panel, the rear-IO shroud, in-between each of the DRAM slots, and for good measure, on the PCIe slots as well.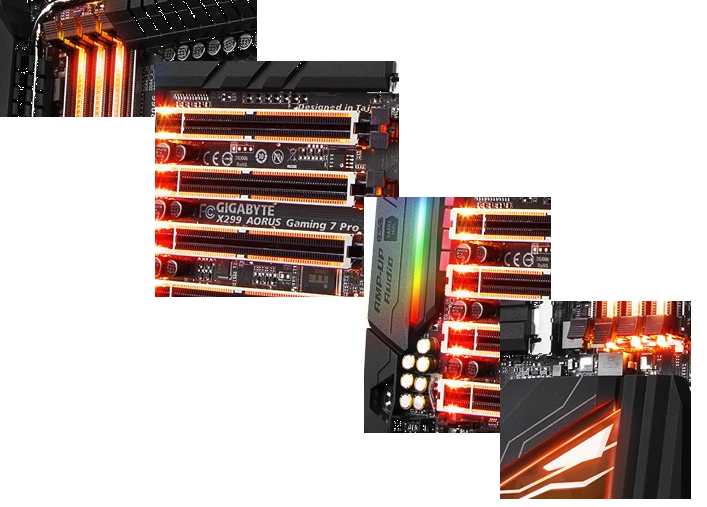 At first glance, the X299 Gaming 7 Pro (hereafter, G7P) looks a bit of busy of a motherboard without the light show of RGB LEDs. The memory and PCIe slots all use slot reinforcement and have RGB lighting on them creating a contrast to the black board. In addition to those locations, both shrouds on the left and the chipset heatsink also have RGB LEDs. They are almost all over this board.
The power delivery heatsink up top has small slits cut into it to try and improve surface area, although this is not much of an overall change. There is a heat pipe which routes around the left memory slots and under the back panel shroud to connect to a second, hidden heatsink. This should do a better job than X299 boards with a single heatsink, especially with the included fan (pictured later) blowing on that secondary heatsink. Also with heatsinks are the three M.2 slots, which is something we find only on premium boards.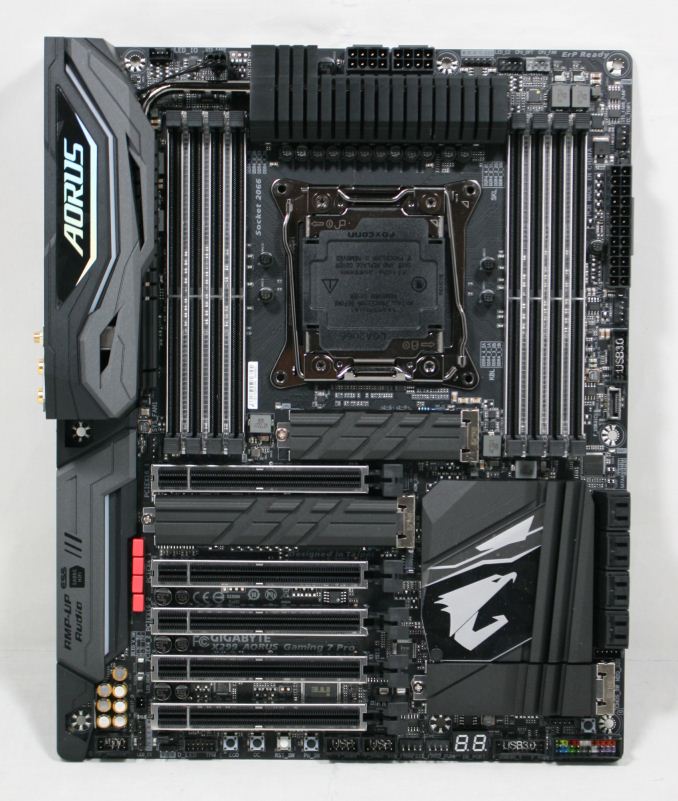 Starting with fan headers, the X299 Gaming 7 Pro is equipped with eight 4-pin headers. At the top, there are three headers, Sys Fan 2, CPU, and CPU Opt. The right side of the board is Sys Fan 6/Pump and Sys Fan 5. On the bottom of the board between the debug LED and USB headers are two more system fan headers, and finally, above the top PCIe slot to the left of the memory slots is Sys Fan 1. All headers offer both PWM and voltage control. Gigabyte's Smart Fan 5 software in the BIOS or within the App Center are able to use preset profiles or custom fan curves.
The power delivery on the Gaming 7 Pro is a 12-phase (6 doubled) using 60A power stages. Controlling these is the Intersil ISL69138 6+1 phase, true digital PWM. The additional phase is used for VCCSA. The power stages use an ISL99227 Smart Power stage rated to 60A while the phase doubling duty is handled by six ISL6617 found on the back of the motherboard. Delivering power to the CPU are two 8-pin EPS 12V plugs (only one is required for regular use).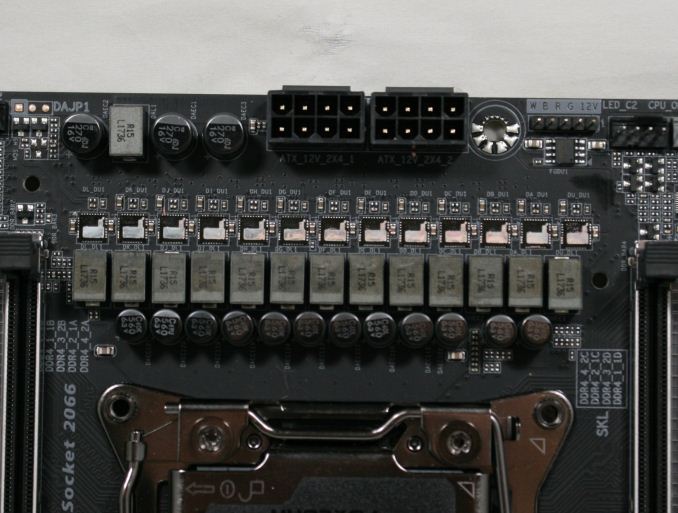 The eight DRAM slots on the AORUS X299 Gaming 7 Pro are unlike others we have seen in the past. They do come with slot reinforcement for additional support for those 'heavy' DIMMs, but that isn't the unique part. What is unique are the RGB LEDs and lighting between them illuminating the sticks in the slots. Using this method, it allows GIGABYTE to have a regular positioning of the memory slots (which isn't always the case, making some boards unsightly). Supported memory speeds are up to DDR4-4400, with a maximum capacity at the typical 128GB for an X299 motherboard. Technically the board also supports RDIMMs for 512GB capacity, however none of the CPUs for this motherboard support RDIMMs with ECC. Unlike most boards we have reviewed lately, there are two locking mechanisms for the DRAM modules. After using plenty of boards with only one latch, two latches feels a bit clunky comparatively, but allows for a firm insertion.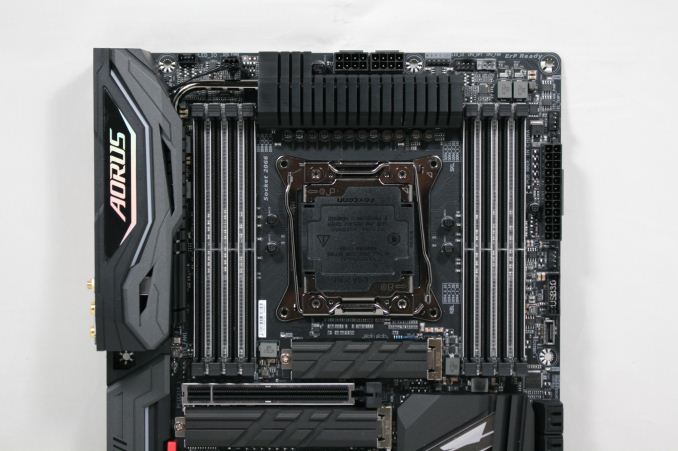 The right-hand side of the board has 8 SATA ports (on the left of the picture below). The middle of this area has a USB 3.1 (10 Gbps) port, a USB 3.0 header, a couple of fan headers, and the 24-pin ATX plug.


This image displays the eight SATA ports supporting RAID 0, 1, 5, and 10. The board does not come with a U.2 connector.

Across the bottom of the motherboard, there are several IO options and buttons. From left to right we see:
Front Panel Audio
RGBW 5-pin
RGB Voltage Selection Jumper
TPM Header
ECO/OC/RESET/POWER buttons
2 x Front Panel USB 2.0/1.1 Headers
2 x Fan Headers
Debug LED
USB 3.0 Header
Front Panel Header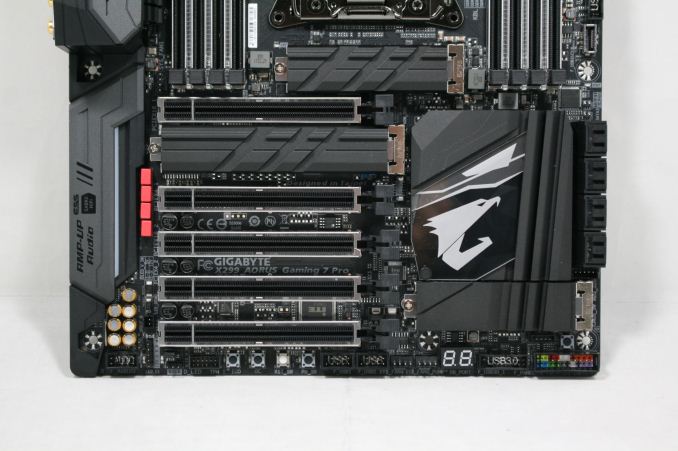 For PCIe, the X299 Gaming 7 Pro has a total of five full-length PCIe slots all reinforced to help support heavy video cards. In addition to the slot reinforcement, each PCIe slot has RGB LEDs surrounding the slot and is another area controlled by the RGB Fusion software. There are no physical x4 or x1 slots, allowing all full-length cards. The primary GPU slots, from top to bottom, are slots one, three, and five, which have a maximum bandwidth of x16/x16/x8 and support both 3-Way SLI and Crossfire configurations. The other two slots are a maximum x4 and are connected through the chipset.
Audio duties are handled by the Realtek ALC 1220 audio codec with an ESS Sabre reference DAC, WIMA and Nichicon audiophile grade capacitors, as well as independenent analog power to delive clean power to the audio components.
Below is a simplified list of how the PCIe slots will work with each family of CPUs (talking PCIe lanes) when multiple cards are used (the "@" symbol is used to show slot preference for the configuration):
AORUS X299 Gaming 7 Pro CPU PCIe Layout
44-Lane
1/2-Way
44-Lane
3-Way
28-Lane
1/2-Way
28-Lane
3-Way
16-Lane
1-Way
16-Lane
2-Way
PCIe 1
@x16
x16
@x16
x8
@x8
@x8
PCIe 3
@x16
x16
@x8
x8
-
@x4
PCIe 5
x8
x8
-
x8
-
-
SLI
Yes
Yes
Yes
Yes
-
No
Crossfire
Yes
Yes
Yes
Yes
-
Yes
The back panel IO consists of:
PS/2 Mouse/Keyboard Port
4 x USB 3.1 5 Gbps Ports
1 x USB 3.1 10 Gbps Type-C Port
4 x USB 3.1 10 Gbps Type-A Ports
2 RJ-45 Ports
Wi-Fi/BT Module
5-plug Gold-plated Audio Stack w/ SPDIF
If you look closely we are able to see the small fan attached to the secondary VRM heatsink just above the USB Type-C port as well.

In the Box
Driver Disk / User's Manual / Installation Guide / A lot of Stickers
2-Way Hard SLI Bridge
Wi-Fi Antenna
4 x SATA Cables
2 x Temperature Probes
RGB LED Extensions
Back Panel IO Plate
Velcro Straps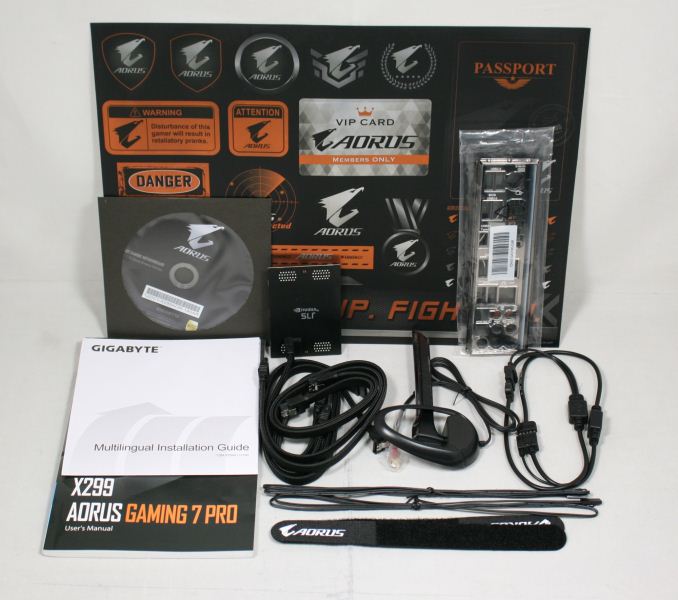 For a gaming motherboard, aside from some gimmick addition, this is about what we would expect in the box.