OCZ had been strangely absent from the last round of our memory reviews. They did not have a product that was really quite the same as the excellent "Universal" Corsair 4000 PRO or Mushkin 4000 High Performance. That did not, however, mean they were not working on products in the same category. We heard OCZ would release a DDR533 "Universal" memory, and today, OCZ announces that new product — OCZ 4200EL.
We had seen a late Beta sample of the new 4200EL, and AnandTech was told these were identical to the release version. A few days ago, the release DIMMs and information showed up announcing that they would be released on October 14
th
. We also had a chance to compare them to late beta samples, and we did, in fact, find the performance virtually identical. This means that you should find performance of your Retail chips almost the same as we found in our retail samples.
PC4200 means an official rating of DDR533 and the rated timings are 2.5-4-4-7 at 2.7V. Like other recent high-end OCZ memory, the DIMMs are warranted up to 3.0V for overclocking. OCZ also tells us that this new memory will run at CAS2 at DDR400, which would make the OCZ the 3
rd
and fastest "Universal" memory.
Our testing confirms that OCZ 4200EL is another Universal High-Speed DIMM like the Mushkin 4000 High Performance and Corsair XMS4000PRO we recently tested. What we mean by Universal High-Speed is that the memory is very competitive at DDR500, but that it also performs at DDR400 with aggressive CAS2 timings. Early DDR500 does well at the high end, but at DDR400, you are often stuck with CAS2.5 or CAS3 timings, which perform poorly compared to the fast DDR400 modules.
What's more, the OCZ 4200EL is the Highest Speed Rated DIMMs that we have tested at AnandTech, and easily surpasses the performance of the best performing memory tested so far.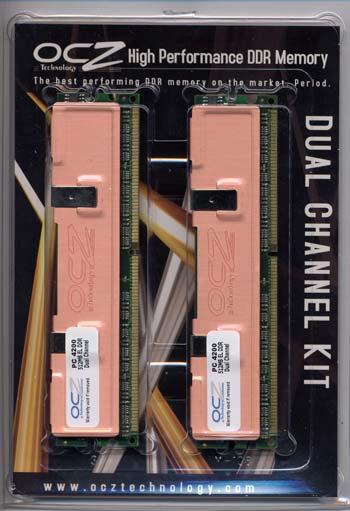 This is the first DIMM pair that we have received from OCZ in their new packaging. The new package is certainly easier to identify than the generic DIMM boxes that OCZ has used in the past. It also looks almost the same as Corsair's new packaging.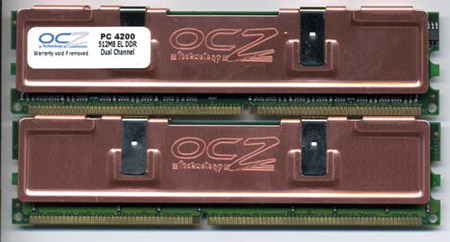 You can see that OCZ uses the Copper Heat-Spreader on 4200EL. We did remove the Heat-Spreader to find the chips are labeled OCZ. They are apparently blanks that are purchased by OCZ and labeled as OCZ chips. Performance behavior makes us believe they are a variant of Hynix Rev. B chips, except they clock higher than we have yet seen with Hynix Rev. B memory chips. It also appears that OCZ may be using a new PCB with this memory, since it is a bit different from PCB's recently seen on OCZ DIMMs.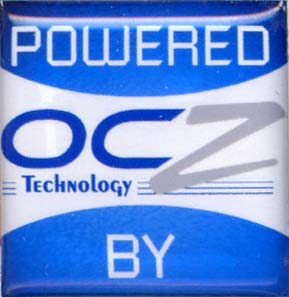 OCZ also includes a Case Badge for those who want to advertise that they are using top OCZ memory in their computer.
OCZ 4200EL Specifications
OCZ 4200EL Memory Specifications
Number of DIMMs & Banks
2 DS
DIMM Size
Total Memory
512 Mb
1 GB
Rated Timings
2.5-4-4-7 at DDR533
Rated Voltage
2.7V
Maximum Voltage 3.0V
OCZ tests performance of OCZ 4200EL on Asus and Abit Intel 865/875 motherboards. While compatibility tests are run on other motherboards, these popular boards are used for Production Line testing. OCZ states that Memory is tested at DDR400, 433, 466, 500 and 533.