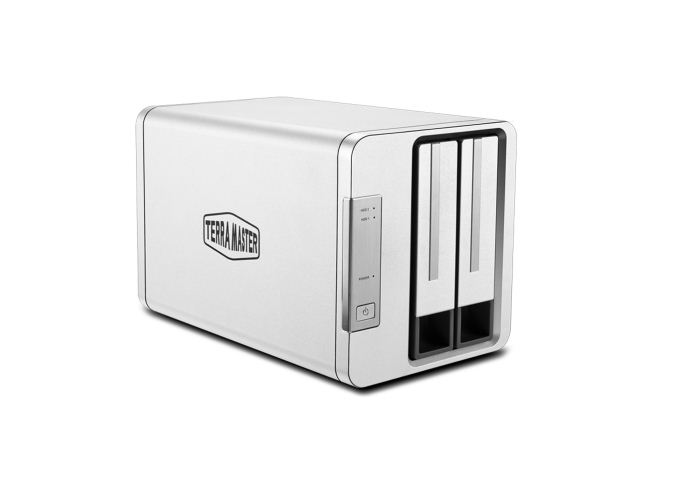 Storage bridges come in many varieties within the internal and external market segments. On the external side, they usually have one or more downstream SATA ports. The most popular uplink port is some sort of USB connection. Within the USB storage bridge market, device vendors have multiple opportunities to tune their product design for specific use-cases.
Today's review will take a look at TerraMaster's D2-310, a 2-bay direct-attached storage device. It can accommodate either 2.5" or 3.5" drives, and connects to the computer using a USB 3.1 Gen 2 Type-C port. It is externally powered using a 40W adapter. A Type-C to Type-A cable is bundled with the unit. Screws for installing both 2.5" and 3.5" drives are supplied.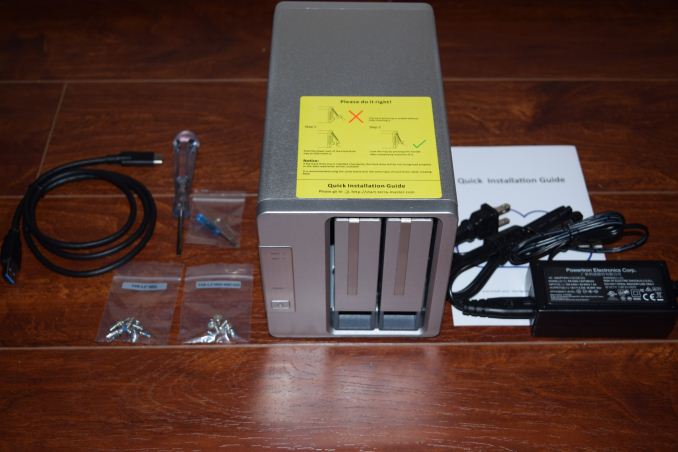 Almost all multi-bay direct-attached storage devices come with hardware RAID. The D2-310 is no different. Internally, the product uses the ASMedia ASM1352R to bridge the two SATA ports to a USB 3.1 Gen 2 port. The bridge chip also comes with hardware RAID capabilities, and the D2-310 has a rotary switch in the rear panel (near the Type-C port) to select the required configuration. The device doesn't need to be power cycled when the RAID configuration is changed by the user. Instead, the 'Reset' button needs to be pressed for 5 seconds in order to create a new RAID volume with the selected configuration. Tools for attaching the drives as well as modifying the rotary switch position and activating the reset button are provided in the accessory package.
Consumers need to keep the following aspects in mind for external storage devices / enclosures with a USB interface:
Support for UASP (USB-attached SCSI protocol) for better performance (reduced protocol overhead and support for SATA Native Command Queueing (NCQ))
Support for TRIM to ensure SSDs in the external enclosure can operate optimally in the long run
Support for S.M.A.R.T passthrough to enable monitoring of the internal SATA device by the host OS
In the rest of the review, we evaluate the above aspects and also look into the performance of the unit.
The table below presents the detailed specifications and miscellaneous aspects of the units and how they compare.
Comparative Storage Bridges Configurations
Aspect
Downstream Port
2x SATA III
1x SATA III
Upstream Port
USB 3.1 Gen 2 Type-C
USB 3.0 Micro-B
Bridge Chip
ASMedia ASM1352R
JMicron JMS578
Power
40W (12V @ 3.33A) Power Brick with 150 cm Cable
Bus Powered
Use Case
2-bay 2.5"/3.5" HDD/SSD Enclosure
Supports RAID 0, RAID 1, SINGLE (traditional JBOD), and JBOD (traditional SPAN) configuration for the two drives
Supports auto-rebuild in RAID 1 mode as long as power is not turned off after blank drive insertion
Tool-free 2.5" HDD/SSD Enclosure (up to 9.5 mm height)
Physical Dimensions
227 mm x 119 mm x 133 mm
130 mm x 82 mm x 14 mm
Weight (diskless)
1300 grams
87 grams (with cable)
Cable
100 cm USB 3.1 Gen 2 Type-C to Type-A
30 cm USB 3.0 Micro-B to USB 3.0 Type-A
S.M.A.R.T Passthrough
Yes
Yes
UASP Support
Yes
Yes
TRIM Passthrough
No
Yes
Price
USD 160
USD 15
Review Link
TerraMaster D2-310 Review
Inateck FE2010 Review
Our evaluation routine for storage bridges borrows heavily from the testing methodology for direct-attached storage devices. The testbed hardware is reused. CrystalDiskMark is used for a quick overview, as it helps determine availability of UASP support and provides some performance numbers under ideal scenarios. Real-world performance testing is done with our custom test suite involving robocopy bencharks and PCMark 8's storage bench.