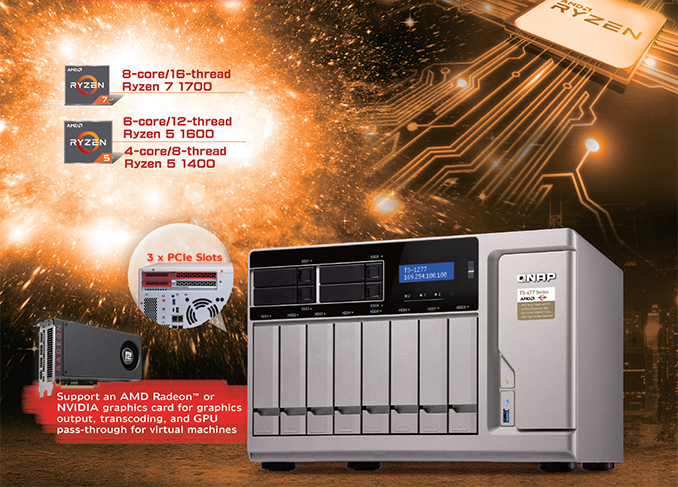 QNAP demonstrated its upcoming 12-bay NAS devices at Computex 2017, including most notably models powered by AMD's Ryzen processors. The NAS will support HDDs and SSDs in various form-factors and will start at $2,299. In addition, the company is prepping 6-bay and 8-bay NAS featuring AMD's Ryzen CPUs that will be more affordable.
The QNAP TS-1277 series NASes are powered by AMD's Ryzen 7 1700 or Ryzen 5 1600 CPUs with eight and six cores respectively, and come with up to 64 GB of DDR4-2400 DRAM. All the systems use four GbE ports to connect to networks and have eight 3.5"/2.5" bays as well as four 2.5" bays for various SATA storage devices. As you'd expect for a NAS, there's a multitude of RAID options available, with the NAS hardware able to tap the large number of drives here for RAID 50/60 operation. In addition, the NASes feature two M.2 slots (up to M.2-22110) for SSDs that can cache frequently used data.
Meanwhile, the TS-1277 has one PCIe 3.0 x8 and two PCIe 3.0 x4 slots, and thus can be upgraded with QNAP's QM2 PCIe cards, which offer options such as 10GbE networking and additional M.2 slots. For those who needs to have access to the TS-1277 from a local PC or to a DAS, the NAS has two USB 3.1 ports (Type-A and Type-C) and five USB 3.0 headers (Type-A). As for power, the TS-1277 is equipped with a 550 W PSU and can handle all kinds of HDDs and SSDs (as long as they are compatible with SATA-6G and do not require management by the host) as well as almost any graphics card in the PCIe 3.0 x8 slot.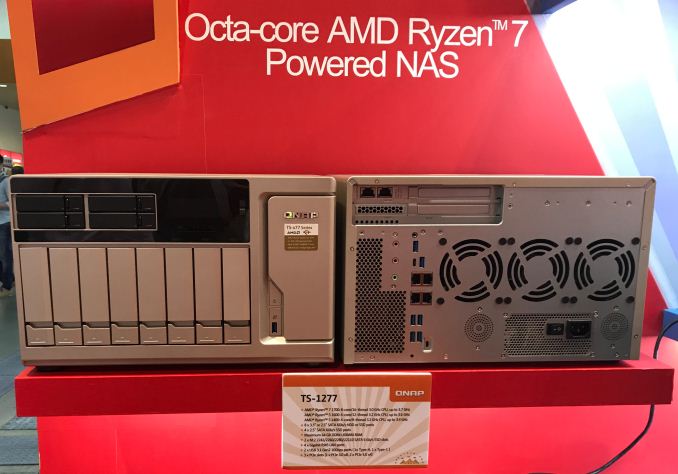 The 12-bay TS-1277 NAS will not be the only model based on AMD's Ryzen CPUs from QNAP. Along the high-end SKU, QNAP will also introduce more affordable solutions featuring six and eight bays: the TS-677 and the TS-877 with 250 W and 450 W PSUs, respectively. As for feature set, all QNAP's TS-x77 NAS will run the company's QTS 4.3 OS and will support the same capabilities as other NAS from the manufacturer.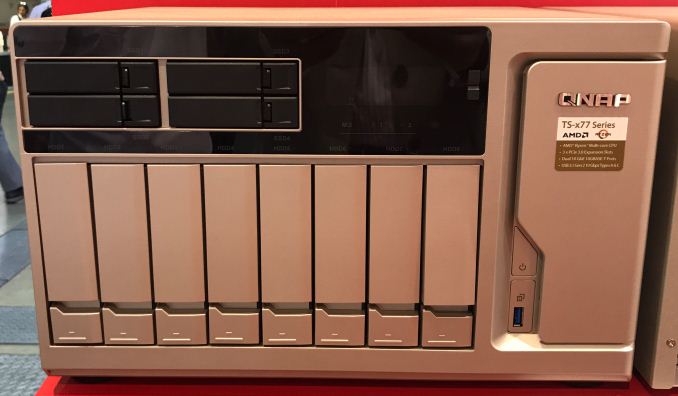 QNAP is the first NAS manufacturer to start using AMD's Ryzen processors for network area storage. AMD's CPUs traditionally have strong integer performance, making them a good fit for NAS tasks. Meanwhile, the high core counts of the Ryzen CPUs also enables QNAP to position their TS-1277/TS-877/TS-677 NASes for hosting virtual machines or containerized applications. During a conversation at Computex, QNAP also mentioned that the prices of AMD's Ryzen processors (relative to its rivals) were also a major factor in their decision to use Ryzen CPUs for NASes.
QNAP TS-1277, TS-877 and TS-677 Specifications
TS-1277
1700-64G
TS-1277
1700-32G
TS-1277
1600-16G
TS-877
1600-16G
TS-877
1400-16G
TS-677
1400-8G
CPU
AMD Ryzen 7 1700
8C/16T
3 GHz/3.7 GHz
20 MB Cache (L2: 4 MB, L3: 16 MB)
65W TDP
AMD Ryzen 5 1600
6C/12T
3.2 GHz/3.6 GHz
19 MB Cache (L2: 3 MB, L3: 16 MB)
65W TDP
AMD Ryzen 5 1400
4C/8T
3.2 GHz/3.4 GHz
10 MB Cache (L2: 2 MB, L3: 8 MB)
65W TDP
Encryption Acceleration
AES-NI
Memory
Speed
DDR4-2400, dual-channel
Capacity
64 GB (4×16 GB)
32 GB
(2×16 GB)
16 GB
(2×8 GB)
8 GB
(2×4 GB)
Bays
8 × 3.5"
4 × 2.5"

6 × 3.5"
2 × 2.5"
4 × 3.5"
2 × 2.5"
M.2 Slots
2×M.2 slots (up to M.2-22110)
Storage interface
SATA 6 Gbps
Ethernet
4×GbE, 10/40 GbE supported via add-in-cards
PCIe Slots
1 × PCIe 3.0 x8
2 × PCIe 3.0 x4
Audio
2 speakers
1 × audio out
2 × audio in
USB
1 × USB 3.1 Type-A
5 × USB 3.0 Type-A
1 × USB 3.1 Type-C

Other I/O
Monochrome backlit LCD display with Enter & Select buttons, 3.5 mm console port, voice allert, buzzer, etc.
Dimensions
Height
234.6 mm / 9.23"
231.9 mm / 9.13"
Width
369.9 mm / 14.56"
292.8 mm / 11.53"
224.9mm/8.9"
Depth
319.8 mm / 12.59"
PSU
550 W
450 W
250 W
OS
QNAP QTS 4.3
MSRP
$3099
$2599
$2299
$2099
$1899
$1649
QNAP plans to start selling its AMD Ryzen-based 12-bay TS-1277 NAS in late July. The top-of-the-range model with a Ryzen 7 1700 and 64 GB of memory will cost $3,099, a slightly cheaper SKU with the same processor, but 32 GB of DDR4 will retail for $2,599, whereas the most affordable configuration powered by AMD's six-core Ryzen 5 1600 will be available for $2,299.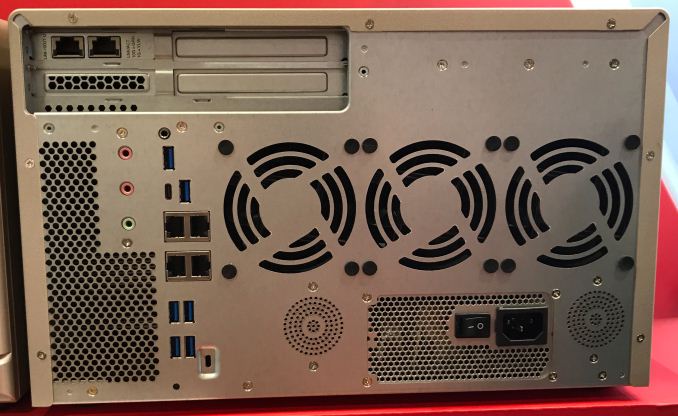 Related Reading:
Source: QNAP