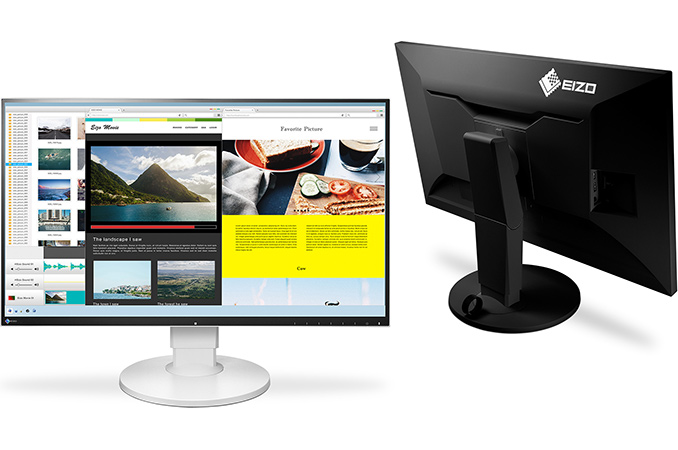 As the USB Type-C connector has become more prevalent, so have devices that support the optional DisplayPort alt mode. To that end, EIZO has introduced their first monitor that users a USB Type-C to connect to host systems. The FlexScan EV2780 is a higher-end office monitor with display features typical of other 27" 1440p monitors, and features thin borders which make the monitor particularly suitable for multi-monitor environments.
The EIZO FlexScan EV2780 is a 27" IPS display with a 2560×1440 resolution, 350 nits brightness, 178° viewing angles, a 60 Hz refresh rate and a 1000:1 contrast ratio. The monitor is aimed at typical home and business applications: it can reproduce 16.77 million colors and supports sRGB color gamut, enough for typical workloads, and has a response time of 5 ms gray-to-gray, enough for mainstream gaming.
One of the key features of the FlexScan EV2780 is its USB Type-C input that works with DisplayPort alternate mode for USB-C. The port can be used to connect various desktops, laptops and smartphones that support DP alt mode for USB-C, including Apple MacBook, Dell XPS 12/13/15, HP Elite X2 1012, HP EliteBook Folio G1, Microsoft Lumia 950/950 XL, LG G5, HTC 10 M10h and so on. The full list of compatible devices can be found at EIZO's web-site. To ensure compatibility with other modern systems, the FlexScan EV2780 also has a DisplayPort and an HDMI connector in addition to a dual-port USB 3.0 hub.

Another notable feature of the new 27" display from EIZO are its ultra-thin bezels: 1 mm on the sides and top as well as 4.6 mm on the bottom. Since the monitor also has 5.7-mm thick black borders (which results in 6.7 mm borders on sides and top), it cannot be called completely borderless, but its thin frames make it a reasonable candidate for multi-display setups used for business or entertainment purposes. To make it more attractive for such setups, EIZO bundles its proprietary Screen InStyle software that allows users to adjust the color, circadian dimming and power settings on multiple FlexScan displays at once.
EIZO FlexScan EV2780
FlexScan EV2780
Panel
27" IPS
Native Resolution
2560 × 1440
Maximum Refresh Rate
60 Hz
Response Time
5 ms (gray-to-gray)
Brightness
350 cd/m²
Contrast
1000:1
Viewing Angles
178°/178° horizontal/vertical
Inputs
1 × USB Type-C (DisplayPort alt mode)
1 × DP 1.2
1 × HDMI 1.4
1 × DVI-D
USB Hub
2-port USB 3.0 hub
Audio
1 W × 2
audio in/out ports
Power Consumption
Typical
11 W
Maximum
96 W
Finally, the FlexScan comes with a stand featuring a 155 mm height adjustment, 40° tilt (5° down, 35° up) and 344° swivel & 90° pivot for portrait mode.
EIZO did not reveal MSRP of its FlexScan EV2780 monitor, but an educated guess points towards something around $1000, based on the fact that the company's previous-gen 27" FlexScan flagship (EV2750) is currently available for $989 at Amazon. Just like other EIZO displays, the monitor comes with with a five-year warranty with a six-month zero bright sub-pixel guarantee.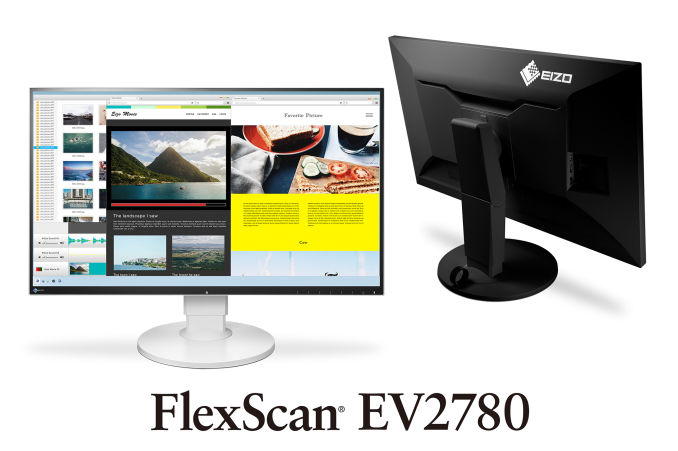 Source: EIZO