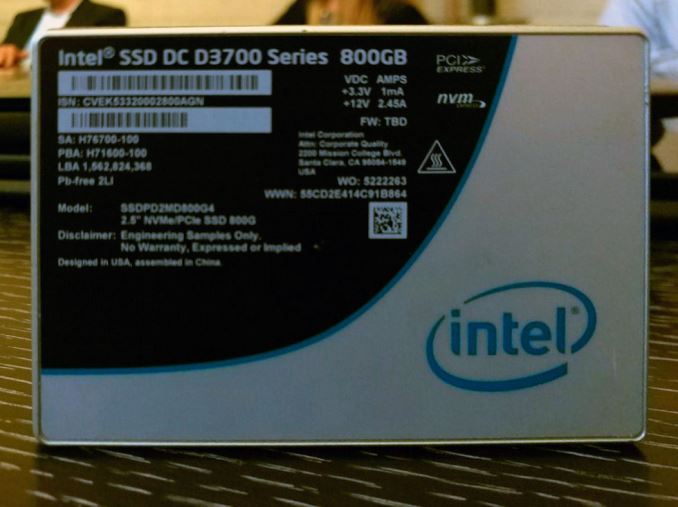 Intel on Thursday introduced several new PCIe SSDs designed for cloud datacenters. The new drives increase capacities, shrink latencies and offer higher throughput in order to follow demands of new datacenters deployed by various companies these days. Some of the new SSDs are based on Intel's 3D NAND memory, whereas other feature NVMe 1.2 technology and dual-port U.2 capability to increase performance of mission-critical data-storage applications.
Intel hopes that in the future SSDs will be used not only to store hot, frequently used data, but also data that is currently stored on highly-reliable high-performance hard drives. To replace 10K and 15K RPM HDDs in the datacenter, Intel needs to offer improved reliability, high endurance, unbeatable performance, lower costs and additional features impossible on HDDs. The new SSDs from the company bring a number of improvements to the datacenter compared to previous-generation drives.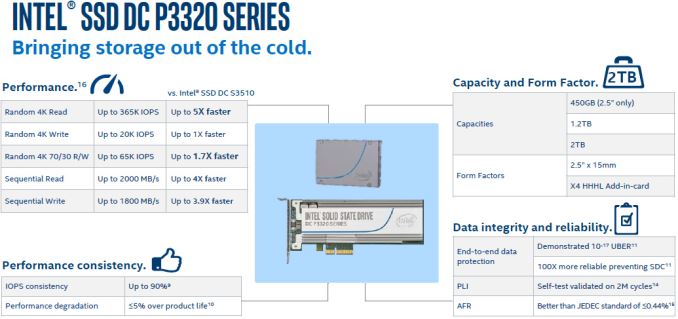 The new Intel SSD DC P3320 and P3520 families of SSDs are based on 32-layer 3D NAND flash memory developed and produced by Intel and Micron. The drives are powered by unspecified controllers, and support end-to-end data protection as well as some other functions important in the datacenters. Intel claims that that its 3D NAND has better endurance than planar NAND flash memory, which is common knowledge at this point, but does not provide any exact numbers for their NAND. The DC P3320 comes in 2.5" or HHHL card form-factor and uses either PCIe 3.0 x4 or U.2 to connect to the host. The DC P3320 is being pitched as a step up from Intel's SATA-based datacenter SSDs, while the DC P3520 will presumably be replacing the DC P3500 series.
Specifications of Intel DC P3320 SSDs
450 GB
1.2 TB
2 TB
Form Factor
2.5" drive
2.5" drive/HHHL card
Controller
unknown
Interface
U.2
U.2 or PCIe 3.0 x4
Protocol
NVMe
DRAM
unknown
NAND
256 Gb MLC
32-layer 3D NAND
256 Gb MLC
32-layer 3D NAND
256 Gb MLC
32-layer 3D NAND
Sequential Read
1100 MB/s
1600 MB/s
1600 MB/s
Sequential Write
500 MB/s
1000 MB/s
1400 MB/s
4KB Random Read (QD32)
130K IOPS
275K IOPS
365K IOPS
4KB Random Write (QD32)
17K IOPS
22K IOPS
22K IOPS
Launch Date
Q1 2016
The DC P3320 SSDs offer a range of capacities, including 450 GB, 1.2 TB and 2 TB models and are designed for read-intensive applications. The new drives are rated to offer maximum sequential read/write speed of up to 1600/1400 MB/s. Maximum random 4K read/write speed declared by Intel for the DC P3320 is 365K/22K IOPS (input/output operations per second). Intel does not reveal any details about the DC P3520, but claims that these drives were designed to deliver "significant" performance and latency improvements over the DC P3320 (which probably indicates higher parallelism and higher capacities, which Intel does not want to talk about at the moment).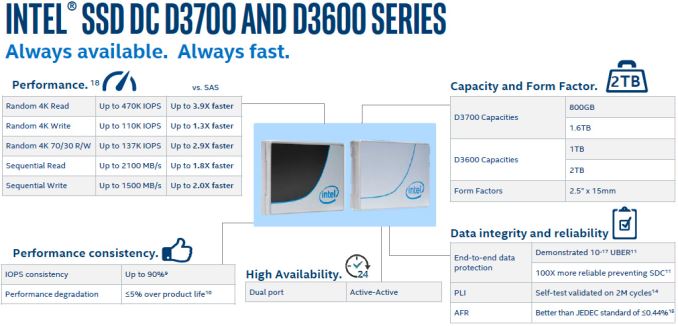 Meanwhile the new Intel DC D3600/3700 SSDs (not to be confused with the P or S series) are designed for mission-critical storage applications that should function 24/7, which is why they utilize proven MLC NAND flash memory with high-endurance technology (HET) as well as controllers that support NVMe 1.2 technology with various high-availability features and support for up to 80 I/O queues. Intel does not disclose which controller it uses, but claims that they feature an integrated memory buffer and dynamic multiple namespaces management technology to improve efficiency of data management across drives in one machine, an exclusive feature (which potentially means that Intel uses a custom controller for these SSDs). The drives sport an active/active dual-port design that connects through a compatible backplane to two host systems simultaneously (which enables run-time recovery during failover when one of the hosts is unavailable) and support hot-plug capability. The DC D3600/D3700 drives also feature end-to-end data protection, power-loss data protection with self-test and thermal throttling and monitoring to ensure maximum reliability. The SSDs utilize PCIe 3.0 x4 interface and U.2 connectors. Since each drive has only a single U.2 connector, their dual-port mode relies on the backplane routing two PCIe lanes to each of the two host systems.
Specifications of Intel DC D3600 and D3700 SSDs
DC3700 800 GB
DC3600 1 TB
DC3700 1.6 TB
DC3600 2 TB
Form Factor
2.5" drive with U.2 interface
Controller
unknown
Interface
U.2/PCIe 3.0 x4
Protocol
NVMe 1.2
DRAM
unknown
NAND
MLC NAND with HET (high-endurance technology)
Sequential Read
1900 MB/s
1800 MB/s
2100 MB/s
2100 MB/s
Sequential Write
970 MB/s
940 MB/s
1500 MB/s
1500 MB/s
4KB Random Read (QD32)
450K IOPS
450 K IOPS
470K IOPS
470K IOPS
4KB Random Write (QD32)
65K IOPS
25K IOPS
95K IOPS
30K IOPS
Launch Date
Q1 2016
Intel's DC D3600/D3700 solid-state drives will be available in 800 GB, 1.6 TB (D3700) as well as 1 TB and 2 TB (D3600) configurations. According to Intel, the new SSDs, deliver sequential read speeds of up to 2100 MB/s and sequential write performance of up to 1500 MB/s. The new SSDs can also perform up to 470K random read IOPS (4KB) and up to 95K random write IOPS (4KB).
Since SSDs with U.2 interface are not compatible with existing SAS or SATA backplanes (because they do not support PCIe), they need support from makers of storage solutions for datacenters. Intel claims that companies like EMC, Huawei, Quanta, Wistron and X-IO Technologies are ready to produce mission-critical storage ecosystem for PCIe-based SSDs, but does not provide further details.
A hands-on look at a sample of the DC D3700 revealed that Intel has changed the design of the heatsink on the bottom of the drive to allow for airflow in two directions across the back half of the drive where the controller most likely resides.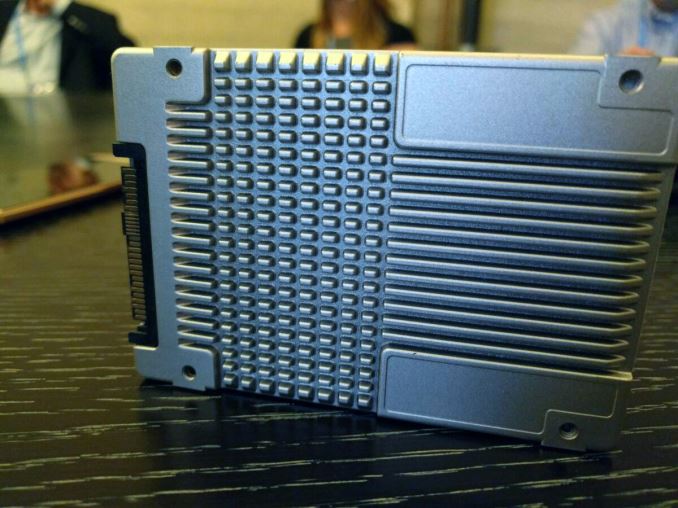 Intel did not touch upon price and availability details about its new SSDs, but expect them to arrive later this year. Keeping in mind that there are not a lot of mission-critical PCIe backplanes in the wild at the moment, it will take some time before Intel's DC D3600/D3700 get more or less widespread.
Source: Intel