Performance Metrics - I
The Intel NUC6i5SYK was evaluated using our standard test suite for low power desktops / industrial PCs. Not all benchmarks were processed on all the machines due to updates in our testing procedures. Therefore, the list of PCs in each graph might not be the same.
Futuremark PCMark 8
PCMark 8 provides various usage scenarios (home, creative and work) and offers ways to benchmark both baseline (CPU-only) as well as OpenCL accelerated (CPU + GPU) performance. We benchmarked select PCs for the OpenCL accelerated performance in all three usage scenarios. These scores are heavily influenced by the CPU in the system. The benchmark numbers show that it is a toss-up between the Broadwell-U Iris Core i7-5557U in the NUC5i7RYH and the Core i5-6260U in the NUC6i5SYK. The former is a 28W TDP part and can sustain higher clocks. Despite that, the performance of the two are comparable for day-to-day usage activities (such as web browsing and spreadsheet editing), as tested by PCMark 8.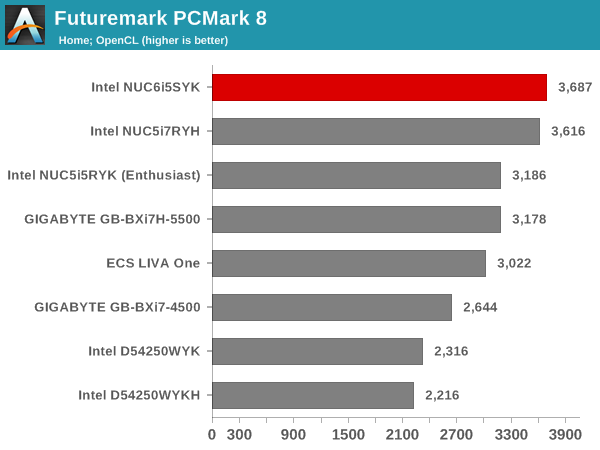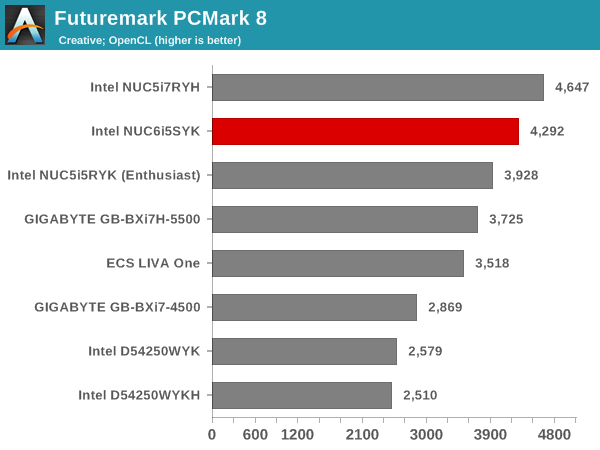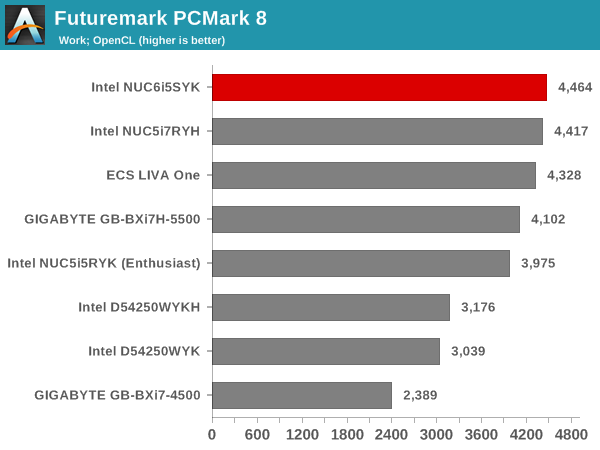 Miscellaneous Futuremark Benchmarks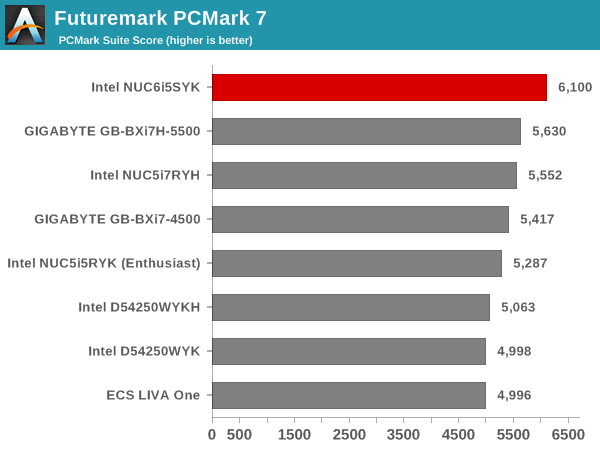 The Futuremark GPU benchmarks present a different story. The advancements in the Skylake GPU enable the Skylake NUC to easily outscore every other mini-PC that has been evaluated before.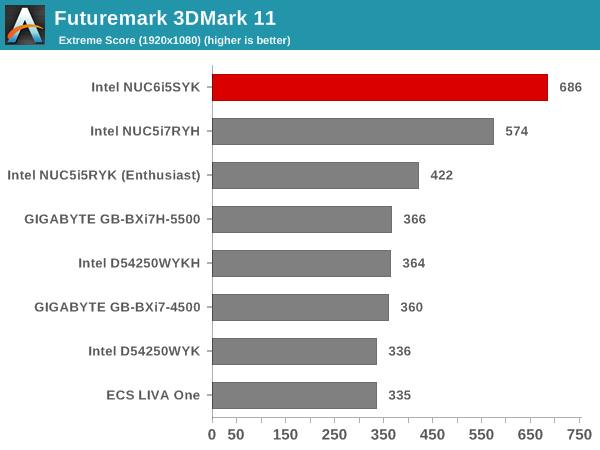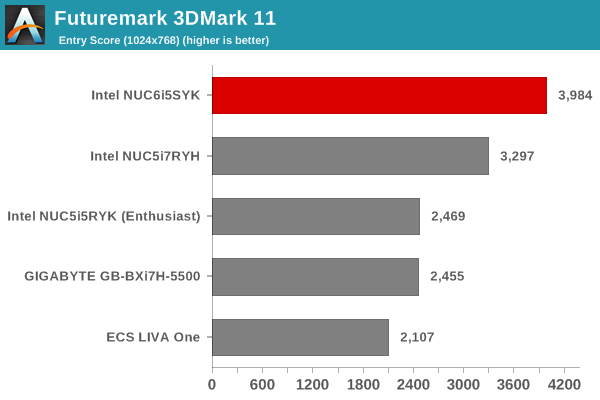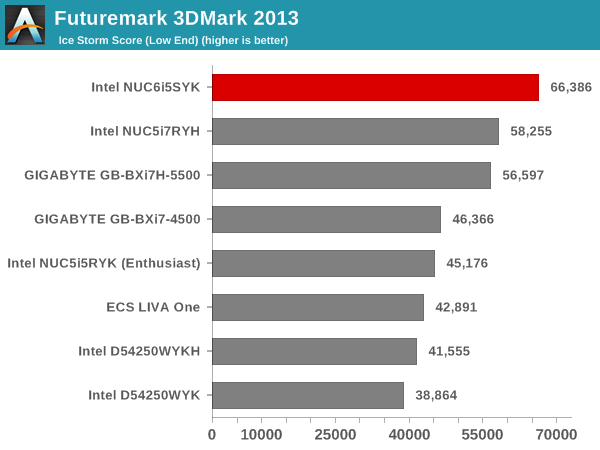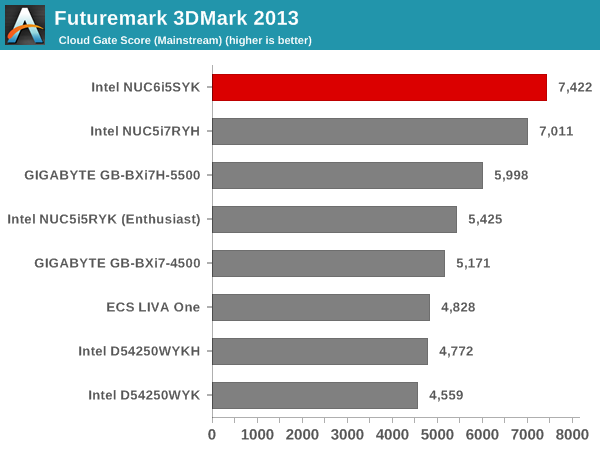 3D Rendering - CINEBENCH R15
We have moved on from R11.5 to R15 for 3D rendering evaluation. CINEBENCH R15 provides three benchmark modes - OpenGL, single threaded and multi-threaded. Evaluation of select PCs in all three modes provided us the following results. In the single threaded case, the higher clocks and TDP ratings help the NUC5i7RYH (based on the 28W TDP Core i7-5557U), ECS LIVA One (based on the 35W TDP Core i3-6100T) and the GIGABYTE GB-BXi7H-5500 (based on the Core i7-5500U - usual TDP of 15W configured upwards to 28W) to outscore the Skylake NUC (based on the 15W TDP Core i5-6260U).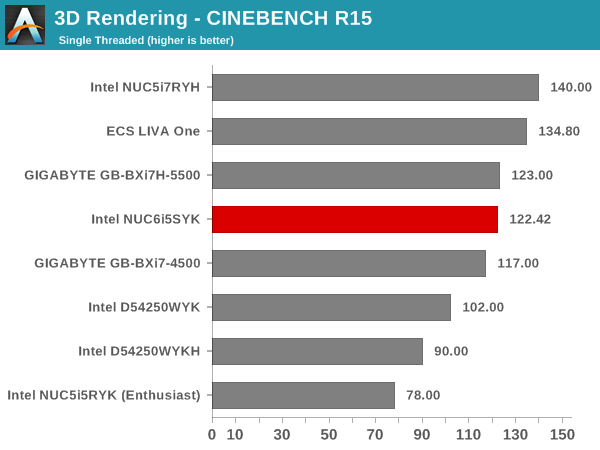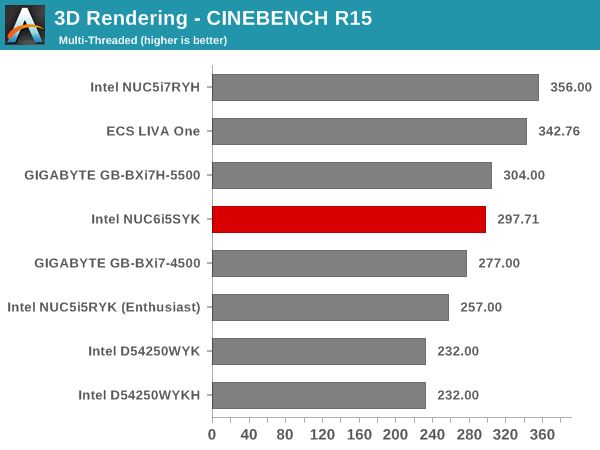 However, in the OpenGL case, the Skylake GPU with eDRAM enables the NUC6i5SYK to have a comfortable lead over other UCFF PCs.