AQC107
For a number of years, there has only really been one player in the home networking priority space with software aimed at gamers. Today, that changes: since the launch of Aquantia's multi-gigabit Ethernet cards that allow 2.5G, 5G and 10GBase-T connectivity over standard RJ-45 connections, the company has put work into its own networking priority software. The point of the software is to enable quality by prioritizing the network traffic, such that users who are simultaneously doing many things can ensure that software that requires low-latency (such as audio, or gaming) takes center stage. Aquantia's software is called Action Center, launching in conjunction with a Black Friday deal.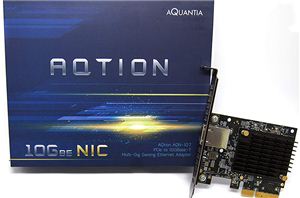 On Wednesday, Aquantia started to sell the gamer edition of its AQtion AQN-107 multi-gig network card. As the name implies, the 10 GbE NIC is aimed at demanding gamers...
31
by Anton Shilov on 7/12/2018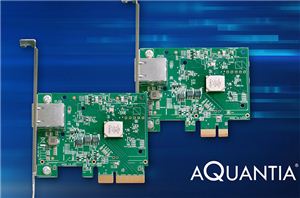 Aquantia got a lot of positive publicity this year with its relatively inexpensive 5G and 10G network cards, which brought multi-gigabit Ethernet down to around $100, making them some...
41
by Anton Shilov on 11/23/2017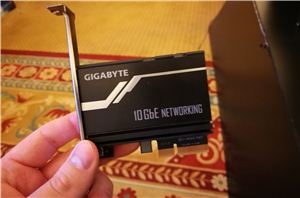 GIGABYTE has added the GC-AQC107 10 GbE PCIe card it demonstrated early this year at CES to the list of products on its website. The product is also listed...
33
by Anton Shilov on 11/9/2017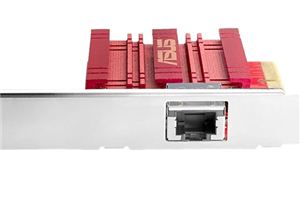 ASUS this week released the first inexpensive vendor-based consumer-grade 10 GbE / 10GBase-T card powered by an Aquantia silicon. The card can be installed in any modern PC with...
26
by Anton Shilov on 7/3/2017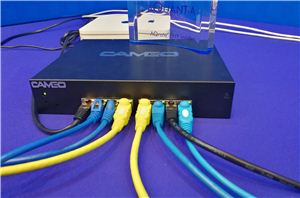 For users that have been following our recent coverage of Aquantia's new multi-gigabit Ethernet solutions for consumers, the AQtion AQC107 and AQC108 controllers (along with their corresponding PCIe cards)...
40
by Ian Cutress on 6/5/2017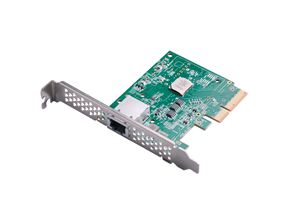 Late last year, Aquantia launched their range of multi-gigabit Ethernet controllers. These were controllers that could enable 1G, 2.5G and 5G connections over standard RJ45 connectors and Cat5e cabling...
33
by Ian Cutress on 5/15/2017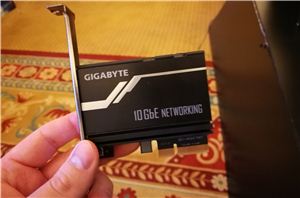 During December, Aquantia announced that it will be launching two multi-gigabit NICs into the market, offering 2.5G/5G capability on both and one with 10GBase-T as well. We were told...
25
by Ian Cutress on 1/11/2017