Random Read/Write Speed
The four corners of SSD performance are as follows: random read, random write, sequential read and sequential write speed. Random accesses are generally small in size, while sequential accesses tend to be larger and thus we have the four Iometer tests we use in all of our reviews.
Our first test writes 4KB in a completely random pattern over an 8GB space of the drive to simulate the sort of random access that you'd see on an OS drive (even this is more stressful than a normal desktop user would see). I perform three concurrent IOs and run the test for 3 minutes. The results reported are in average MB/s over the entire time. We use both standard pseudo randomly generated data for each write as well as fully random data to show you both the maximum and minimum performance offered by SandForce based drives in these tests. The average performance of SF drives will likely be somewhere in between the two values for each drive you see in the graphs. For an understanding of why this matters, read our original SandForce article.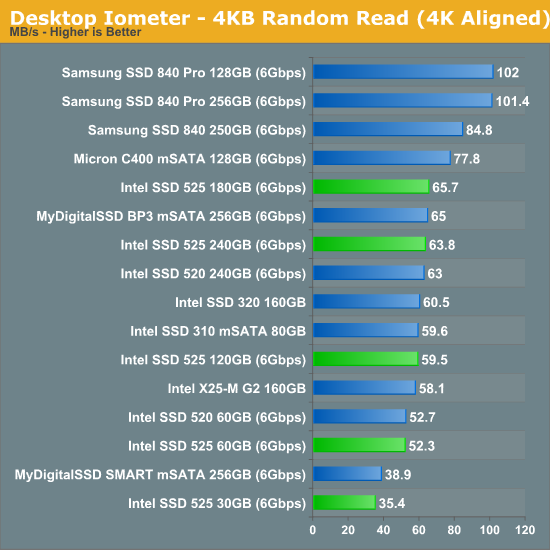 The 60GB drive is nearly enough to saturate the 525's 4KB random read performance. We don't see a ton of scaling here beyond the 60GB capacity.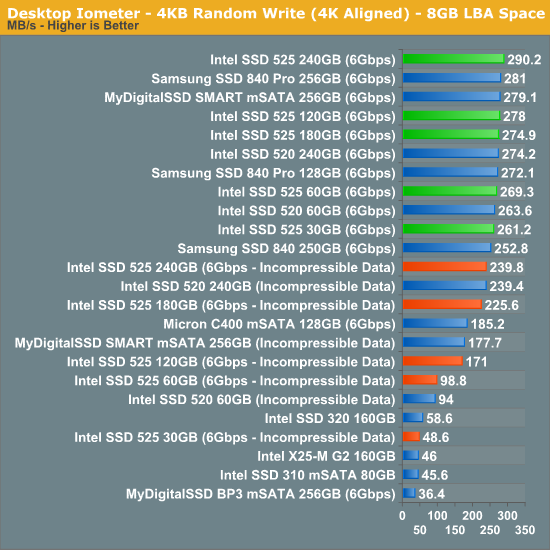 With easily compressible data, nearly all of the 525 capacities perform alike since very little data is actually being written - we're just effectively updating the indirection table in addition to a small number of NAND writes. Flip the switch and look at incompressible data and you'll see a clear relationship between the number of active die on board and random IO performance. None of these drives are bad by any means, but they don't all perform at the level of the 240GB model.
Many of you have asked for random write performance at higher queue depths. What I have below is our 4KB random write test performed at a queue depth of 32 instead of 3. While the vast majority of desktop usage models experience queue depths of 0 - 5, higher depths are possible in heavy I/O (and multi-user) workloads: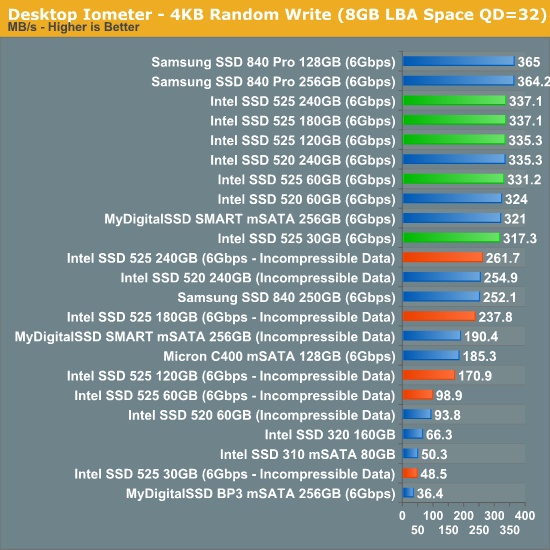 There's some scaling with queue depth, but when you're this constrained by the number of die you can write to there's just not that much more parallelism to extract.
Sequential Read/Write Speed
To measure sequential performance I ran a 1 minute long 128KB sequential test over the entire span of the drive at a queue depth of 1. The results reported are in average MB/s over the entire test length.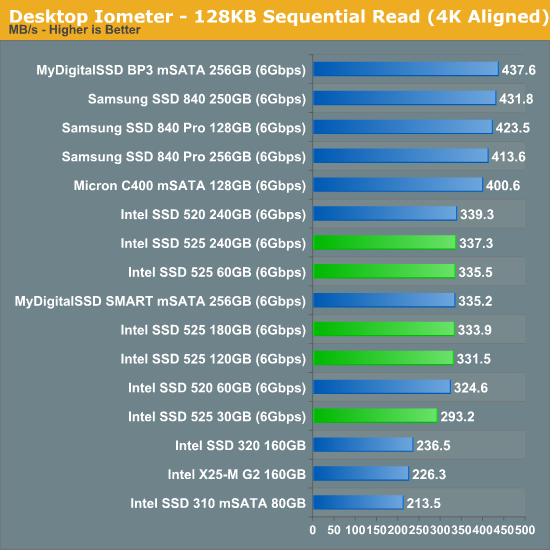 Even the smallest 30GB 525 can read at almost 300MB/s in low queue depth sequential workloads, that's very quick. To put that in perspective, the 30GB 525 is 30% faster in sequential reads than Intel's 2nd generation, high-end 160GB SSD. The old Intel SSD 310 also gets a sound beating by the new 525.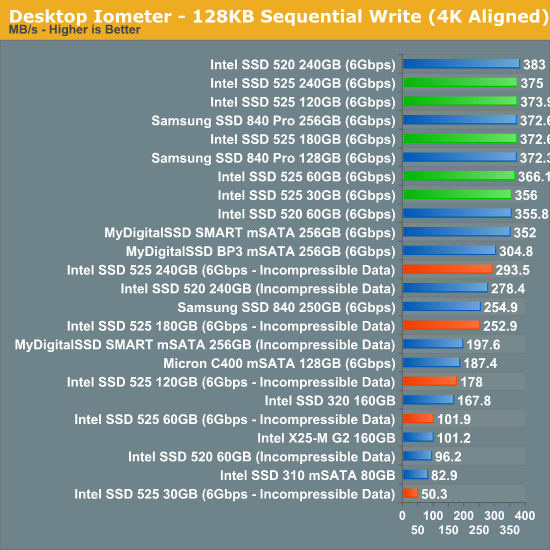 Sequential write performance once again comes down to the natur eof the data you're writing to the drive. Incompressible data, which will likely make up a good portion of what you write sequentially to a decent sized 525 sees performance that's almost directly proportional to capacity. Looking at Intel's performance historically though, only the 30GB model gets really slow here. The 60GB drive is at least as fast as the old X25-M G2, while the 120 and larger capacities deliver downright solid performance.
AS-SSD Incompressible Sequential Performance
The AS-SSD sequential benchmark uses incompressible data for all of its transfers. The result is a pretty big reduction in sequential write speed on SandForce based controllers.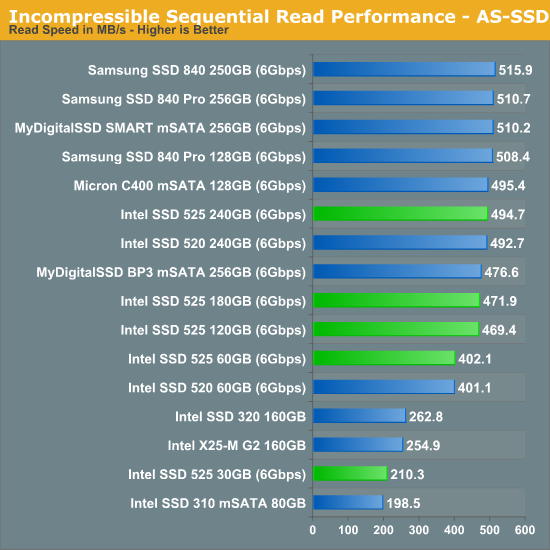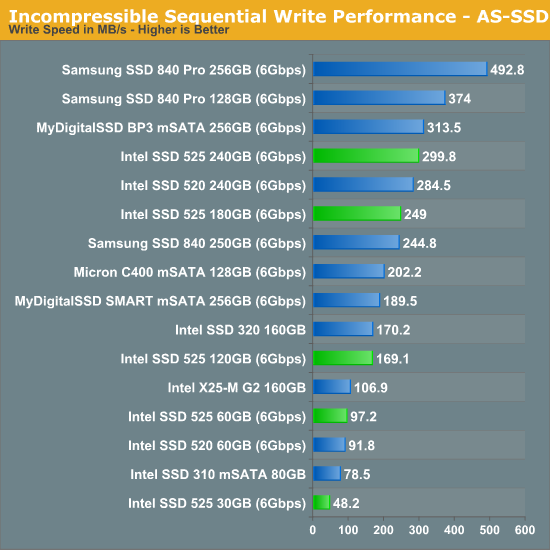 The AS-SSD data mimics what we've seen already in IOmeter, although we do get the benefit of seeing what higher queue depths do to incompressible performance on the 525.