Motherboards
Even though Comdex took place a few short days before the launch of the Pentium 4, only a few i850 motherboards were spotted at Comdex. In fact, the only major manufacturers that seem to be ready to deliver a Pentium 4 solution are MSI, Gigabyte, and Aopen. Pictured below, you can see the MSI 850 Pro, featuring 4 184-pin RIMM slots, an ATA100 controller, and an AGP Pro slot.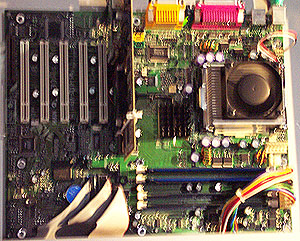 In contrast to the poor i850 turnout, nearly every major motherboard manufacturer proudly displayed DDR motherboard solutions from AMD, ALI, and VIA. DDR seems to have replaced RDRAM as the "hot" technology, as every manufacturer we visited was quick to point out their DDR platforms. On the Athlon desktop side, we were able to gab a peak at more than a few AMD 760 boards, as well as quite a number of Via's KT266 which should be arriving soon. We were also quite excited to see many Apollo Pro 266 based boards that will finally bring DDR memory to the Slot1/Socket370 platform.
Over at the ALi booth, we got a peak at their DDR solutions: the Aladdin Pro5 chipset for the Socket370/Slot1 platform and the ALiMAGiK1 chipset for the Socket A platform.
Another very interesting (and quite exciting) item we saw over at the ALi booth was a mobile DDR platform. Running a Socket A processor, we were able to grab pics of a prototype motherboard. It is hard to tell from the pictures below, but the platform was actually mounted stacked on top of a regular ATX motherboard. Interestingly enough, the mobile motherboard had a large AMD stamped on it, suggesting that perhaps AMD is perhaps helping ALi make a mobile DDR platform a reality. This system was using Micron DDR SO-DIMMs, but the memory manufacturer TwinMOS was also showing these chips off.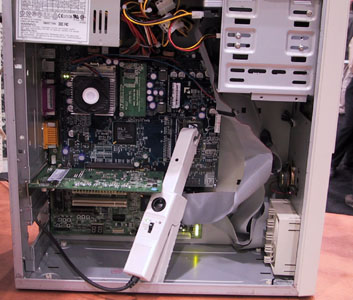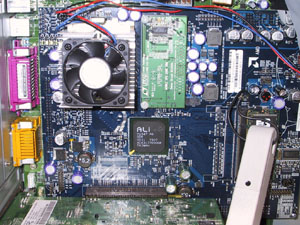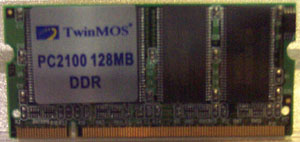 Another curious item we saw over at the TwinMOS booth was 184-pin SDR memory. Essentially, this is SDR memory that can be used in DDR slots. We suspect that the major consumer of this type of memory will be OEM system builders who want to take advantage of upcoming DDR motherboards but do not want to shell out the premium for DDR memory. As we saw in our latest Weekly Memory and Motherboard Price Guide, 128MB of PC2100 DDR memory currently runs about $66 more than its PC133 counterpart. Although we expect this price premium to drop significantly in the near future (manufacturers are saying that it really only costs about 3-5% more to make DDR memory over SDR memory), it seems that TwinMOS' SDR solution may prove to be very attractive, as the price should be only slightly more than 168-pin SDR memory. The 184-pin SDR memory could make a great transition product for many system builders.