ASUS N61Jv-X2 General Performance
The N61Jv is like the Dell Inspiron 1564; we have many similar components and a good point of comparison. We have the same 4GB of DDR3, a slightly slower Core i5-430M processor, and a different GPU. General performance should be more than fast enough for all but the most demanding users; if you're one of those, consider moving to an i7-based notebook instead (with an accompanying loss in battery life). Here's the quick recap of our N61Jv configuration.
ASUS N61Jv-X2 Testbed
Processor
Intel Core i5 520M
(2x2.4GHz, 32nm, 3MB L3, Turbo to 2.83GHz, 35W)
Memory
2x2GB DDR3-1066 (Kingston ASU1333D3S9DR8/2G)
Graphics
NVIDIA GeForce GT325M 1GB 128-bit Optimus
48 SPs (CUDA Cores) @ 450/990/1400MHz GPU/SPs/RAM
Intel HD Graphics IGP
Display
16.0" LED Glossy 16:9 768p (1366x768)
(HannStar HSD160PHW1)
Hard Drive(s)
500GB 7200RPM 16MB HDD
(Seagate Momentus 7200.4 ST9500420AS)
Optical Drive
8x DVDR SuperMulti (LG GT30N)
Battery
6-Cell, 10.8V, 4400mAh, 48Wh battery
"Up to 4 Hours"
Operating System
Windows 7 Home Premium 64-bit
Pricing
Available online for $899
We'll start with a look at general performance using PCMark05 and PCMark Vantage, Internet browser performance courtesy of Peacekeeper, and Cinebench and x264 encoding for computationally intensive tasks.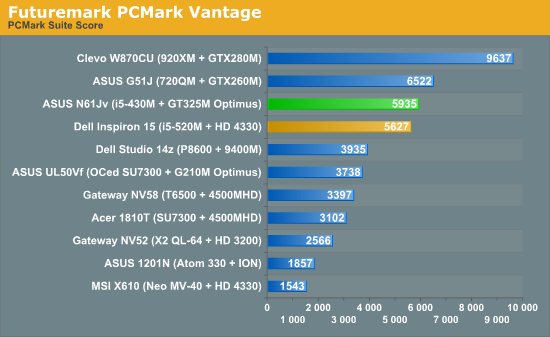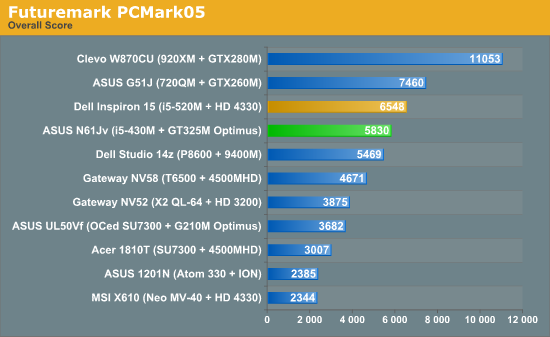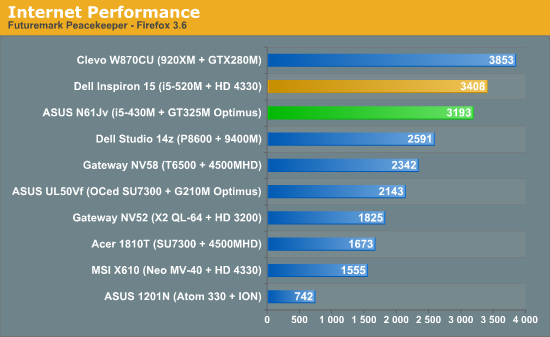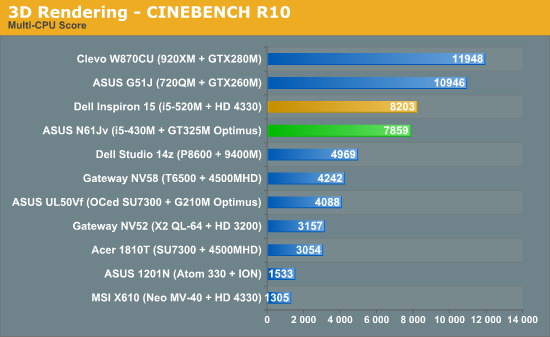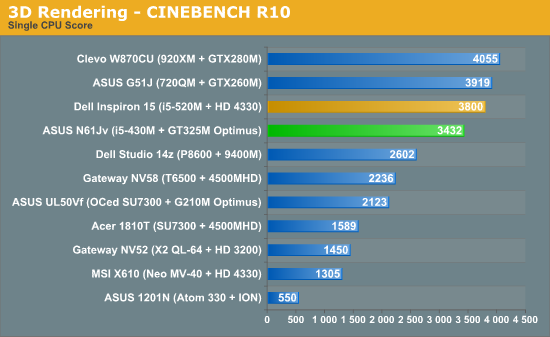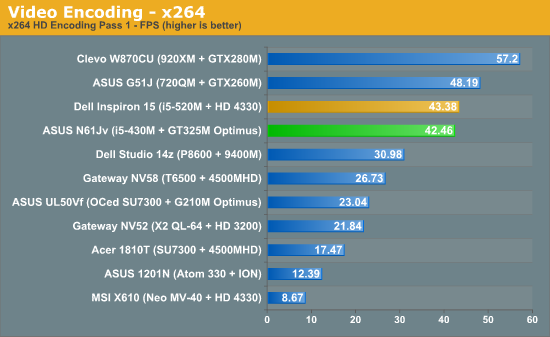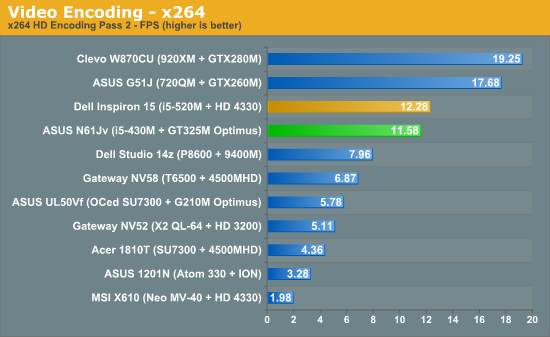 The results are great for a sub-$1000 notebook, trading blows with the Inspiron 1564 depending on whether the particular test benefits from a faster CPU or a faster GPU. PCMark05 doesn't benefit from faster graphics while PCMark Vantage does, which explains the swap in rankings. Peacekeeper also gives the i5-520M equipped Inspiron 15 a slight lead, along with x264 and Cinebench, but the gap is never more than 12%—exactly what we'd expect from the i5-430M vs. i5-520M matchup.
If you want something faster, you can see how the i7-720QM (ASUS G51J) and i7-920XM (Clevo W870CU) rank in terms of application performance. The W870CU also includes an Intel SSD, which dramatically boosts the PCMark scores (though the real-world impact is usually closer to a 10% performance increase). Obviously the i7-920XM isn't even in the same ballpark in terms of price, as the CPU alone will cost more than the N61Jv, but you can get notebooks with i7-720QM for around the same price as the N61Jv if you're willing to compromise on other areas (e.g. battery life).