Cold Test Results (Room Ambient Temperature)
For our power supply testing, we are using high precision electronic loads with a maximum power draw of 2700 Watts, a Rigol DS5042M 40 MHz oscilloscope, an Extech 380803 power analyzer, two high precision UNI-T UT-325 digital thermometers, an Extech HD600 SPL meter, a self-designed hotbox and various other bits and parts. For a thorough explanation of our testing methodology and more details on our equipment, please refer to our How We Test PSUs post.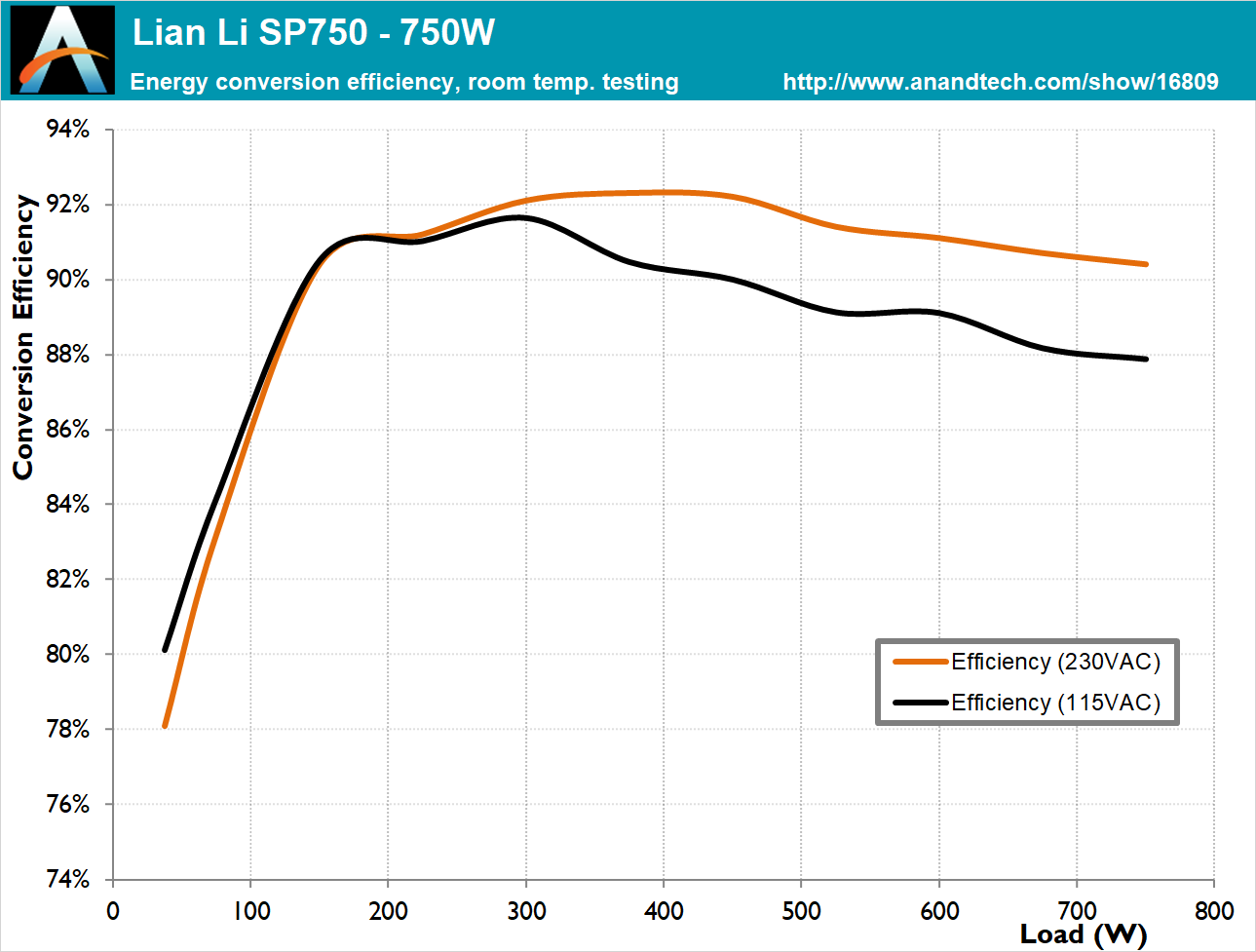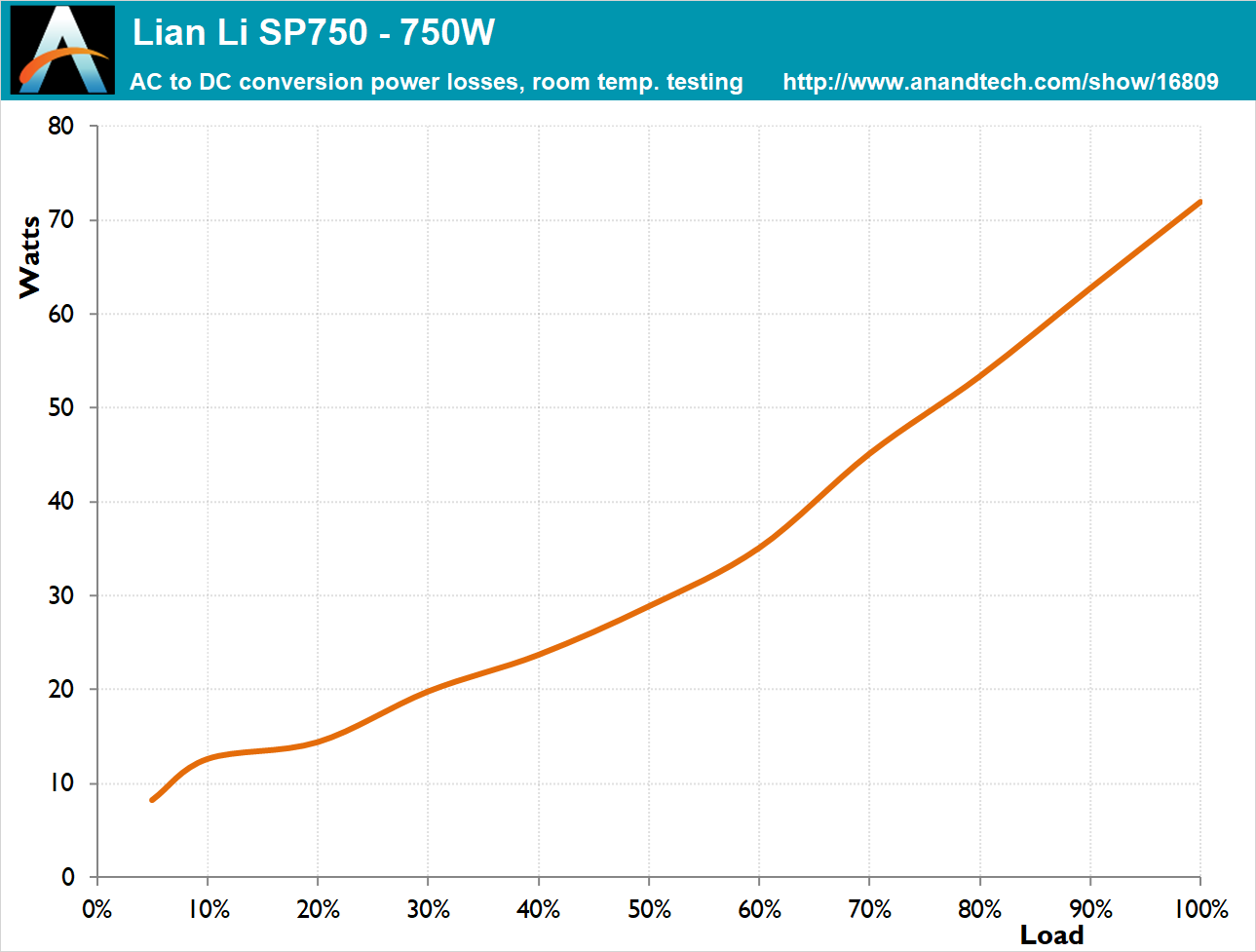 The efficiency of the Lian Li SP750 is good – and it had to be, considering the very high output and its small size. The unit meets the 80Plus Gold certification limit of 90% efficiency at 20% load when powered from a 230V AC source. When powered from a 115V AC source, the low load efficiency is actually even higher, easily granting the SP750 its 80Plus Gold certification. The average efficiency of the SP750 across its nominal load range is 91.3% when powered from a 230V AC source, or 89.7% when powered from a 115V AC source.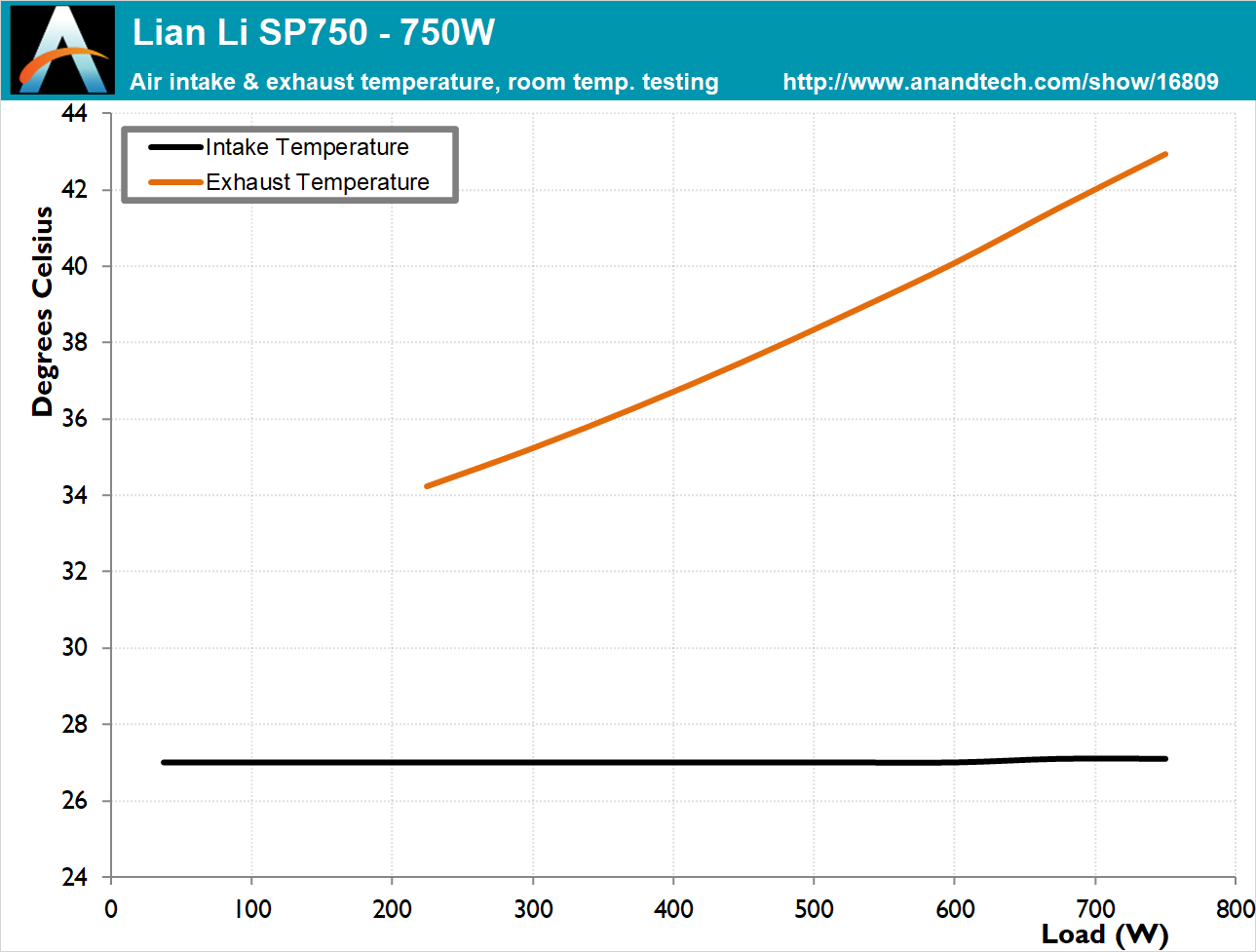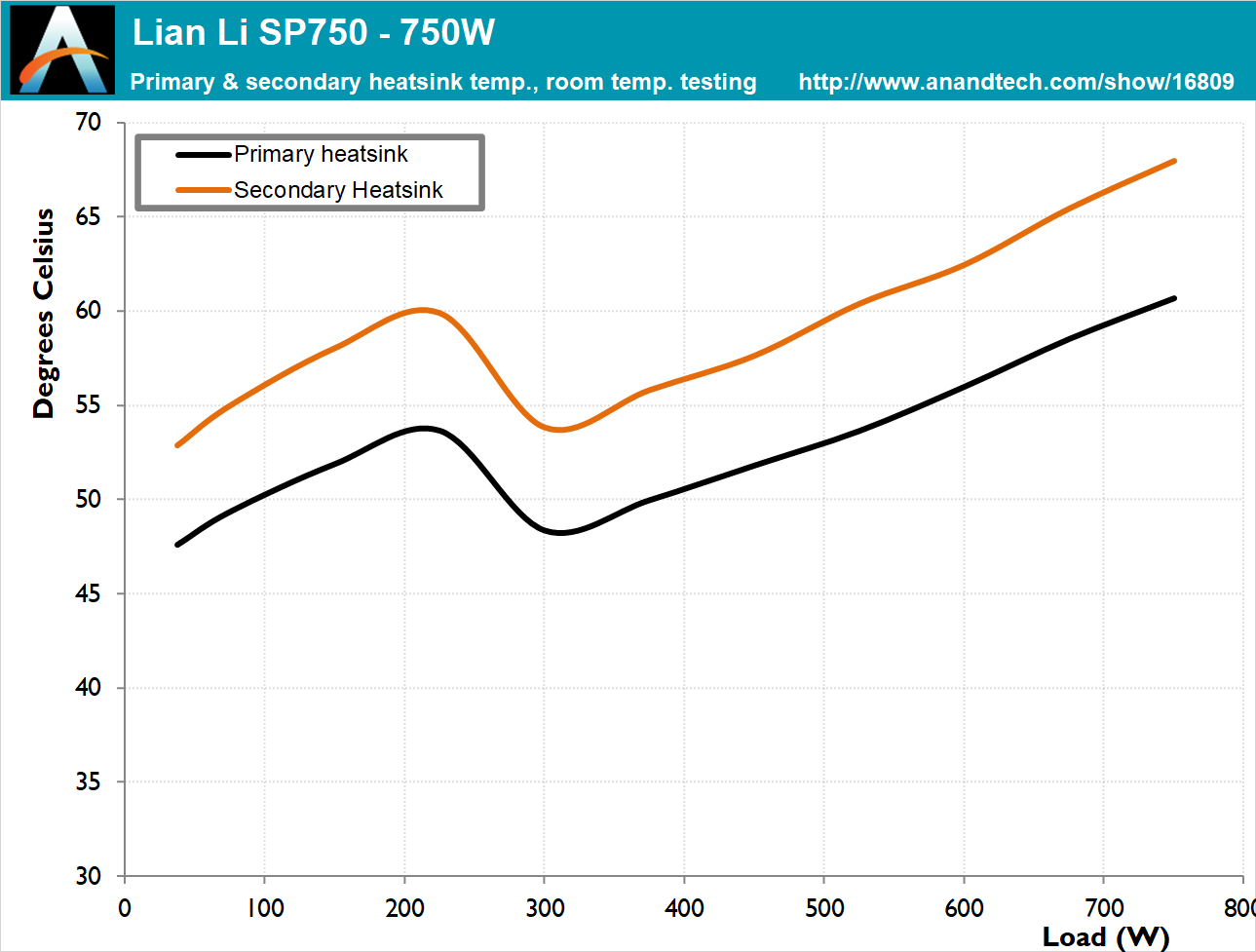 Lian Li has the SP750 designed so as to operate without turning on its fan up to 40% load (300 Watts). To be exact, the thermal control of the PSU is tuned so as to turn on the fan when the internal temperature of the unit reaches 60°C. At a room temperature of 25°C, that would happen when the load is about 300 Watts, hence Lian Li's specification. With our higher room temperature, the fan started earlier, with the thermal control circuit starting the fan almost exactly at an internal temperature of 60°C.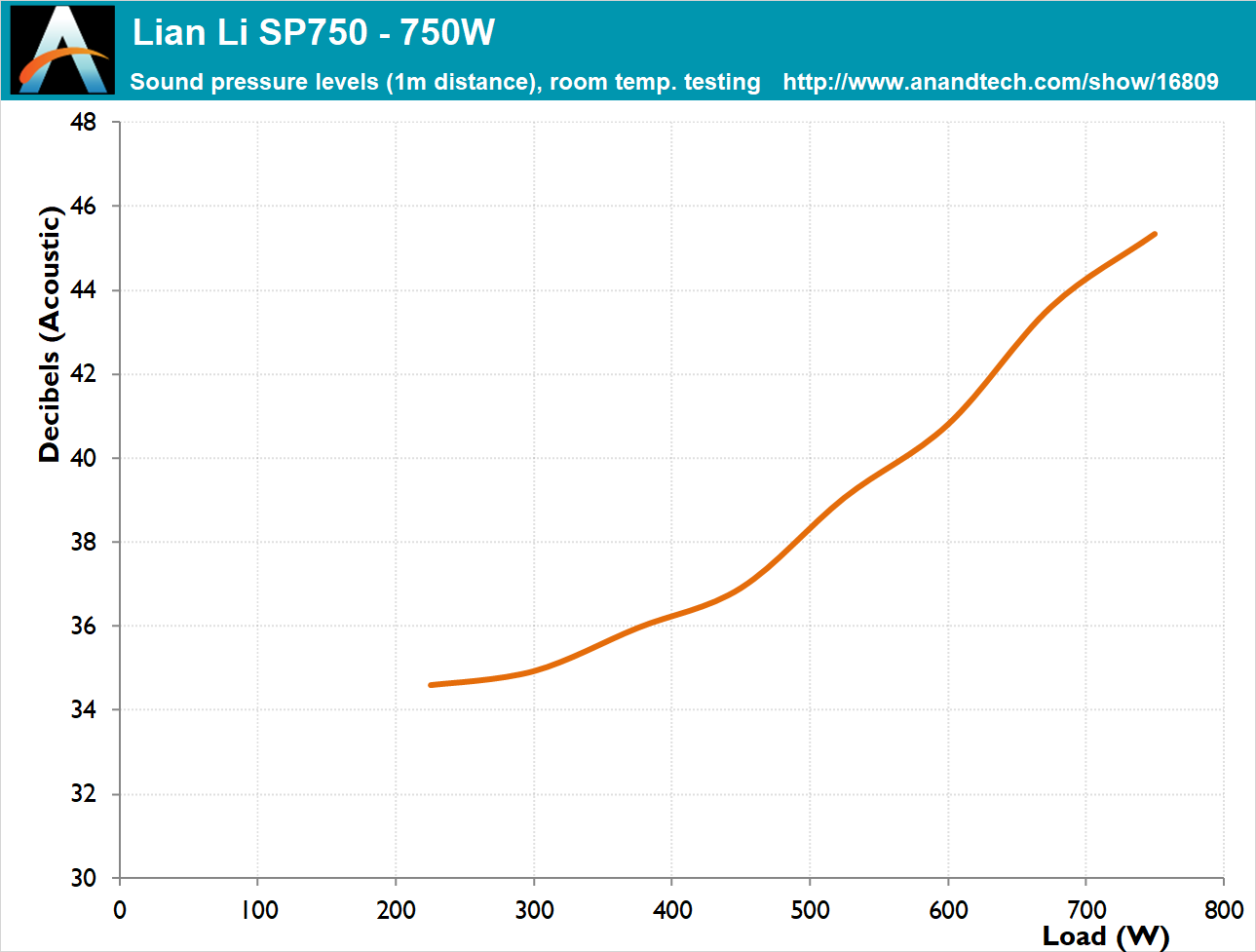 The 92 mm fan started when our load was just over 200 Watts, with relatively low noise figures for a fan this size. Its double ball bearing engine is audible just as soon as the fan starts but stays at comfortable levels unit the load reaches about 550 Watts. At higher loads, the fan will be clearly audible from a distance, yet not unexpectedly so all things considered.