BIOS
The ASUS ROG firmware is consistent throughout its range with a red, grey, and black theme throughout. The text is white and uses a deep red color when each setting or selection is highlighted. There are seven primary menus including Ai Tweaker for overclocking, Advanced for chipset and AMD specific options, and tools which allow users to update the board's firmware.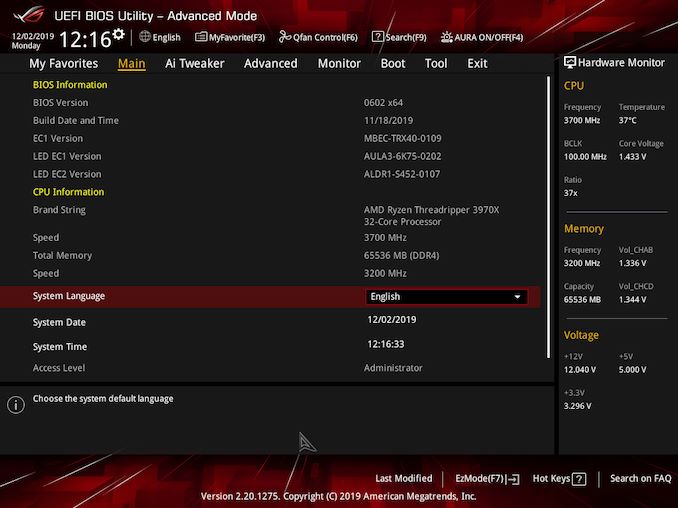 Pressing the F7 key allows users to select between the EZ and Advanced modes. The EZ mode displays basic information about the processor including core clock speed, CPU Core voltage, and temperature. Users can enable X.M.P profiles which ASUS calls D.O.C.P on its AMD models. The main screen of the advanced section is similar, but it allows users to change language settings and has a hardware monitor panel on the right-hand side.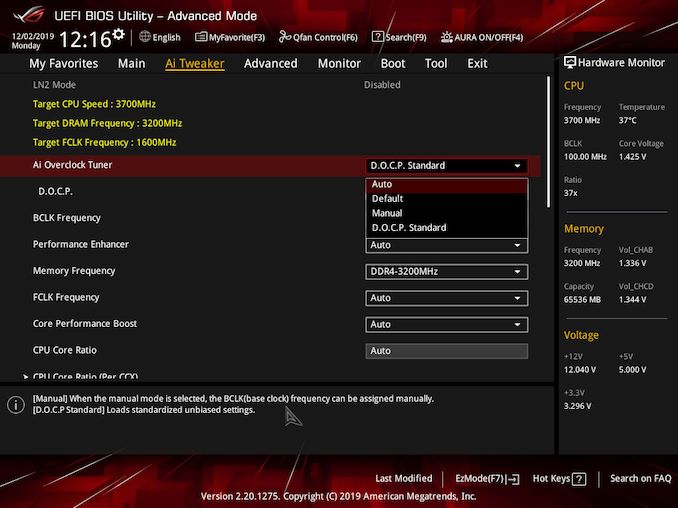 The AI Tweaker opens up a gateway to the world of overclocking on AMD's HEDT Threadripper processors, with lots of room to tweak power settings and memory latencies. This also includes options to increase the FCLK/Infinity Fabric frequency which means users with faster memory can benefit more from AMD's interconnect. Just like X570, TRX40 also supports AMD's Precision Boost Overdrive settings and the firmware does have extensive options available.
Below is a list of limitations when using the current firmware for settings such as CPU VCore, CPU frequency, DRAM frequency, and the Infinity Fabric/FCLK frequency. It should be noted that most of these maximum values won't even be able to be reached, even with extreme cooling methods:
Maximum CPU Frequency = 6.375 GHz
Maximum CPU VCore = 1.5 V
Maximum DRAM Frequency = DDR4-6000
Maximum Infinity Fabric/FCLK Frequency = 3000 MHz
Note - We didn't enable LN2 mode at any point during our testing as we didn't want to risk potential damage to our testbed hardware.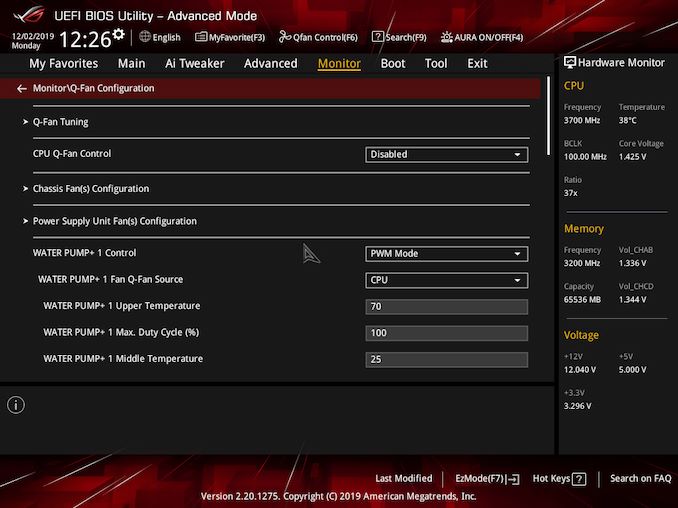 Within the hardware monitor section, ASUS has included its Q-Fan control and allows users to customize fan profiles. The GUI is a little archaic, but users can customize all of the 4-pin headers individually, as well as control the chipset heatsink fan, and the cooling fans attached to the power delivery heatsink. Each fan can be controlled based on temperature variables including upper, middle, and lower temperature limits. Users can opt between PWM or DC mode depending on what the chassis fans support.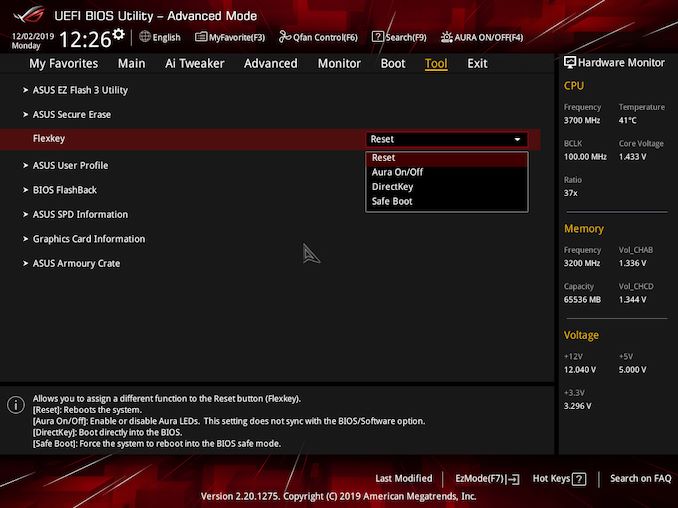 The tools section includes the ASUS EZ Flash 3 Utility for flashing the board's firmware, BIOS Flashback, and access to the ASUS Armoury Crate. The Armoury Crate includes drivers and software, which users can install straight from first boot into Windows; users can opt to turn this feature off under the ASUS Armoury Crate settings.
Overall, the ASUS ROG firmware is very responsive to clicks and key presses, it's GUI is consistent throughout the board, and it's functional. The Q-Fan settings could be a little better with a fan curve customization tool instead of its prehistoric settings input, but there are plenty of settings available for tweakers to get the most out of TRX40 and the Threadripper platform.
Software
The Armoury Crate is a small pool of integrated storage where users can install drivers and software within Windows; this is promoted during a fresh Windows 10 installation (this can be disabled in the BIOS). Users have the option to utilize the Armoury Crate or download and install the latest updates directly from the official product page, but the ASUS armoury crate does save time. The most notable software included with the software bundle is the ROG AI Suite which acts as a central hub to the majority of the software, the ROG Aura RGB LED utility, and the ROG RAM Cache III software.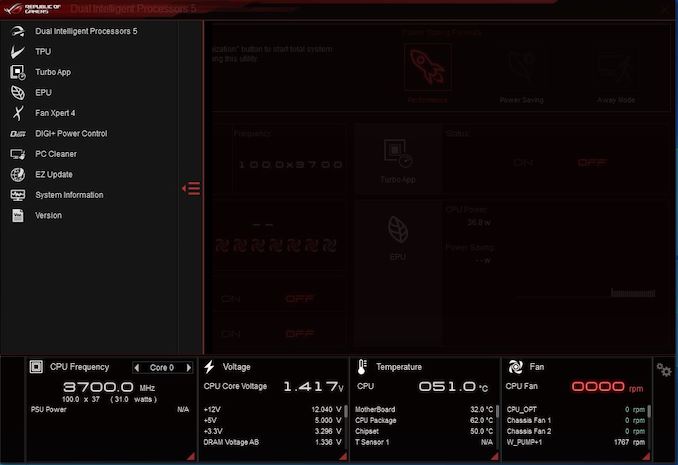 Following with what many vendors are doing, ASUS ROG has amalgamated most of its software into one easy to use package. The ROG AI Suite combines the previous AI Suite 3 overclocking software with other functions such as the PC Cleaner, DIGI+ Power controls, the Fan Xpert 4 control software, and an EZ Update firmware updater.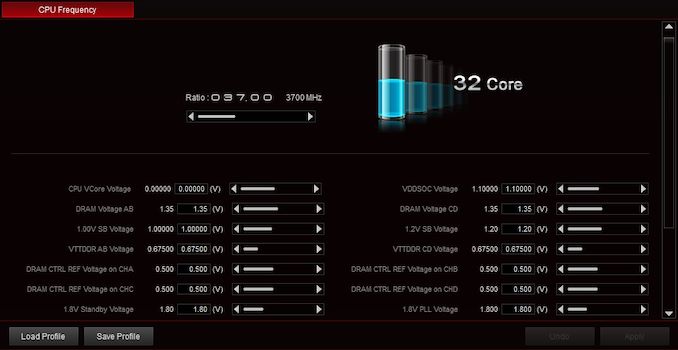 Within the Turbo App section, users can overclock the processor within the software. There is plenty of options to customize CPU frequency, with even more voltage options available, including memory voltage settings. This offers an alternative to AMD's own Ryzen Master software, although Ryzen Master does offer much more including CCD control, and per-core clock speed customization.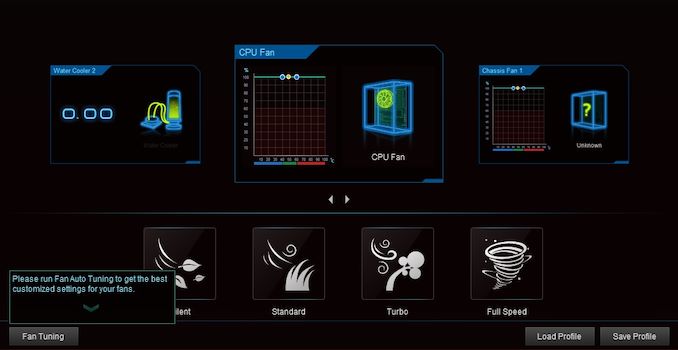 The Fan Xpert 4 utility allows users to customize each 4-pin fan header installed onto the board. Users can set each fan to operate from a customized fan profile or select from one of four preset profiles. ASUS also offers a Fan Tuning setting which does everything automatically based on set parameters including temperature; this is likely determined from a lookup table.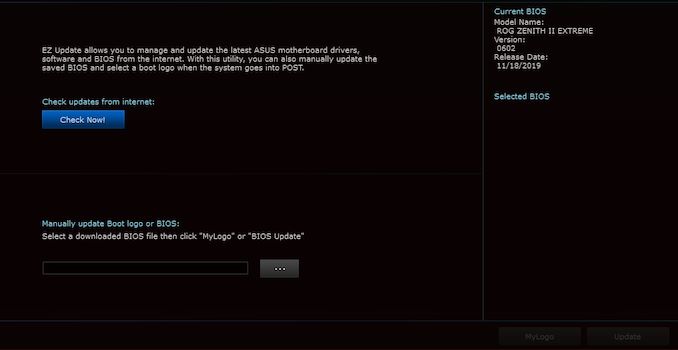 Not only can users update the firmware in the BIOS, but it can be done within the EZ Update section of the ROG AI Suite software. There are options to check if the latest firmware is installed, as well as update the firmware from a file, and users can even upload a customized MyLogo to display during system POST.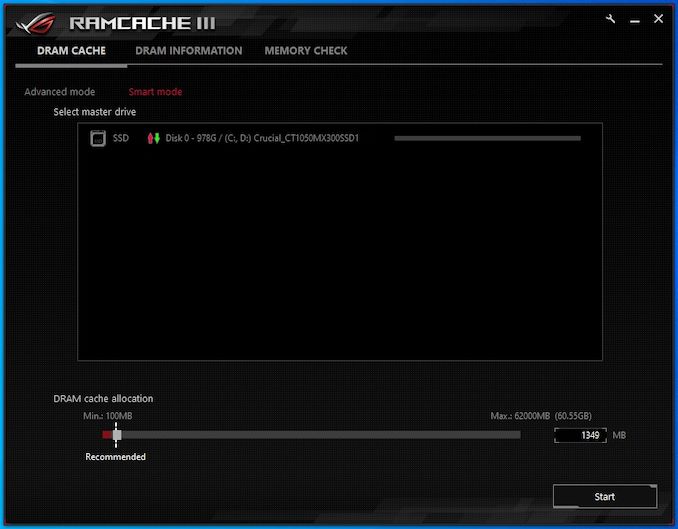 The ROG RAMCACHE III software allows users to create a pool of super-fast storage from installed memory. This is useful if users want to load certain applications with the benefits of the high bandwidth memory has over standard storage solutions. With the TRX40's ability to use up to 256 GB of system memory, this is more functional on HEDT platforms with better memory support, over desktop platforms; everything is relative to the amount of memory.
Overall the software bundle supplied whether users download it from the official product page, install it from the supplied USB flash drive, or through the functionality of the ROG Armory Crate, there is plenty for users to sink their teeth into. Users looking to install sound software will need to do so from the Windows Store as it isn't included in the bundle, nor is it available for download on the official product page.