Hot Test Results
Although Sirfa (High Power) is normally known to have mediocre electrical quality figures, Fractal Design certainly improved the base design of this platform dramatically. The maximum ripple on the 12V line under full load and thermal stress is just 18 mV, way below the 120 mV design limit, and a figure that we only see on top-tier products. Voltage ripple is equally low on the secondary 3.3V and 5V voltage lines as well. Severely cross-loading the PSU will cause the ripple to increase a bit but the figures always stay very low. Voltage regulation is also exceptional, with the PSU holding the 12V line at just 0.3% across the load range. The secondary voltage lines are a little less strictly regulated, reaching 0.5-0.7%, which figures remain exceptional even for a top-tier product.
Main Output
Load (Watts)
152,87 W
381,53 W
571,78 W
761,73 W
Load (Percent)
20,11%
50,2%
75,23%
100,23%
Amperes
Volts
Amperes
Volts
Amperes
Volts
Amperes
Volts
3.3 V
1,96
3,41
4,91
3,4
7,37
3,4
9,82
3,39
5 V
1,96
5,05
4,91
5,04
7,37
5,03
9,82
5,03
12 V
11,31
12,05
28,27
12,03
42,4
12,02
56,54
12,01
Line
Regulation
(20% to 100% load)
Voltage Ripple (mV)
20% Load
50% Load
75% Load
100% Load
CL1
12V
CL2
3.3V + 5V
3.3V
0,7%
6
6
8
14
6
10
5V
0,35%
6
8
12
14
10
12
12V
0,3%
8
12
14
18
24
16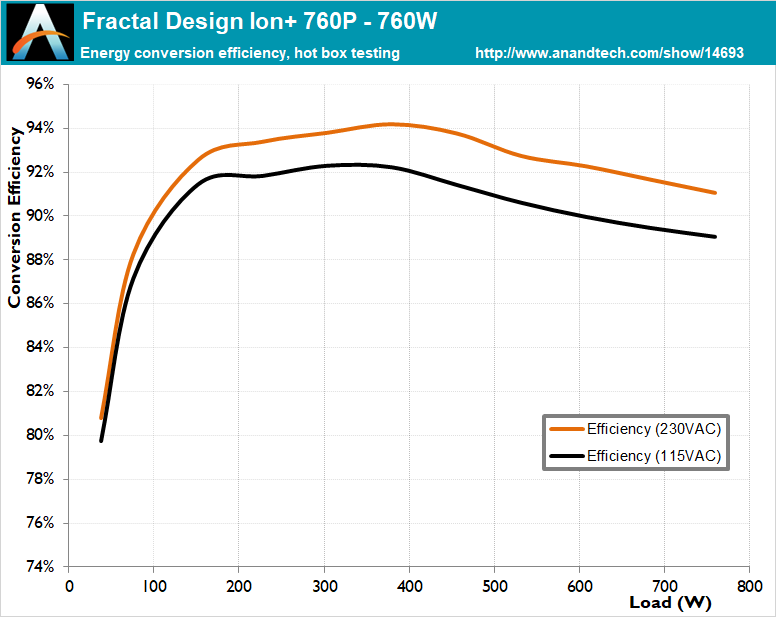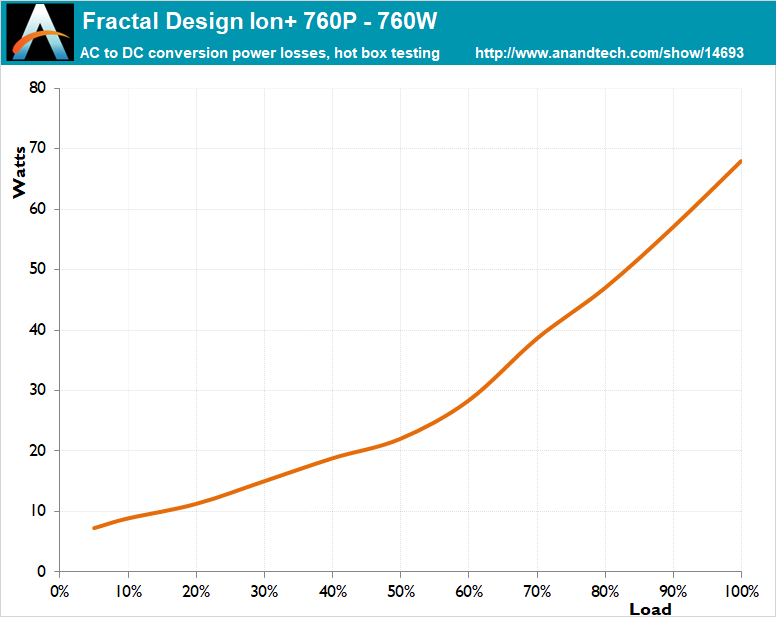 Fractal Design rates the Ion+ 760P at 50 °C, meaning that it is able to output its full power output when the ambient temperature is up to 50 °C. Efficiency testing takes place at 25 °C and it degrades as the temperature increases, meaning that most units will not meet their certification requirements while we are testing them into our hot box. The Ion+ 760P is a very rare exception, with the PSU meeting the 80Plus Platinum certification limits even while operating with an ambient temperature of > 45 °C. The unit's efficiency barely degraded at all despite the massive increased of the ambient temperature, indicating outstanding resistance to thermal stress.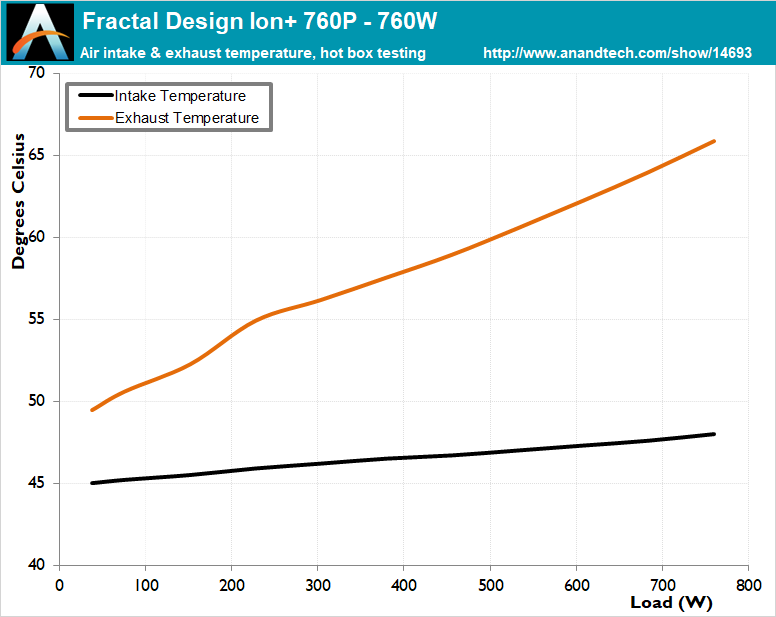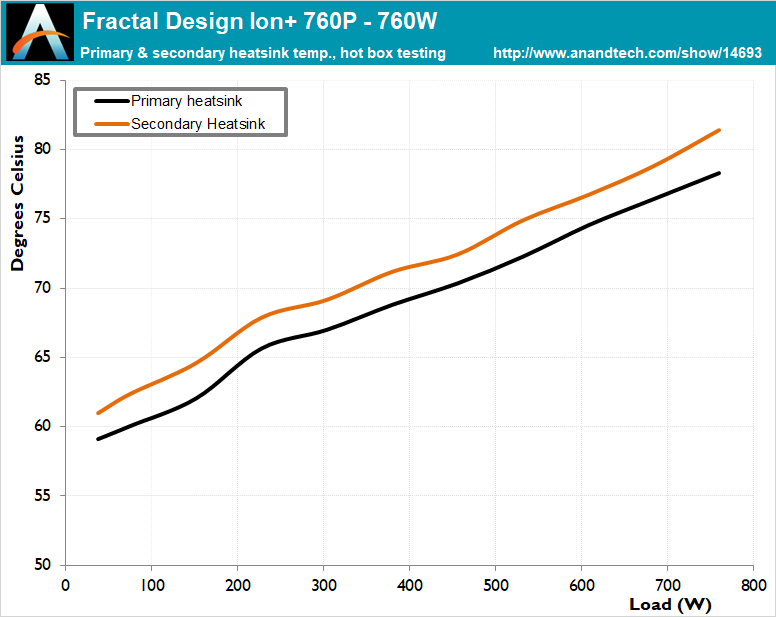 The high ambient temperature triggered the fan to start almost immediately after the unit was powered on inside out hotbox. This time the fan's cooling profile was significantly more aggressive, speeding the fan up significantly more as the load increased, and even forced the fan to reach its maximum speed when the load was above 650 Watts. On the other hand, the internal temperature of the PSU was comparatively very low at any given load level, which hints why this particular model resisted thermal degradation so severely.