BIOS
Being different in the consumer-focused motherboard market isn't something that comes easy without making bold statements via the aesthetics. A vendor can make or break the usability of a motherboard based on the UEFI BIOS, hence it is something we are critical on. Supermicro, with its C9Z390-PGW, has made adjustments to the firmware since we last tested one. Using the SuperO firmware comes down to familiarity, as Supermicro has a unique way of doing things, more so than vendors such as MSI, ASUS and ASRock, but they are comprehensive with what's available and most settings that need to be adjusted can be.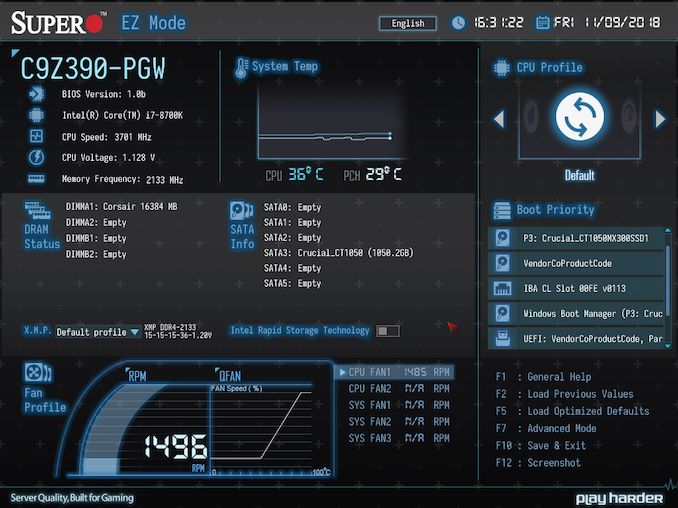 Upon entering the firmware which can be done by pressing the Del key during POST, users can expect to be greeted with the EZ Mode splash screen. The EZ Mode displays a basic set of information regarding the installed CPU, DRAM and storage devices, as well as including fan profile and fan speed information. To the left is a list of information including the boards model number, the firmware version installed and an XMP profile selector for easy memory overclocking on supported memory kits.
On the right-hand side is a CPU profile selector which allows users to cycle and apply the available three preset overclocking profiles; Default, Stable and Performance. Below this is a boot priority selector and a key to which function buttons provide a function such as F1 for general help and F7 which switches users to the advanced mode. This key extends throughout the entire SuperO BIOS. A quick note: With the default settings, I wasn't able to boot automatically until I switched from 'Dual Boot' to UEFI and changed the booting order.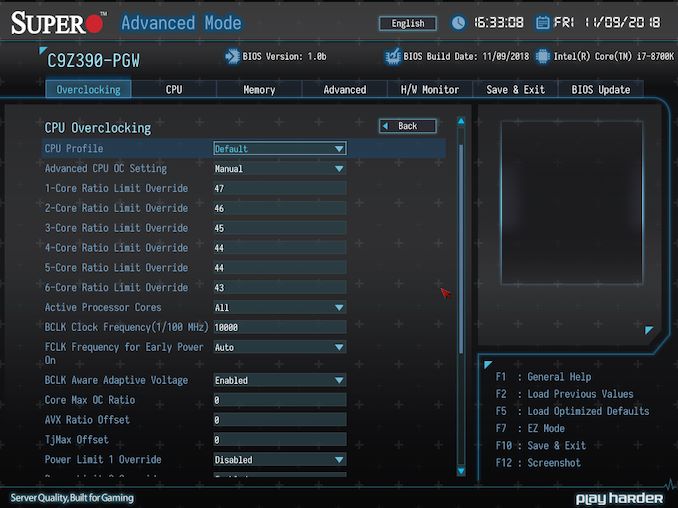 Moving into the advanced mode, the SuperO firmware opens options that users buying a flagship Z390 enthusiast level board would expect. Across the top is a range of menus including overclocking, CPU, memory, advanced, the H/W monitor, save and exit and BIOS update. It's a pleasure to see Supermicro has given its consumer boards an easy to use BIOS flashing function as the DOS method is abhorrently outdated as we outlined in our Supermicro X11SCA-W motherboard review.
The first panel is overclocking which gives users the options and ability to push their CPU. Users can select between the three available overclocking presets or choose to do this manually. Such options include CPU Core Ratio overriding which can be done on a per-core basis, as well as change base clock frequency, set power limits and add or subtract an AVX ratio offset. One major caveat in Supermicro doing its own thing firmware wise is very primitive voltage selection. Applying voltages is done with four digits without any decimals, but this decimal point is always after the first number. This could confuse users who might think applying 1350 for 1.35 V is actually 13.5 V or 135 V. It could be a lot clearer, especially from a user experience point of view.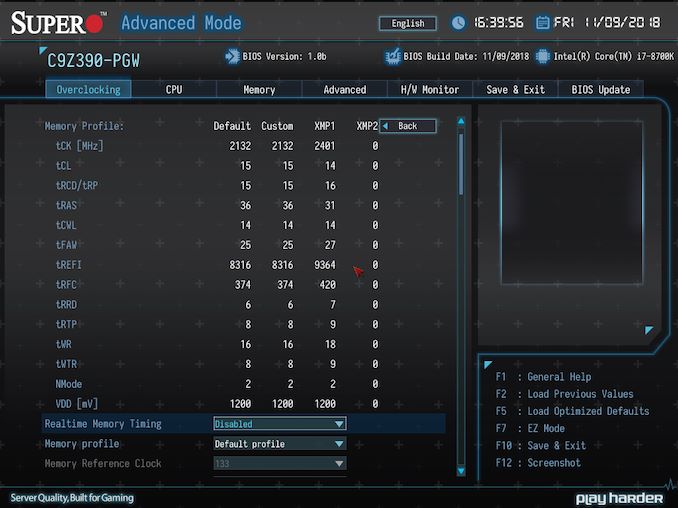 As with the CPU section, the memory overclocking section is just as extensive and offers users with multiple options for tweaking. Users can enable or disable real-time memory timing and use the one-click (two in this case) XMP memory overclocking profiles on supported memory. At the top of the screen is a list of memory timings which pertains to the default JEDEC settings, settings set if users choose to apply a custom overclock, the XMP profile and if the installed memory has two profiles to choose from, the second profile.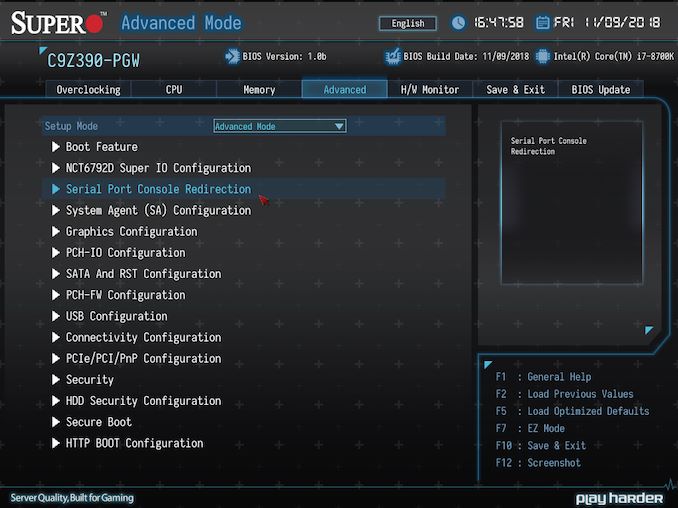 WIthin the advanced section, all the nitty-gritty settings such as security settings, PCH settings, integrated graphics settings, serial port settings as well as network HTTP boot configuration settings. A lot of what's on offer comes from the professional side users would expect from a prosumer or workstation-grade motherboard from Supermicro. Without the more consumer-specific desktop board options including overclocking support, XMP profile selection and other extensive memory settings, not to forget the firmware GUI, a user might mistake the fact this board isn't from the professional range of Supermicro models.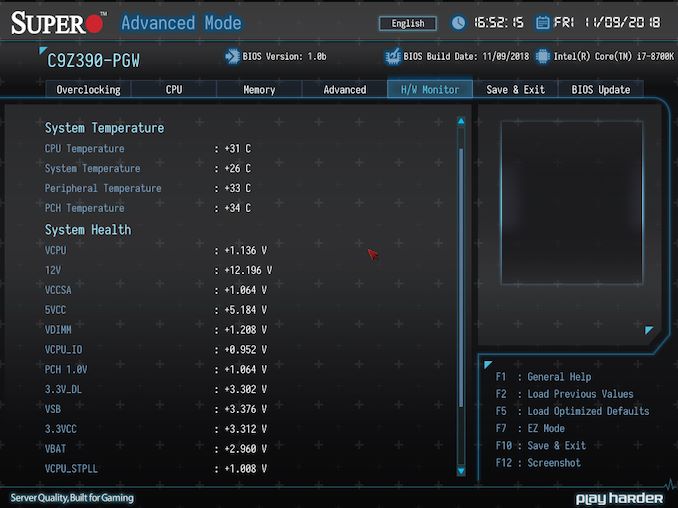 The hardware monitor inside of the Supermicro CZ390-PGW firmware is ultimately basic, yet functional and informative. In a list format, temperatures from four different sensors including the CPU and PCH display current temperatures in realtime, with a list of current voltages. These include the CPU VCore voltage, the VCCSA, VDIMM which is memory voltage, PCH voltage and even the voltage from the 12 V CPU power input.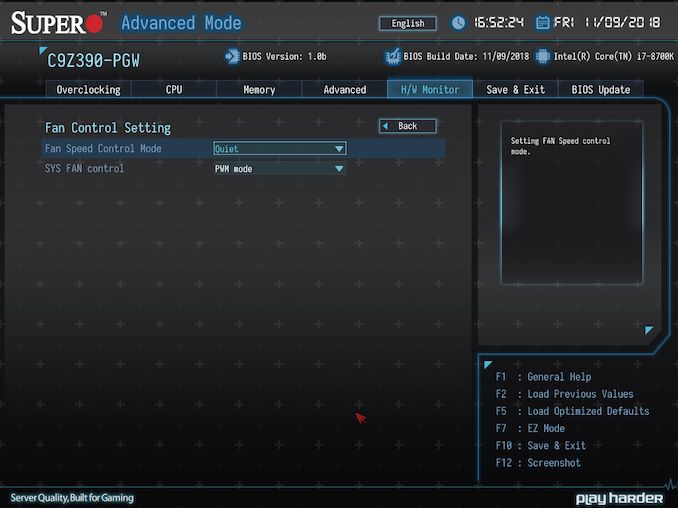 Located within the hardware monitor is the fan control setting option. This simplistic and limited option allows users to set and cycle through different control modes including quiet, performance and full speed. They do very much what they say and users can select between DC and PWM mode.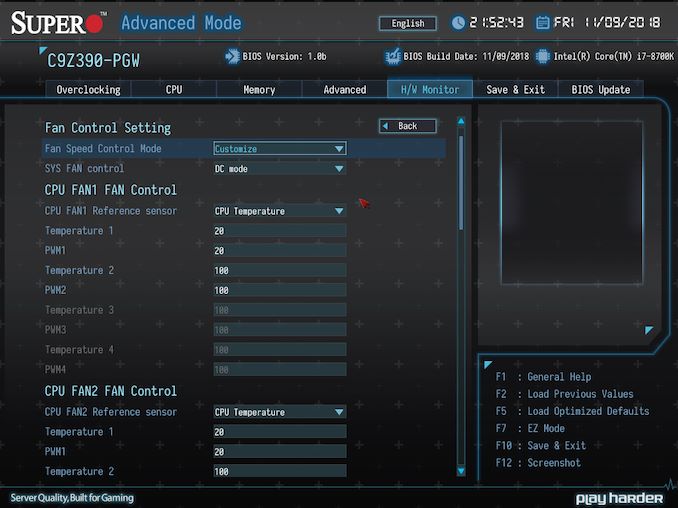 Users can also customize and set their own fan profiles but with a more primitive way than vendors which offer fan curve plotting. Not only can the sensor that triggers a temperature shift which changes fan speed, but users can select up to four temperature points. This includes the PWM fan percentage speed which the SuperO firmware doesn't calculate; this is down to the user to work out for themselves.
It's clear that the Supermicro C9Z390-PGW firmware has a lot to offer, but its implementation of voltage setting customization is archaic and could be confusing to novice users. Last year as we saw in our Supermicro C7Z370-CG-IW motherboard review, users could adjust RGB LED lighting within the BIOS but now this is no longer possible. The only way to do this is with the SuperO Booster Software. There is a lot of work to do if the SuperO firmware is to match the standards of other the vendors UEFI offerings, but the CZ390-PGW does offer extensive options for tweakers. Compared to previous reviews, it is more responsive than we expected.
Software
Highlighting the software bundle supplied with the Supermicro C9Z390-PGW motherboard is three main pieces of software; the SuperOBoost utility, the Realtek HD audio manager and the SuperDoctor 5 software. Unlike most vendors with consumer desktop boards, Supermicro is quite light on its bundle.
Note: The SuperDoctor 5 software is more specific to Supermicro's workstation and its server-focused models. We have decided to omit this as the board is targeted at gamers. The board also lacks certain hardware features which such as IPMI 2.0 which makes SuperDoctor 5 useful for professional users.
First of all, the SuperOBoost utility isn't provided on the software installation CD, nor is it present on the official C9Z390-PGW product page. This is quite concerning from a usability point of view as the customization of the RGB LEDs is entirely dependant on this software and it took a google search to locate the software to download. Users can download the Supermicro SuperOBoost software here directly from its FTP server. This is not acceptable in any shape or form and detracts a lot of positives from the board. Users should not have to hunt down for vital software to use key advertised functions; it should be readily avaialble for download from the product CD and at the very least, downloadable from the official product page.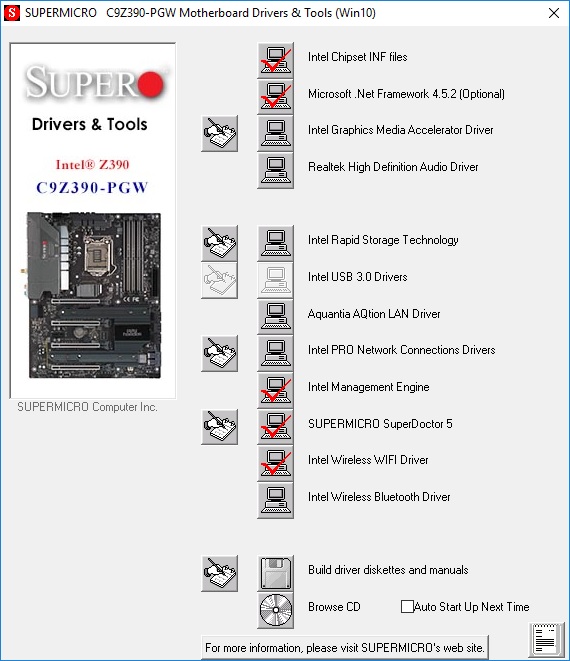 Supermicro provides a software installation disk with the C9Z390-PGW and has a basic list of drivers and software for getting a system ready and running. These drivers include the Microsoft.net Framework 4.5.2 update, Intel Chipset files and even Intel's Management Engine driver (IME). The GUI resembles the SuperO BIOS of old and is very similar to the firmware on the Supermicro C7Z370-CG-IW motherboard.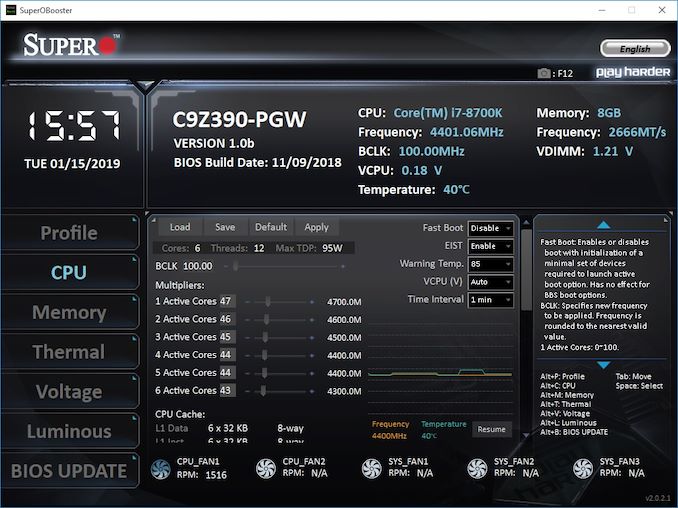 The SuperOBooster software is designed for SuperO motherboards and offers users a Windows-based utility for overclocking, monitoring, updating the firmware and controller the boards RGB; not just the RGB LEDs built in but installed RGB strips installed via the RGB headers too. Users can access preset overclocking profiles, tweak memory settings without entering the BIOS and users can even make use of an auto-tuning function which automatically overclocks the CPU with a set characteristics defined by Supermicro. Memory overclocking can be done by setting the XMP profile or done manually.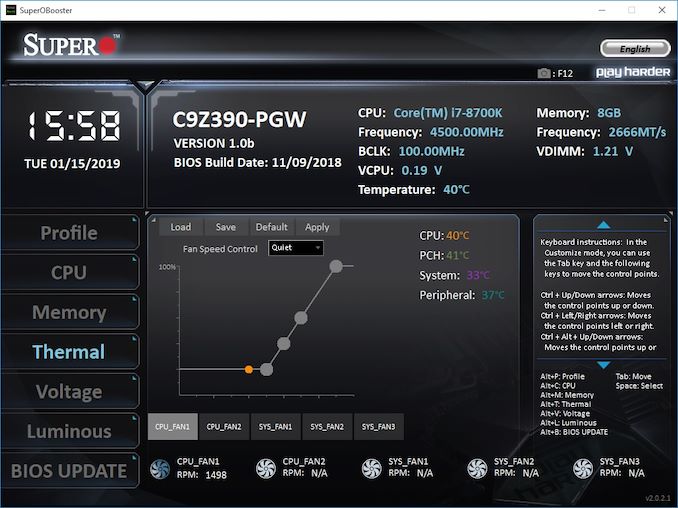 In the thermal section, users can select through different fan speed control profiles such as quiet, performance or full speed, as well as create their own custom fan curve. Users can individually alter each of the five different 4-pin headers.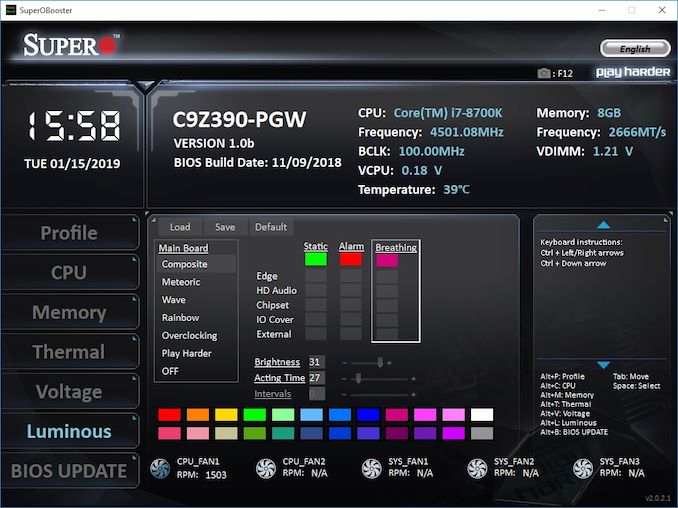 Luminous is Supermicro's RGB utility which offers users the ability to customize the boards integrated RGB in the rear panel cover, the chipset heatsink, the audio PCB and on the edge of the board; external relates to the two RGB headers on the board. Lighting effects such as composite, wave and rainbow is open as well as allowing users to set different colors in different areas; depends on personal preference, but the options are there for customization. The RGB implementation lacks a color wheel so users are stuck with the 24 different colors ranging across the red, green and blue spectrum.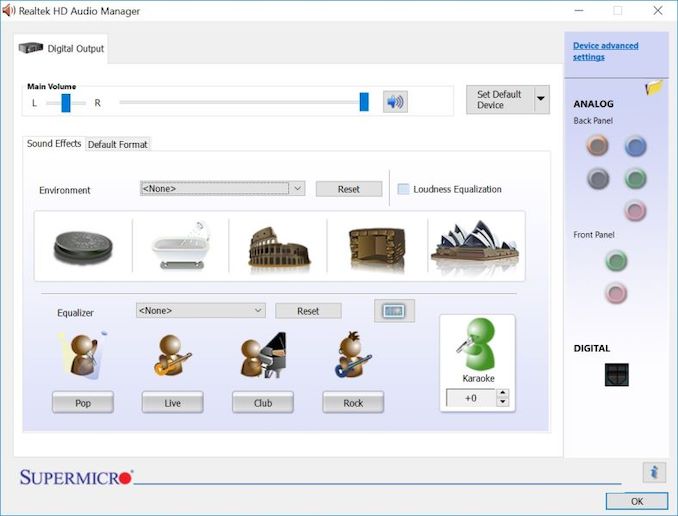 A Realtek ALC1220 HD codec powers the onboard audio on the C9Z390-PGW motherboard but it's underwhelming for a flagship board with a price tag of $371 to use the generic Realtek HD Audio Manager. Users can select different equalization presets and apply environmental based effects to the default sound; this includes setting a custom equalization for a unique sound.
It's unacceptable for a vendor to advertise vital software and not either include it on the product disc supplied with the motherboard or make it easily downloadable from the official product page. When key features advertised such as integrated RGB rely on this software for operation, it should and always be easily accessible for the user.