System Performance
Huawei has outfitted the latest MateBook X Pro with Intel's 8th generation of Core processors with either the Core i5-8250U, or the Core i7-8550U. Both offer four cores and eight threads. The Core i5 is 1.6-3.4 GHz with 6 MB of Cache, and the Core i7 is 1.8-4.0 GHz with 8 MB of cache. The Kaby Lake Refresh chips have been a welcome addition to the lineup, and we're likely thankful to competition for bringing about this change, despite Intel having issues ramping up their new 10 nm process.
The MateBook X Pro review unit shipped with the Core i7 model, and we don't expect too many surprised here. What's more interesting is that Huawei pairs the Core i7 with an NVIDIA GeForce MX150 GPU, which isn't going to impact the pure CPU scores, but will play a part in the system tests like PCMark.
The MateBook X Pro was run through our standard suite of laptop tests, and comparisons are against similar models we've tested. If you'd like to compare the MateBook X Pro to any other laptop we've reviewed, please use our online notebook Bench.
PCMark 10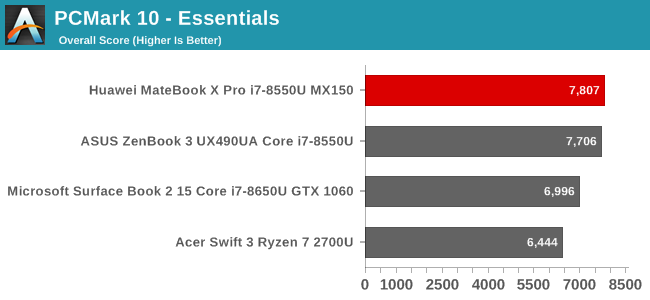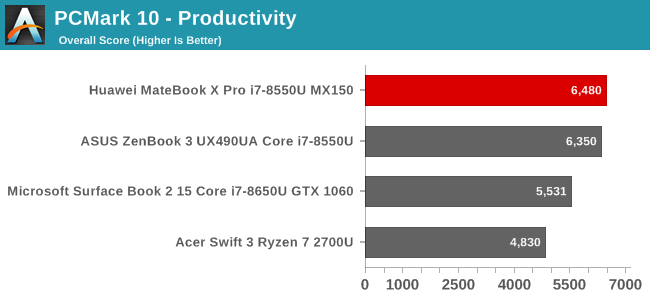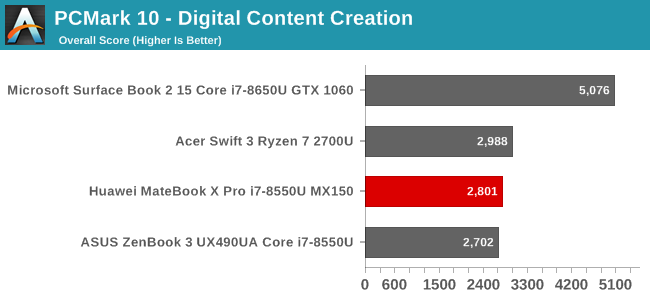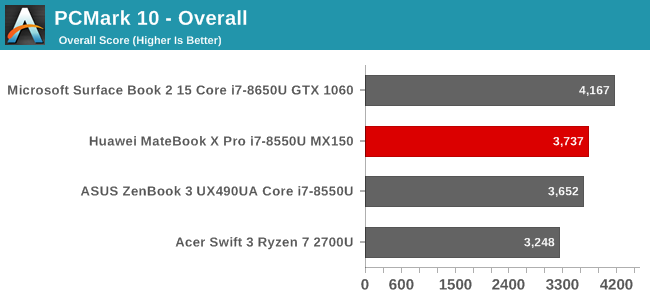 We've been testing the latest version of FutureMark's PCMark suite for a while now, and are now switching over to it for all future reviews. If you're not familiar with PCMark, it's a full system test which factors in all aspects of a machine in a couple of different test suites. Essentials is "everday ways people us a PC" and includes web browsing, video conferencing, and app startup times. Productivity tests office applications such as word processing and spreadsheets. Digital Content Creation focuses on photo editing, video editing, rendering, and visualization. The suite then combines the sub-scores into an overall result.
The Huawei MateBook X Pro scores about mid-pack overall, but compared to the other devices in its class, it is right where expected.
Cinebench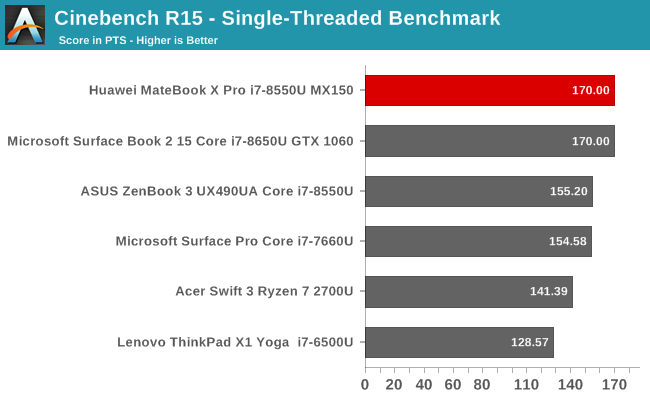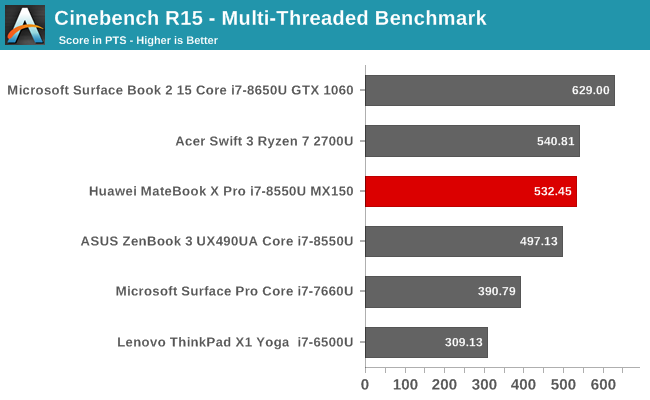 Cinebench lets us test just the CPU performance on rendering in both a single-threaded run, as well as a multi-threaded test. Once again the Kaby Lake Refresh does very well here, with great single-threaded performance, but the extra cores compared to last year's dual-core CPUs provides a big boost for the threaded tests.
x264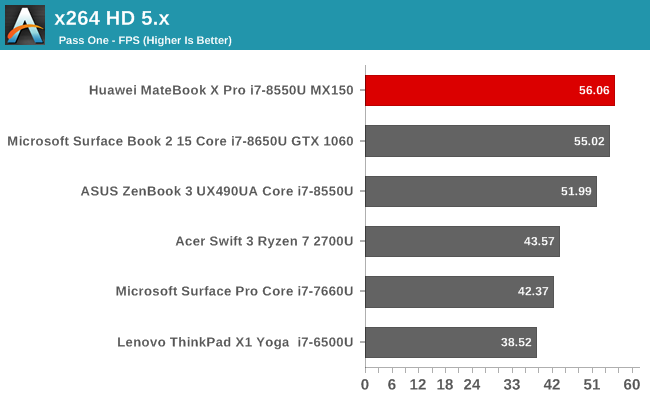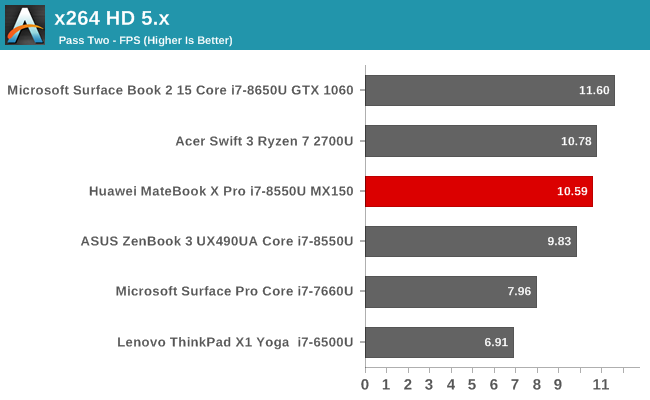 Another CPU test, x264 encodes a video in two passes using the CPU, and it likes lots of cores and lots of frequency. The Huawei performs very well here again. This test is quite a long test, and it runs four times sequentially, and the laptop got its best results on the third and fourth runs, so early indications are that the heat management works well on this device.
Web Tests
All of our web tests are run using Microsoft Edge as the default browser, and unlike our other tests, the browser is never a static thing. Each update generally improves performance of the JIT compiler, so over time, devices tend to get faster.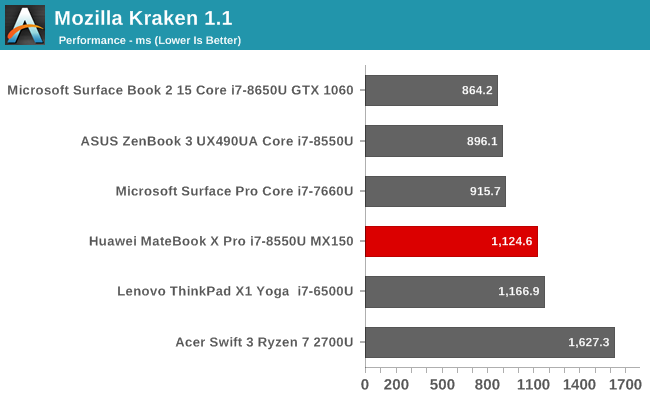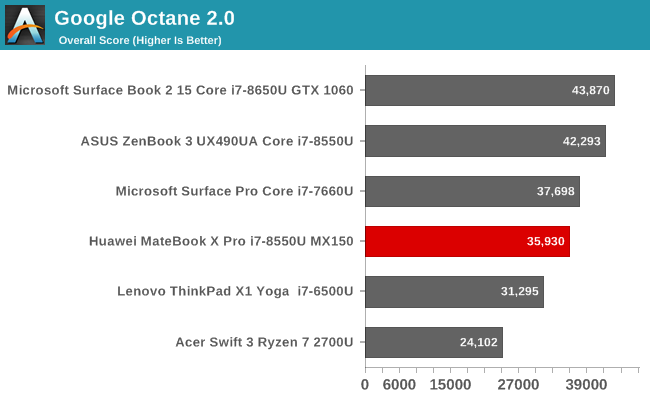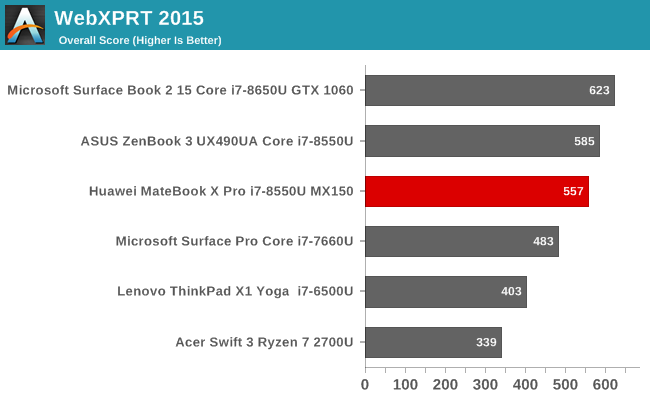 We'll be changing our web testing soon, since all of these tests are now dated, so if there's some web tests you'd like to see us include in the future, please let us know in the comments.
Storage Performance
Huawei uses M.2 NVMe PCIe SSDs in the MateBook X Pro lineup, as you'd expect, and the review unit shipped with an LITEON CA3 512 GB model. The drive is a TLC model, which isn't unexpected in this price range, and is rated at 2900 MB/s read, and up to 1200 MB/s write, with 260K IOPS.
We were able to hit 3084 MB/s sequential read, and 2039.1 MB/s sequential write, with close to 300 MB/s read and write at 4 KB Q32, which is pretty good for a TLC drive. This is with a system that's fully patched for Spectre and Meltdown as well.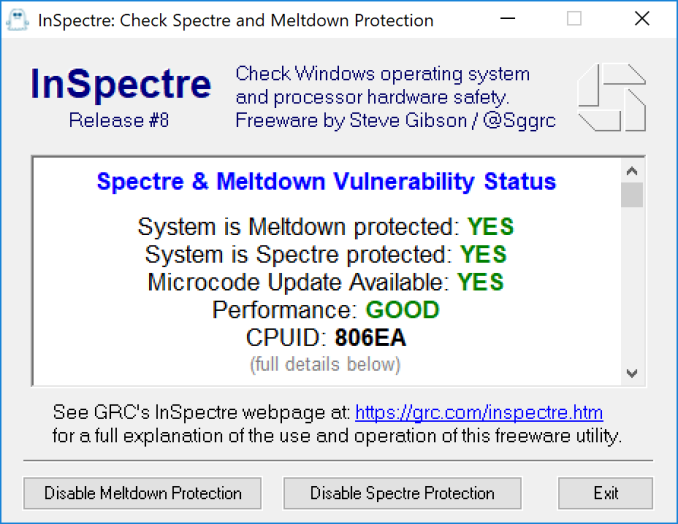 Huawei is multi-sourcing drives though since SSDs are a commodity at this point, so there's no guarantee what you'll have in any unit. We've seen Toshiba, Samsung, and LITEON.