Introducing the ApeXtreme
Much like the Xbox, the ApeXtreme is basically a PC housed in a consumer electronics-esque chassis. The system comes complete with a motherboard, DVD-ROM drive, hard drive, on-board graphics and DDR SDRAM. Unlike the Xbox however, the ApeXtreme does not try hard to hide its PC ancestry as is made evident by the inclusion of things like a DIMM slot on the motherboard.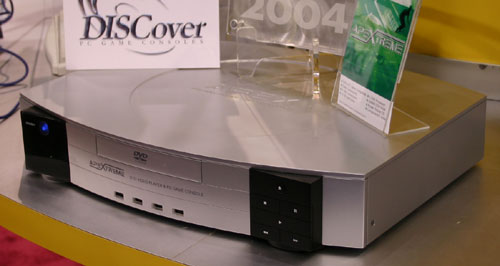 The ApeXtreme runs Windows XP Embedded Edition, although the OS is not physically accessible to the end user (without some hacking). As far as game support goes, the console is designed to run all PC games – we'll get to how that actually works later.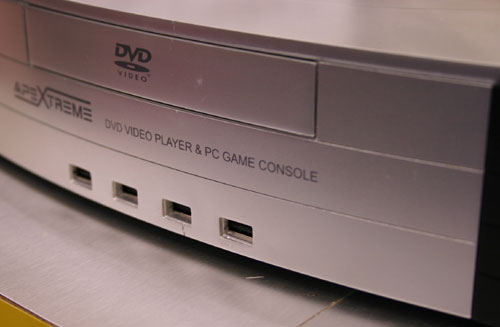 The system features 6 USB ports (much like any present day motherboard), 5.1 channel RCA audio outputs, optical/coax digital audio out, video output in the form of component, S-Video, composite or DVI and topping it all off the ApeXtreme has Ethernet and RJ-11 telephone jacks for Internet/LAN gaming. The full set of inputs and outputs are made possible by the fact that the ApeXtreme is essentially a PC, and neither Apex nor VIA apparently had much desire to mask it.
The system can be controlled via a USB controller or a USB keyboard/mouse. The controllers that were being shown with the ApeXtreme honestly needed some work, but Apex assured us that they were working feverishly to get driver support for all of the popular USB controllers into the shipping version of the ApeXtreme. If the ApeXtreme is going to succeed as a gaming console, support for better controllers is an absolute must. A controller that would integrate keyboard and joystick functionality into the pad is apparently in the works.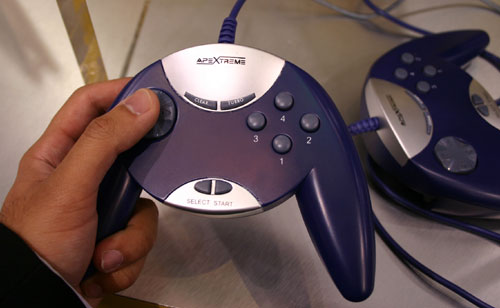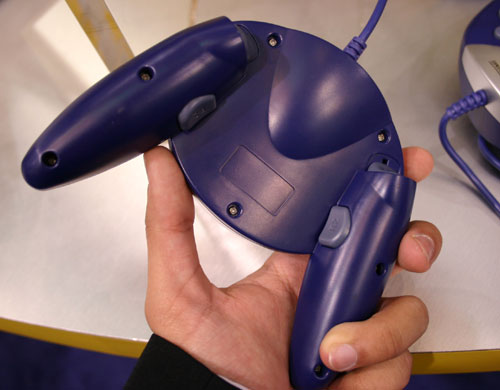 The ApeXtreme is based on VIA's latest 0.13-micron C3 core running at 1.4GHz, although the prototypes now are running at 1.2GHz. The motherboard features VIA's CM400 chipset and a DeltaChrome S8 graphics core. We'll actually have a look at the motherboard later, but now let's get a feel for how this thing works.