Anand Chandrasekher on Newport
Yesterday we introduced you to the Newport concept mobile PC, today Anand Chandrasekher took another look at the platform: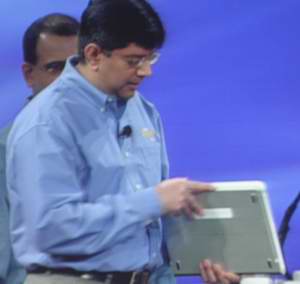 There wasn't much more to talk about Newport, although Anand did mention that the battery life in notebook mode of the Newport concept would be approximately 6 hours courtesy of additional batteries (probably a second battery) or 2.5 hours when in tablet mode (probably only a single, lightweight battery in use).
There was another demo of the closed-lid computing functionality of the Newport concept, this time where it was used to handle incoming cellphone calls; not exactly the best demonstration of the functionality, but it was neat to see nonetheless.
Before finishing up his time on the stage, Anand Chandrasekher briefly spoke to new power saving technologies: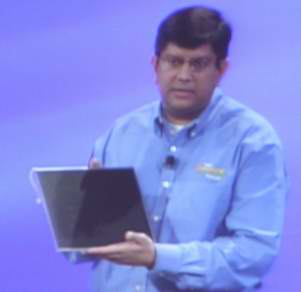 The first technology he mentioned was the LCD panel used in the Newport concept, whose power consumption was approximately 3 watts.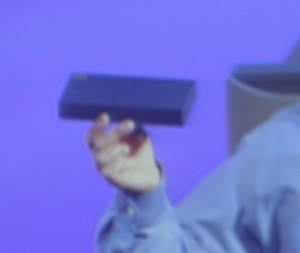 Next we have the first fuel cell used in powering a notebook, in this case the fuel cell is capable of delivering 150 W/hrs of power. This is compared to the 40 - 50 W/hrs of conventional batteries, in something that is only slightly larger. The technology is still a while away, but the possibilities are definitely promising.