That was easy enough, now for the software. You may be prompted for your Windows CD.
Check to see if you have a Network Neighborhood icon on your desktop. If you do, right-click on the icon and select Properties.
If you don't, go to the Control Panel and choose Network.
If Client for Microsoft Networks isn't in the Configuration windows, choose Add > Client > Microsoft > Client for Microsoft Networks > OK.
Click Add > Protocol > Microsoft > IPX/SPX-compatible Protocol > OK
Click on File and Print Sharing. Check the appropriate box depending on the needs of your environment.
Your window should look like this: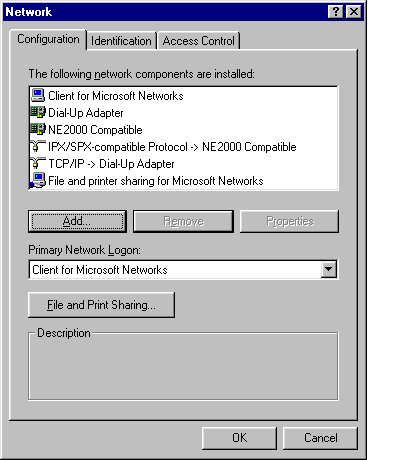 Now click on the Identification tab. Fill in a name to identify yourself over the network. Make sure all the computers on your network have the same workgroup name.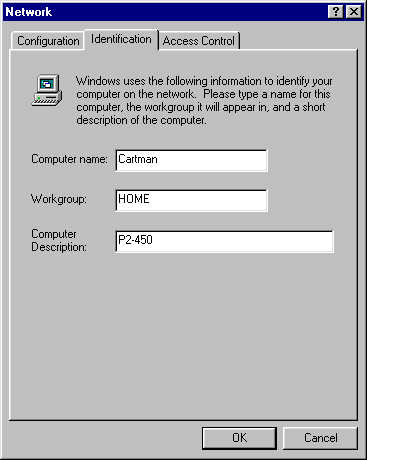 After the Windows mandated re-boot, set your security level.
Go to My Computer or Explorer and right-click on the drive(s) you'd like to share with others. If you're at home, setting up a Quake 2 Deathmatch network just choose "Full". If you don't want others to see your personal files at work, you can choose to give access to certain employees by setting a password. You also have the option of sharing or password protecting individual folders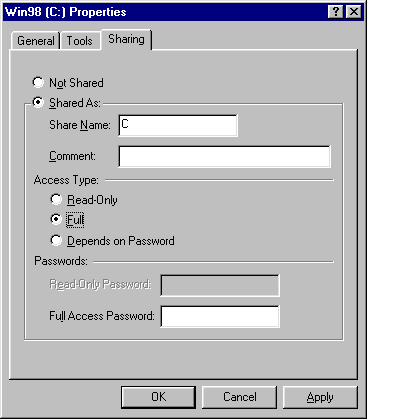 Now for the big test.
Assuming you have more than just your computer connected to the hub and the settings are correct, click on Network Neighborhood. Do you see the other computer(s)? Or do you see this?