uPGA Mobile Athlon XPs - Finally
We showed off AMD's uPGA mobile Athlon XP packaging back during Computex and we actually first saw the "new" packaging technology exactly one year ago during Comdex. Luckily for AMD, the uPGA packaged mobile Athlon XPs will begin shipping in the first quarter of next year.
The uPGA socket retains the same electrical characteristics of the current 462-pin socket (Socket-A) for Athlon XP CPUs; it will simply be more compact.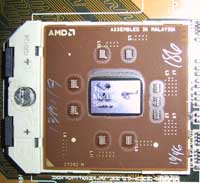 Click Here to Enlarge
The major benefit of the smaller packaging is that mobile AMD processors can finally be used in thin-and-light notebooks instead of the full sized solutions that are currently available.
It won't be until AMD can reduce power requirements before they can be considered to be real competition for Intel in the mobile market. The idea of a mobile Athlon 64 (Hammer) brings music to our ears, and the ears of some manufacturers. NVIDIA won't be introducing a mobile version of their nForce chipset until Athlon 64 does go mobile for the reasons we've just mentioned.