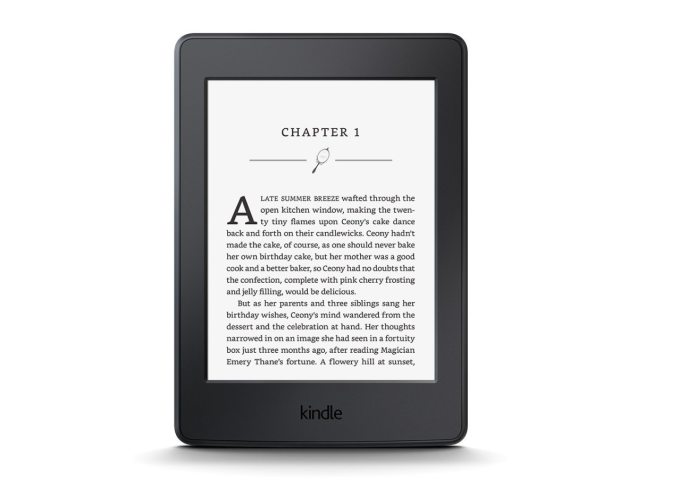 The venerable Kindle is one of my favorite tech devices. I owned the Kindle 3, but the obvious shortcoming was the lack of lighting, forcing me to use a case with a clumsy light attached. The minute the original Kindle Paperwhite was announced, I quickly ordered a couple of them and they are to this day one of my favorite pieces of technology. The Paperwhite added a "light guide" layer to the display to evenly distribute the light from the LEDs found in the bezel, which gives the e-ink display the bright white image and makes it much easier to use in dim or dark scenarios.
In 2014, Amazon released the Kindle Voyage to the US market, which is their highest end Kindle yet. It features a 300 ppi e-ink display. Today, that same display is making its way to the mid-stream priced Kindle Paperwhite which should give it even better text rendering. The new version of the Carta e-paper display has double the pixels of the outgoing model.
Amazon is also offering the choice of a new font called Bookerly, which was created specifically for reading on digital screens: "Bookerly is inspired by the artistry of the best fonts in modern print books, but is hand-crafted for great readability at any font size."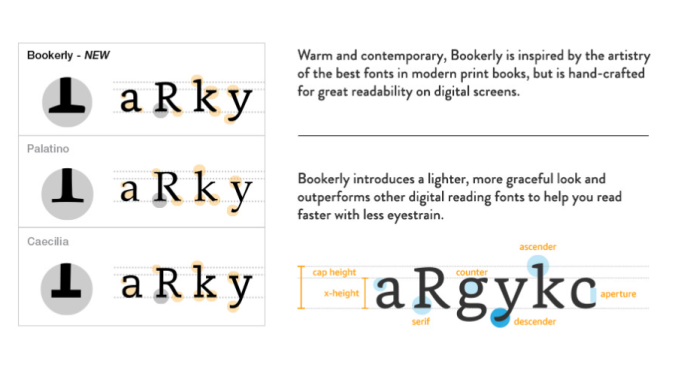 Also announced is a new typesetting engine which is listed as "coming soon" which offers improved character placement. They have adjusted the character spacing and the new typesetting engine will do a better job of justification and hyphenation of break words to create more consistent paragraph layouts. Amazon states that this will let you read faster with less eyestrain than the current engine.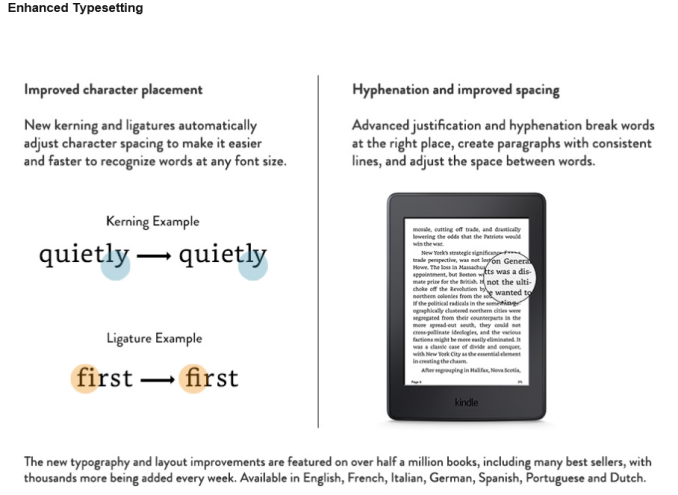 The current features like note taking and word lookup are of course staying, but will be joined by new features like Page Flip which lets you skim ahead without losing your place. I prefer to read a book the way it was written, but I know a couple of people who like to look ahead and see what's going to happen so this will be a nice feature for them.
Amazon Kindle Paperwhite Specifications
Display
6" Paperwhite display with Carta e-paper technology and built-in light
300 ppi, optimized font technology, 16-level gray scale
Size
6.7" x 4.6" x 0.36"
(169 mm x 117 mm x 9.1 mm)
Weight
7.2 ounces (205 grams) Wi-Fi
7.6 ounces (217 grams) Wi-Fi plus 3G
System Requirements
None; fully wireless and no computer required
Battery Life
A single charge lasts up to six weeks
(30 minutes of reading per day, wireless off and light setting at 10)
Battery life will vary based on light and wireless usage
Charge Time
Approximately 4 hours from a computer via USB cable
Wi-Fi Connectivity
802.11n (WEP, WPA, WPA2 security)
Wi-Fi Protected Setup (WPS)
Optional 3G Wireless on Paperwhite 3G
Content Formats Supported
Kindle Format 8 (AZW3)
Kindle (AZW)
TXT
PDF
Unprotected MOBI
PRC natively
HTML
Word (DOC, DOCX)
JPEG, GIF, PNG, BMP (through conversion)
Included in the Box
Kindle Paperwhite, USB 2.0 charging cable and Quick Start Guide
Price
Kindle Paperwhite: $119 With Special Offers, $139 Without
Kindle Paperwhite 3G: $189 With Special Offers, $209 Without
The Kindle is practically the definition of a uni-tasking device, but what it does, it does really well. The battery life is one of the keys to the experience, and Amazon states that the new Paperwhite can last up to six weeks if used for thirty minutes per day with the wireless off and the display at level ten. That works out to twenty one hours of usage between charges, and with my experience that is likely not an exaggeration.
Size and weight play a key part in the Kindle experience as well, and the Paperwhite has a 6-inch display inside of a small and thin body, and it weighs just 7.2 ounces or 205 grams for the Wi-Fi only model. The 3G option adds a tiny bit more to the total.
The new Kindle Paperwhite starts at $119 with Special Offers, jumps to $139 without Special Offers, and the 3G model costs $189 or $209. Shipments start on June 30th.
Source: Amazon