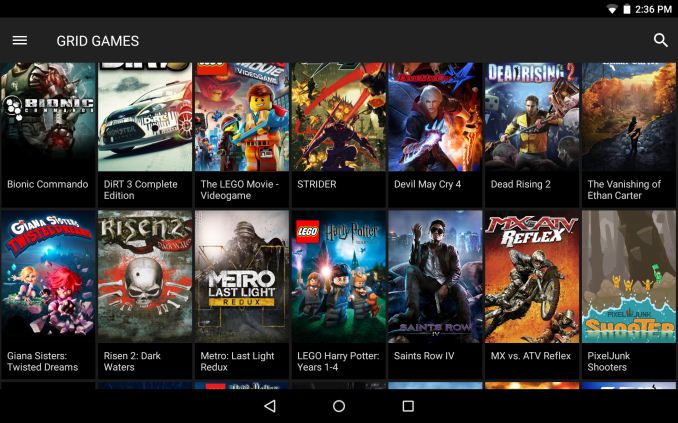 Word comes from NVIDIA this afternoon that they are rolling out a beta update to their GRID game streaming service. Starting today, the service is adding 1080p60 streaming to its existing 720p60 streaming option, with the option initially going out to members of the SHIELD HUB beta group.
Today's announcement from NVIDIA comes as the company is ramping up for the launch of the SHIELD Android TV and its accompanying commercial GRID service. The new SHIELD console is scheduled to ship this month, meanwhile the commercialization of the GRID service is expected to take place in June, with the current free GRID service for existing SHIELD portable/tablet users listed as running through June 30th. Given NVIDIA's ambitions to begin charging for the service, it was only a matter of time until the company began offering the service, especially as the SHIELD Android TV will be hooked up to much larger screens where the limits of 720p would be more easily noticed.

In any case, from a technical perspective NVIDIA has long had the tools necessary to support 1080p streaming – NVIDIA's video cards already support 1080p60 streaming to SHIELD devices via GameStream – so the big news here is that NVIDIA has finally flipped the switch with their servers and clients. Though given the fact that 1080p is 2.25x as many pixels as 720p, I'm curious whether part of this process has involved NVIDIA adding some faster GRID K520 cards (GK104) to their server clusters, as the lower-end GRID K340 cards (GK107) don't offer quite the throughput or VRAM one traditionally needs for 1080p at 60fps.
But the truly difficult part of this rollout is on the bandwidth side. With SHIELD 720p streaming already requiring 5-10Mbps of bandwidth and NVIDIA opting for quality over efficiency on the 1080p service, the client bandwidth requirements for the 1080p service are enormous. 1080p GRID will require a 30Mbps connection, with NVIDIA recommending users have a 50Mbps connection to keep from any other network devices compromising the game stream. To put this in perspective, no video streaming service hits 30Mbps, and in fact Blu-Ray itself tops out at 48Mbps for audio + video. NVIDIA in turn needs to run at a fairly high bitrate to make up for the fact that they have to all of this encoding in real-time with low latency (as opposed to highly optimized offline encoding), hence the significant bandwidth requirement. Meanwhile 50Mbps+ service in North America is still fairly rare – these requirements all but limit it to cable and fiber customers – so at least for now only a limited number of people will have the means to take advantage of the higher resolution.
NVIDIA GRID System Requirements
720p60
1080p60
Minimum Bandwidth

10Mbps

30Mbps

Recommended Bandwidth

N/A

50Mbps

Device
Any SHIELD, Native Or Console Mode
Any SHIELD, Console Mode Only (no 1080p60 to Tablet's screen)
As for the games that support 1080p streaming, most, but not all GRID games support it at this time. NVIDIA's announcement says that 35 games support 1080p, with this being out of a library of more than 50 games. Meanwhile I'm curious just what kind of graphics settings NVIDIA is using for some of these games. With NVIDIA's top GRID card being the equivalent of an underclocked GTX 680, older games shouldn't be an issue, but more cutting edge games almost certainly require tradeoffs to maintain framerates near 60fps. So I don't imagine NVIDIA is able to run every last game with all of their settings turned up to maximum.
Finally, NVIDIA's press release also notes that the company has brought additional datacenters online, again presumably in anticipation of the commercial service launch. A Southwest US datacenter is now available, and a datacenter in Central Europe is said to be available later this month. This brings NVIDIA's total datacenter count up to six: USA Northwest, USA Southwest, USA East Coast, Northern Europe, Central Europe, and Asia Pacific.
Source: NVIDIA