Meet the Antec HCG-750
We've tested many Antec PSUs over the years, so this certainly isn't a case of "long time no see". However, most of the Antec products we've reviewed have been higher-end designs with unique features or abilities—for instance, there was the "sandwich" PCB in the HCP-1200 and the environmentally friendly design of the EarthWatts Green 380W. There's nothing out of the ordinary in the HCG data sheets other than the powerful +12V rails. The HCG series seems to represent most PSUs: it's ordinary and "boring". So what makes this PSU into an Antec product?
For starters, plenty of manufacturers have attractive power supplies, but the robust case and red highlights are at least unusual. We've seen designs like this in the higher cost/wattage PSUs like the 850W Enermax Revolution85+ and HuntKeys' X7 1200W. Now Antec brings this aesthetic to lower wattages and prices.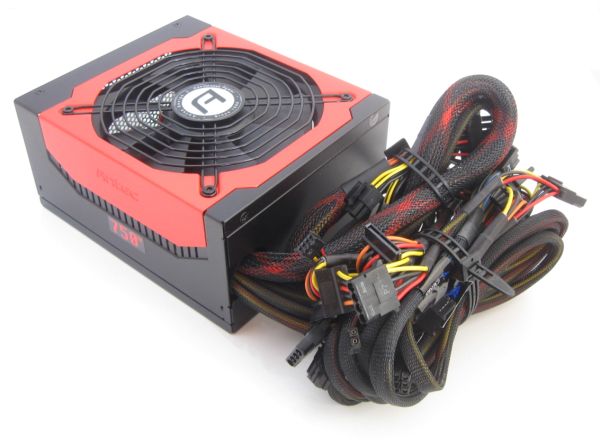 That's all well and good, but Antec cares about quality. They have chosen very expensive capacitors from Rubycon. In addition, as our Antec contact Christoph (Business Unit Manager at Antec) likes to say, "more is better", meaning that two main caps are better than one. The ball bearing fans also last longer than cheap sleeve bearing models, which is another minor upgrade. While these simple elements aren't unusual for PSUs in this price range, they do set our expectations and we're expecting a good showing from the HCG-750.
On the following pages we will see if the caps can reduce ripple and noise and if the fan runs quietly. Moreover, good results can help compensate for the non-modular cables, as they are a disadvantage for most customers. Let's begin with a closer look to its characteristics and delivery contents.