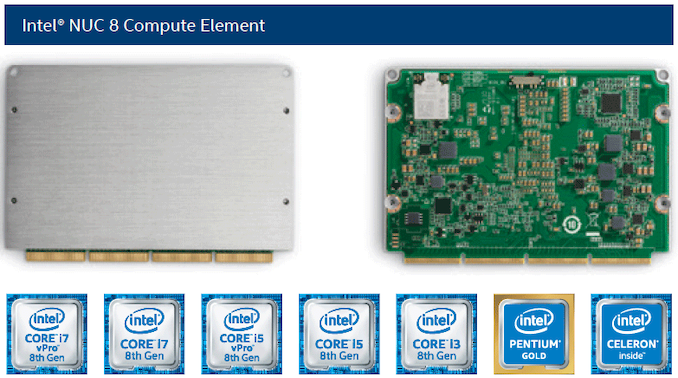 In preparation to kick off sales of its NUC Element modular computers, Intel has disclosed some additional details about the product family. As expected, Intel will offer NUC Element boards, chassis, and pre-assembled modules designed to fit into both Intel and third-party enclosures.
Intel's NUC Elements is the company's new modular PC initiative aimed to simplify system-level design while enabling OEMs to build ultra-compact desktop computers. NUC Elements modules are based on Intel's U-series Core, Celeron, or Pentium Gold processors with TDPs up to 15 Watts. The modules come with 4 GB or 8 GB of soldered-down dual-channel DRAM, up to 64 GB of eMMC solid-state storage on select SKUs, and Wi-Fi 5 + Bluetooth 5.0 via Intel's Wireless-AC 9560 radio.
Each NUC 8 Compute Element uses a card-edge consolidated connector for power and I/O, with the connector offering USB 3.1/2.0, DisplayPort/HDMI, eDP, GbE, PCIe, HD audio, and an eSPI interface. OEMs and chassis vendors can then mix and match these as they please, including hanging off additional peripherals via PCI and USB bridges.

The NUC Elements family will altogether include seven NUC 8 Compute Element 'Chandler Bay' modules. Intel, in turn, will offer two boards for the modules to plug into: the "rugged" 'Austin Beach' (CMB1BB) board, and the pro-focused 'Butler Beach' (CMA1BB) board.
Finally, Intel will be offering four two chassis as well, which they will be selling as part of board + chassis kits to customers who are in essence looking a turnkey solution. These kits will all be based around the Austin Beach board, with a version of the chassis for each of the two variations of Austin Beach.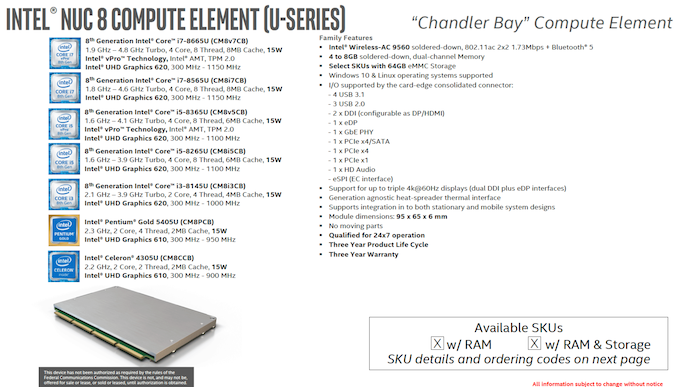 Intel's NUC Elements are qualified to work for 24/7 and come with a three-year warranty. Pricing depends on actual configuration and other factors.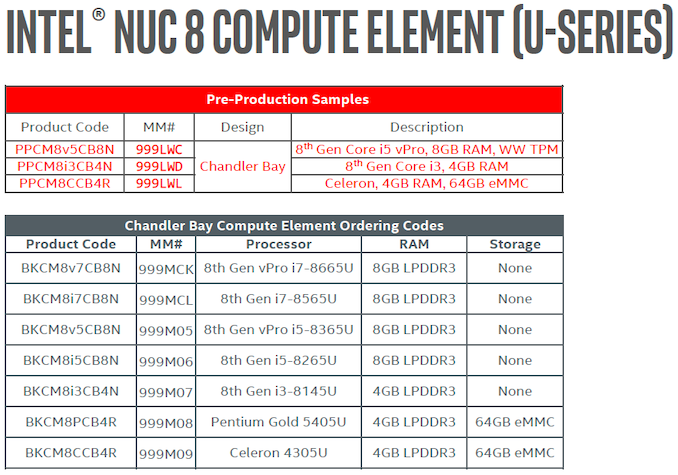 Related Reading:
Source: Intel