Visual Inspection
The ASUS ROG Zenith II Extreme is an E-ATX motherboard that retails for $850 and sits at the top of its current TRX40 product stack. It has a stacked PCB which is mostly hidden by an aluminium PCB cover which doubles up as a heatsink for two of the five available PCIe 4.0 x4 M.2 slots. The rear panel cover is also crafted from aluminium and includes a LiveDash 1.77" OLED color screen which allows users to customize the look via GIFs, temperature and system usage data, or as a POST debugger. Around the board are integrated RGB LEDs with three customizable zones; the rear panel cover, the ROG logo within the chipset heatsink, and on the right-hand side of the board. ASUS also includes two AURA RGB strip headers, and two addressable RGB headers for users to expand on what's included out of the box.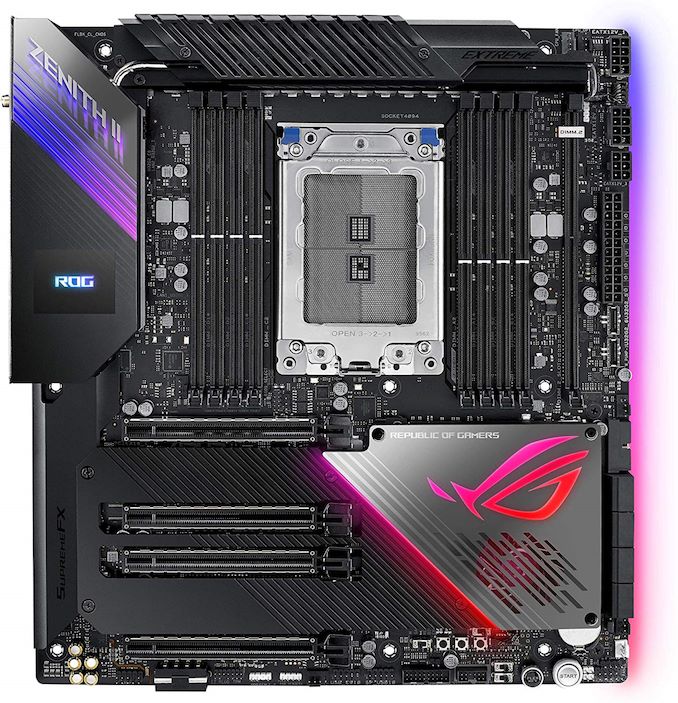 One of the main benefits of the TRX40 chipset is the introduction of PCIe 4.0 to the high-end desktop. The ASUS ROG Zenith II Extreme has plenty of connectivity with four full-length PCIe 4.0 slots which operate at x16/x8/x16/x8. Touching on the storage capabilities onboard, there is scope to install up to five PCIe 4.0 x4 M.2 drives onto the board. Two of the PCIe 4.0 x4 M.2 slots are hidden underneath the aluminium armor, while a single slot is located on the rear of the PCB, albeit without a heatsink. Included in the accessories bundle is a ROG DIMM.2 module which allows users to install a further two PCIe 4.0 x4 M.2 drives onto the board.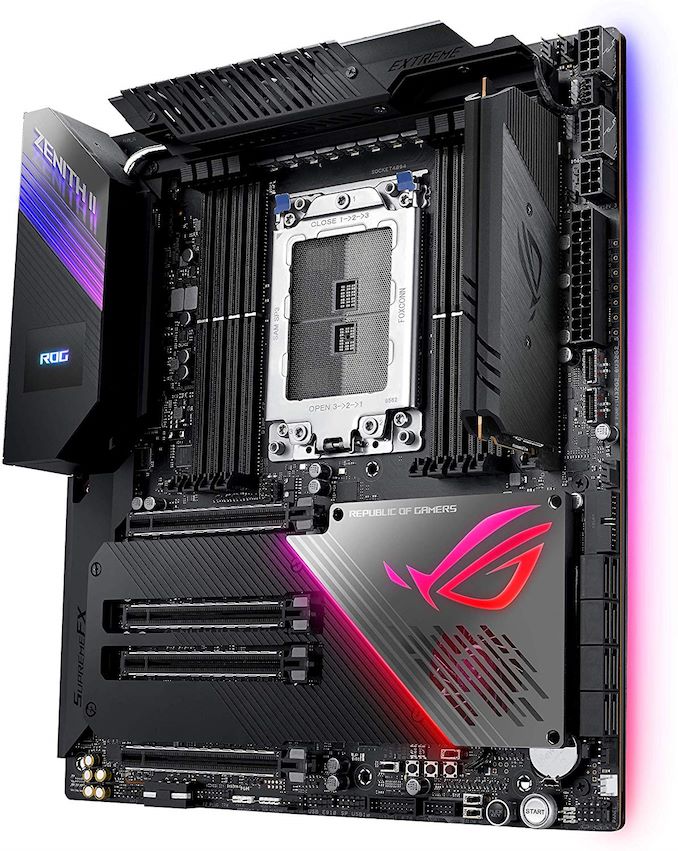 The ROG Zenith II Extreme also has eight memory slots which have support for DDR4-4733 and up to 256 GB of system memory. Users can equip ECC memory, but only un-buffered ECC. Non-ECC UDIMMs work as well.
Connectivity is a big thing for ASUS on its flagship model with lots of internal IO including seven 4-pin headers split into two for CPU fans, two for water pumps, two for chassis fans, and one for a high amp fan. For overclockers are seven Probelt voltage measurement points, three water temperature sensor input and outputs, and a node connector. There are also two USB 3.2 Gen2 front panel connectors which allow users to add extra USB devices on top of what's available on the rear panel.

The ASUS ROG Zenith II Extreme is using a 16-phase power delivery which is being controlled by an ASUS specific ASP1405I PWM controller. This essentially is a rebadged Infineon IR35201 PWM controller which is running in 8+0. and ASUS is running its phases in teamed mode, rather than in a doubled mode, which helps to reduce transient response and doesn't require doublers. Just like the ASUS ROG Crosshair VIII Impact which we reviewed, ASUS has doubled the phase count. The pitfall is that this type of power delivery requires a higher frequency signal duplication from the controller, rather than splitting the signal with a doubler. This isn't doubling in the regular sense of the word, as the design means that the phases run in parallel. Providing power to the processor is two 8-pin CPU power connections, and a 6-pin PCIe input.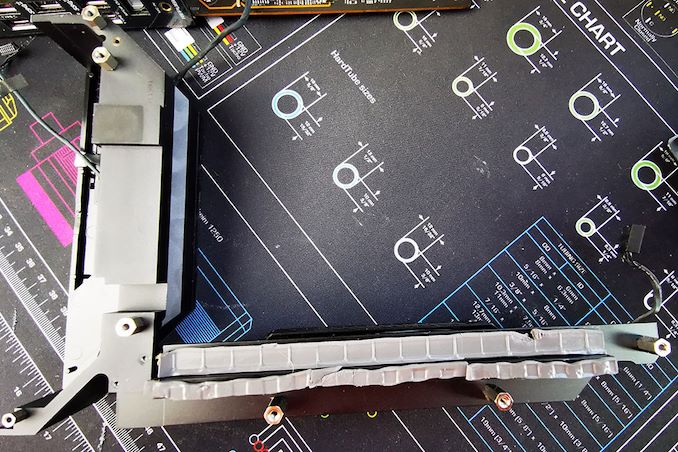 Cooling the large 16-phase power delivery is a large aluminium finned heatsink which is aided with two small Delta Superflo fans. They are designed to spin up once the temperatures hit 60°C, which negates extra noise, and affords extra cooling when it is needed. The power delivery heatsink is interconnected by a heat pipe to the large aluminium rear panel cover, and stretches around the majority of the top side of the board. The chipset and PCIe armor are separated, while the chipset heatsink does have the added benefit of a cooling fan for when the TRX40 chipset is loaded up with PCIe 4.0 x4 M.2 drives.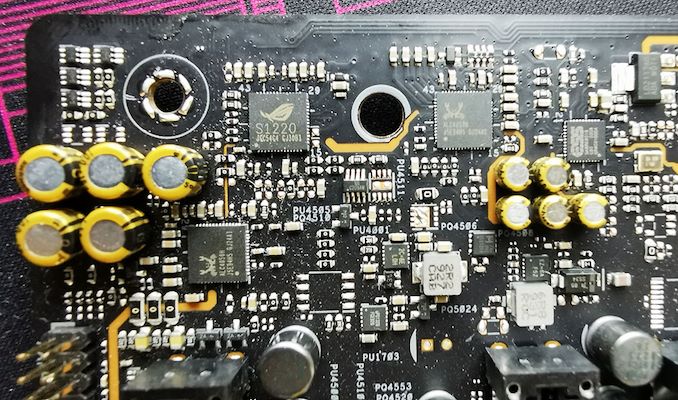 Although ASUS doesn't mention it in the official specifications. it is using a Realtek ALC4050H audio codec to bridge the USB interface to the I2S. This is due to AMD not including support for an HD audio interface on the TRX40 chipset. Without the Realtek ALC4050H codec, the Supreme S1220 codec simply wouldn't work with the chipset and needs to use USB 2.0 to dial into the interface to interconnect the S1220. The audio PCB features separation from the rest of the board and uses ten gold Japanese audio capacitors. ASUS also includes an ESS Sabre ESS9018Q2C DAC to further enhance users auditory experience.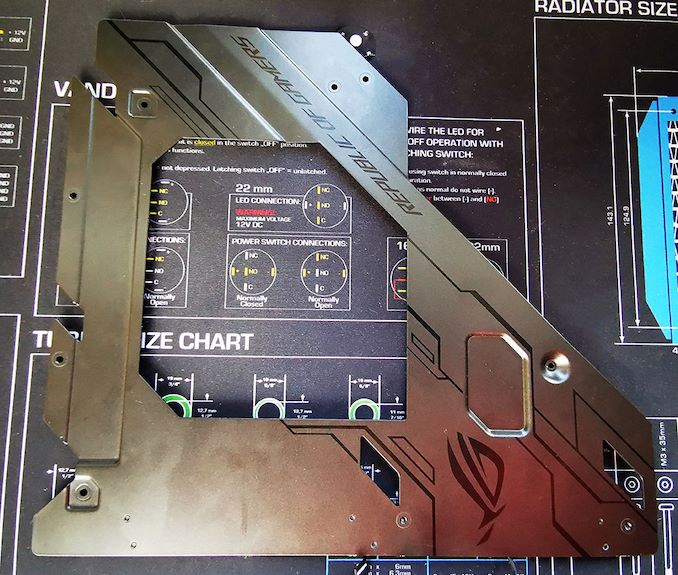 At the rear of the board is a large black steel backplate which serves a couple of purposes. Not only does it add extra re-inforcement to reduce the risk of bending, but it also adds extra mass onto the rear of the power delivery which can funnel some of the heat. Interestingly, ASUS has mounted a single PCIe 4.0 x4 M.2 slot on the back, but has opted not to include a heatsink within any part of the design of the backplate.

It wouldn't be an Extreme branded Republic of Gamers model without included an overclocker's toolkit, although this is more aimed towards the enthusiast-level user and extreme overclockers. Located in the bottom right-hand corner of the board is a power button, a flex key which can be assigned to different functions within the firmware. Also featured is a set of dip switches including a dual BIOS switch, a slow mode switch, an RSVD switch, and an LN2 mode switch. There are also a few buttons including one for OC retry and one for booting the system into safe mode. For cooling, there are seven 4-pin headers with two dedicated for CPU fans, one for a high amp fan, two for water pumps, and two for regular chassis fans.

On the rear panel is a total of ten USB connectors including five USB 3.1 G2 Type-A, four USB 3.1 G1 Type-A, and a single USB 3.2 G2 20 Gbps Type-C port. ASUS has used most of the TRX40's native USB 3.1 G2 support available. Also present is a pair of buttons with one for resetting the CMOS, and another designated for USB BIOS Flashback. The five 3.5 mm illuminated audio jacks and S/PDIF optical output are powered by a SupremeFX S1220 HD audio codec, while the board has dual port networking with one controlled by an Aquantia AQC107 10 G and the other by an Intel I211-AT Gigabit pair of Ethernet controllers. Finishing off the rear panel is a pair of antenna connectors for the included Intel AX200 Wi-Fi 6 wireless interface which also offers BT 5.0 connectivity.
What's in The Box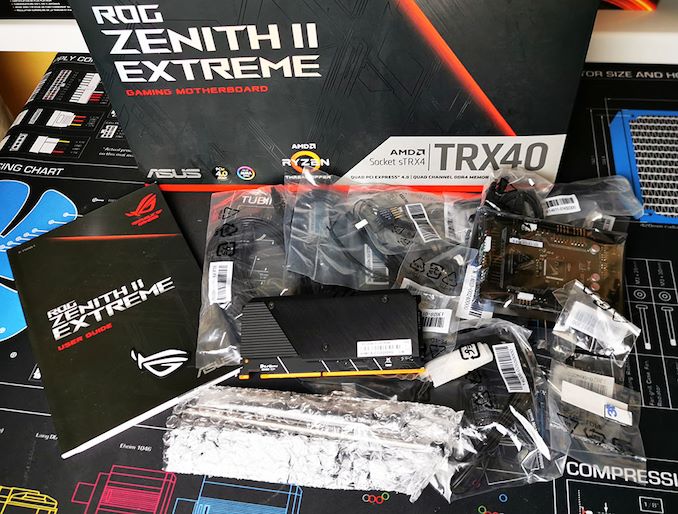 Included with the ASUS ROG Zenith II Extreme is a packed accessories bundle with some of the most notable inclusions coming by the way of an Intel AX200 Wi-Fi 6 antenna, five M.2 screws, a ROG DIMM.2 module with heatsinks, a USB drive containing the boards drivers and software package, six SATA cables, and a ROG Fan Extention Card. Also included is plenty of ASUS ROG merchandise including a ROG coaster, a large ROG sticker sheet, and a ROG plate sticker which can be affixed to a chassis, or anywhere that it would look good.
User manual
USB software and drivers installation drive
ROG DIMM.2 module with heatsinks
6 x SATA cables
5 x M.2 installation screws
3-in-1 Thermistor cable
Front panel Q-Connector
Intel AX200 Wi-Fi 6 moving antenna
ASUS Fan Extension Card II
Dual function screwdriver
2 x 80 cm RGB Extension cables
ROG Coaster
ROG large sticker sheet
ROG logo plate sticker