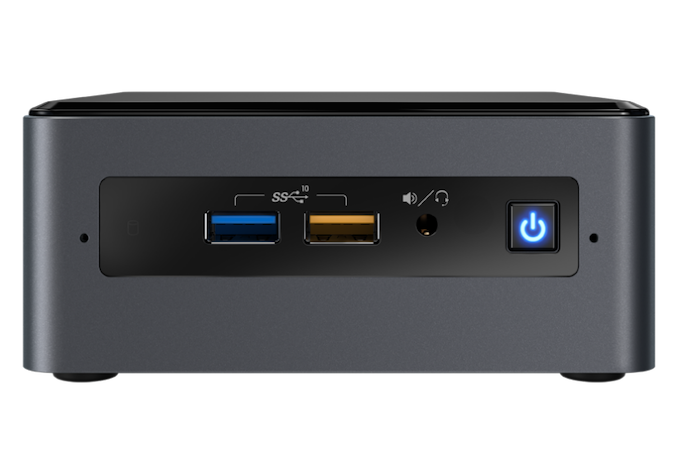 Intel's NUCs have managed to develop a strong market for ultra-compact form-factor (UCFF) machines since they were introduced in the early 2010s. Each CPU generation has seen Intel put out stronger versions of the NUC (both in terms of performance and features) in a regular cadence. In parallel, we have seen experiments with slightly larger form-factors (such as the Skull Canyon and Hades Canyon NUCs). Currently, Intel has NUC platforms targeting three different market segments - the entry-level, mid-range, and enthusiast. While the entry level is served by Atom-class SoCs and the enthusiast category by H-/G-series CPUs, the mid-range is served by the U-series SiPs (system in package) that use the Core microarchitecture. Today, we are looking at Intel's latest flagship in the mid-range segment - the Core i7-based Bean Canyon (NUC8i7BEH).
Introduction and Platform Analysis
The Intel NUC8i7BEH belongs to the Bean Canyon NUC family. It is based on the Coffee Lake-U series SiPs (CFL-U). The Bean Canyon NUCs build upon the capabilities of the Kaby Lake NUCs (NUC7 / Baby Canyon series). From an external I/O perspective, the Bean Canyon and Baby Canyon NUCs do not appear significantly different. However, the usage of a CFL-U SiP (CPU and PCH integrated in a single package) enables the following updates in the Bean Canyon family:
28W TDP processors across all SKUs, with true quad-core / octa-thread options
Iris Plus Graphics 655 with 128MB eDRAM across all SKUs
Intel Wireless-AC 9560 with Bluetooth 5.0 WLAN module
USB 3.1 Gen 2 (10 Gbps) support on all external Type-A ports
The TDP upgrade (15W to 28W) makes it necessary for Intel to supply a 90W power adapter with the Bean Canyon NUCs (compared to the 65W ones supplied with the Baby Canyon models).
The NUC8i7BEH that we are looking at today comes with a Core i7-8559U processor. The 'H' in the model indicates a tall kit with support for the installation of a 2.5" SATA drive. The kit is available barebones, and users need to install either a SATA or a M.2 2280 / 2260 / 2242 NVMe drive and appropriate DDR4 SO-DIMMs. We utilized a Western Digital Black NVMe SSD and two G.Skill DDR4-3000 SODIMMs to complete our build.
The specifications of our Intel NUC8i7BEH (Bean Canyon) review configuration are summarized in the table below.
Intel NUC8i7BEH (Bean Canyon) Specifications
Processor
Intel Core i7-8559U
Coffee Lake-U, 4C/8T, 2.7 (4.5) GHz
8MB L2, 28 W TDP
Memory
G.Skill RipjawsV F4-3000C16-16GRS DDR4 SODIMM
18-18-18-43 @ 3000 MHz
2x16 GB
Graphics
Intel Iris Plus Graphics 655
Disk Drive(s)
Western Digital WD Black 3D NVMe SSD (2018)
(1 TB; M.2 Type 2280 PCIe 3.0 x4 NVMe; SanDisk 64L 3D TLC)
Networking
Intel Dual Band Wireless-AC 9560
(2x2 802.11ac - 1733 Mbps)
Intel I219V Gigabit Ethernet controller
Audio
3.5mm Headphone Jack
Capable of 5.1/7.1 digital output with HD audio bitstreaming (HDMI)
Miscellaneous I/O Ports
1x Thunderbolt 3 Type-C
4x USB 3.1 Gen 2 Type-A
1x micro-SDXC
Operating System
Retail unit is barebones, but we installed Windows 10 Enterprise x64
Pricing
$503 (barebones)
$963 (as configured, no OS)
Full Specifications
Intel NUC8i7BEH Specifications
The Intel NUC8i7BEH (Bean Canyon) kit comes with a quick-start guide, hardware for VESA mounting, bunch of screws for installing the storage drives, and a 90 W (19V @ 4.74A) adapter with a US power cord.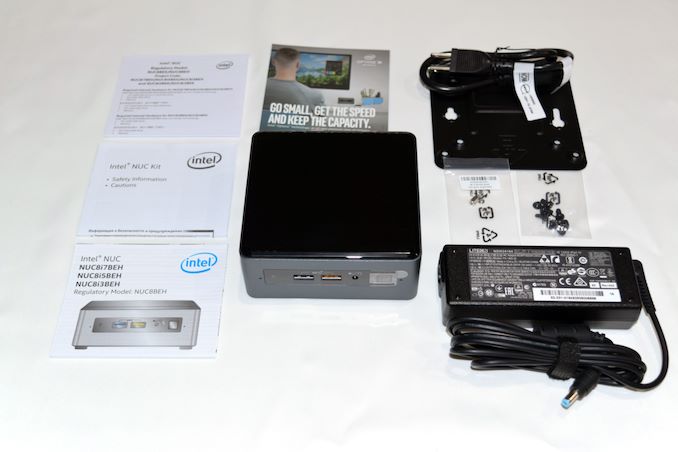 The gallery below takes us around the hardware in the unit.
Platform Analysis
The Core i7-8559U package integrates an Intel Cannon Point-LP platform controller hub (PCH). Intel's documentation describes the board layout in detail.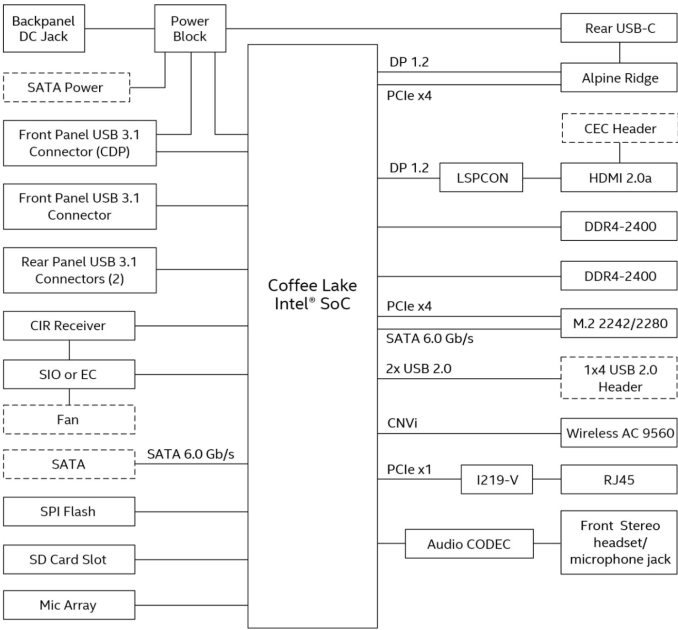 The distribution of the PCIe lanes from the SiP is brought out to a large extent in the above block diagram. The system report summary generated by AIDA64 provides additional insights:
PCI-E 3.0 x1 port #1 In Use @ x1 (Intel I219-V Gigabit Ethernet)
PCI-E 3.0 x4 port #5 In Use @ x4 (Intel JHL6340 Alpine Ridge Thunderbolt 3 Controller)
PCI-E 3.0 x4 port #9 In Use @ x4 (Western Digital Black 3D NVMe SSD)
PCI-E 3.0 x1 port #15 In Use @ x1 (Realtek RTS522A PCI-E Card Reader)
The integrated PCH enables four USB 3.1 Gen 2 ports that are present as Type-A ports in the front and rear of the chassis. CFL-U also supports CNVi, the new 'integrated connectivity' feature that puts the Wi-Fi and Bluetooth MAC inside the PCH. In the NUC8i7BEH, the CRF (companion RF) module completes the Wireless-AC 9560 by implementing the signal processing, RF, and analog functions. The Intel Wireless-AC 9560 is a significant upgrade over the Wireless-AC 8265 in the Kaby Lake NUCs. It comes with Wave 2 features, including support for 160 MHz channels and downlink MU-MIMO. The 2x2 WLAN module is theoretically capable of 1.73 Gbps bandwidth. It also integrates dual-mode Bluetooth 5 support.
Intel continues to use a LSPCon on board to convert the Display Port 1.2 output of the processor to a HDMI 2.0 port with HDCP 2.2. Unfortunately, stereoscopic 3D is not supported in this configuration. However, the Thunderbolt 3 USB Type-C port's display output is compliant with HDCP 2.2 also.
In the table below, we have an overview of the various systems that we are comparing the Intel NUC8i7BEH (Bean Canyon) against. Note that they may not belong to the same market segment. The relevant configuration details of the machines are provided so that readers have an understanding of why some benchmark numbers are skewed for or against the Intel NUC8i7BEH (Bean Canyon) when we come to those sections.
Comparative PC Configurations
Aspect
Intel NUC8i7BEH (Bean Canyon)
CPU
Intel Core i7-8559U
Intel Core i7-8559U
GPU
Intel Iris Plus Graphics 655
Intel Iris Plus Graphics 655
RAM
G.Skill RipjawsV F4-3000C16-16GRS DDR4 SODIMM
18-18-18-43 @ 3000 MHz
2x16 GB
G.Skill RipjawsV F4-3000C16-16GRS DDR4 SODIMM
18-18-18-43 @ 3000 MHz
2x16 GB
Storage
Western Digital WD Black 3D NVMe SSD (2018)
(1 TB; M.2 Type 2280 PCIe 3.0 x4 NVMe; SanDisk 64L 3D TLC)
Western Digital WD Black 3D NVMe SSD (2018)
(1 TB; M.2 Type 2280 PCIe 3.0 x4 NVMe; SanDisk 64L 3D TLC)
Wi-Fi
Intel Dual Band Wireless-AC 9560
(2x2 802.11ac - 1733 Mbps)
Intel Dual Band Wireless-AC 9560
(2x2 802.11ac - 1733 Mbps)
Price (in USD, when built)
$503 (barebones)
$963 (as configured)
$503 (barebones)
$963 (as configured)