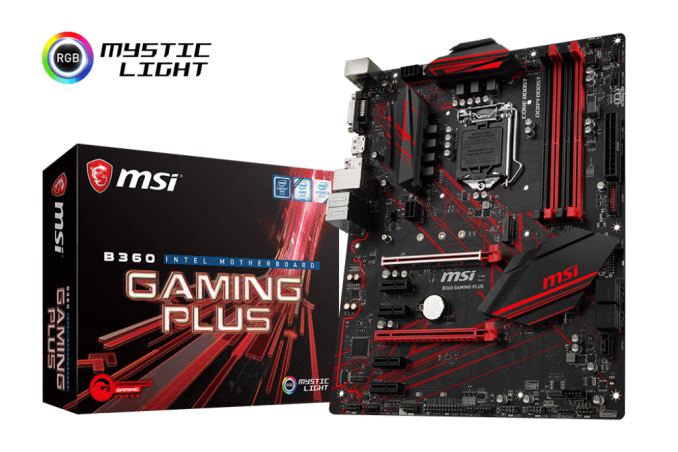 Today we get an opportunity to look at two motherboards out of MSI's B360 stable in the form of the B360 Gaming Plus and B360 Gaming Arctic. The two boards look dramatically different – with one black and red and the other white – however, under the hood they share the same DNA. Both boards include a single PCIe x4 M.2 slot, five SATA ports, Crossfire support, Intel Ethernet, Realtek audio and more making for a well-rounded option in the non-overclocking B360 lineup. We'll take a look at the boards to see what makes them tick and run them through our performance tests.
MSI B360 Gaming Plus/Gaming Arctic Overview
The MSI B360 Gaming Plus and Gaming Arctic come from a family of 12 MSI B360 motherboards. The B360 chipset brings with it similar features from Z370, except they are not able to overclock. With this feature cast aside, it allows board partners to offer users the lion's share of features from Z370 in a less costly solution for the consumer. Since overclocking is not part of the equation, manufacturers only need to worry about running the processor at spec, as opposed to overbuilding for overclocking. In addition, more expansive audio codecs and other flexibility can be lost with moving a non-Z chipset. That said, B360 boards do offer users the vast majority of features and offer users boards that may include features that are not needed and driving up the cost unnecessarily.
The two boards we have here are perched up towards the top of the B360 lineup, offering users a well-rounded feature set as well as a pretty unique look, with the white Gaming Arctic being quite a standout. The Gaming Plus has the exact same style, with lines slashing through the bottom of the board into the chipset heatsink before angling up towards the rear IO. The obvious difference is black and red (Plus) versus white and grey (Arctic). Both boards hail from MSI's Performance Gaming series which MSI says is targeted for personalization. The Gaming series also includes their DDR4 Boost (isolation of memory circuitry), Steel Armor (PCIe slot), as well as integrated RGB LEDs controlled through Mystic Light software.
To start, we will say that performance between both of the boards was – for all intents and purposes – identical. We imagined this would be the case considering they are identical boards underneath and the results validated that thinking using the same turbo speeds throughout. Boot times were the shining star of these boards getting through POST the 2nd fastest of all Z370/B360 results. Other performance results were indistinguishable from other boards and find nothing anomalous and performing as expected.
Hardware wise, both boards have a single M.2 slot capable of supporting SATA and PCIe x4 NVMe based M.2 drives. Any additional will have to come through an add-in-card. SATA port count totals 5 with the first SATA port being disabled when using a SATA based M.2 module. The board has two full-length PCIe slots with the top slot reinforced with MSI's 'Steel Armor' and four x1 slots for use with other low bandwidth peripherals.

The rear IO panel tells a tale of a minimalist approach, but still has a broad range of connectivity. We are able to spy a legacy PS/2 port, two USB 2.0, two USB 3.0, and two USB 3.1 Type-A and Type-C) ports. For access to the iGPU MSI includes a DVI-D port as well as DisplayPort 1.2. Networking duty is handled by an Intel I219-V Gigabit device. MSI uses the Realtek ALC892 codecs on the boards forgoing the latest ALC1150 likely in an effort to save a couple of dollars.